Following a crash during the three day IRTA test for the MotoGP class at the Sepang International Circuit in Malaysia, Estrella Galicia 0,0 Marc VDS Honda rider Tito Rabat has been released from hospital after undergoing successful surgery.
Big crash ends Sepang test early for Rabat
On day two of the meeting, in the final hour of the session, he came off at turn 11. It was raining heavily during the first two days of the test and after waiting for the track to dry out, both he and his teammate, Jack Miller, returned to the track on the Michelin Power Slicks despite the fact it was still damp in areas. Initially, Rabat was assessed and treated in the medical centre before he was then transferred to the local hospital in Putrajaya where he underwent further assessments.
Rabat returns to Spain for surgery
Following on from that he since returned to Europe, Spain to be exact, where he met with doctors who work a lot with the MotoGP riders at the Hospital Universitario Dexues, Barcelona, Spain. Dr Xavier Mir (Head of the Upper Extremities Surgery and Microsurgery Unit) and Ignacio Ginebreda (Head of the Lower Extremeties Surgery Unit), headed the team of staff that completed the two hour surgery on the Spanish rider.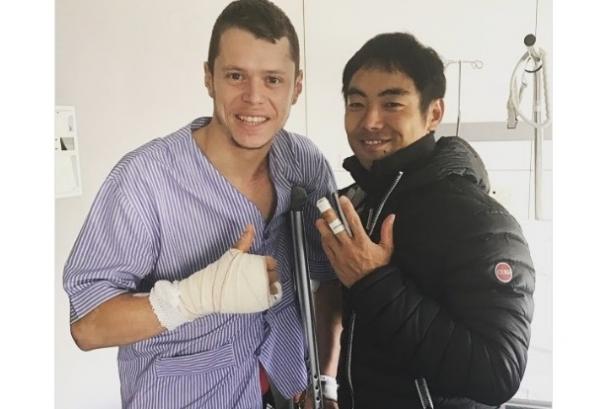 Severe injuries for the Spanish rider
The injuries sustained included a severe laceration and loss of skin on his left knee that had to be surgically cleaned; also the quadricipital tendon was damaged as indicated by a scan. He had to have screws inserted to help to stabilise a distal fracture of the radius in his right hand. Rabat also had to have a plate inserted and fixed with screws to stabilise a small fracture of the fifth metacarpal on his right hand. His right foot also had to be immobilised as he also sustained a fracture on his distal phalanx.
Injuries mean Rabat may miss the Phillip Island IRTA MotoGP test
Michael Bartholemy (Team Principal at Estrella Galicia 0,0 Marc VDS) shared his concerns that because the wound on Rabat's knee was open, then the "risk of infection is high" which is why he was to remain in hospital over the weekend.
He had a feeling that Rabat would already "probably checking flights for the Phillip Island test from his hospital bed already", however he urged the fact that the Spanish rider "need to be realistic too". After the surgery he shared his thoughts saying, "It makes no sense for him to return until he's fit enough for the physical demands that racing a MotoGP bike places on a rider."
Successful surgery for Rabat now released from hospital
The surgery took place on the evening of Wednesday 1st February. By the fourth of February, rehabilitation had began to try and begin moving his leg and bending at the joint. He was soon up and about via crutches and was lucky enough to receive a visit from former MotoGP rider, Hiroshi Aoyama.
Ya tengo el alta, ahora a seguir recuperándome. Gracias por vuestro apoyo!
Just five days later he has been released from hospital in Barcelona. Always in good spirits, Rabat took to social media to share this moment. He took the opportunity to thank his fans for the support whilst sharing an image of him on crutches outside the entrance wearing shorts with his leg in a bandage.
The severity of the injury means that he will have to go through an intense rehabilitation programme before returning to work. It's not easy riding those bikes, especially at the speeds they do, and hopefully he has the patience to return when he is ready and his injury allows him. We would like to wish Rabat a speedy recovery.