 There are mixed expectations for the Renault team, in their second year back as a works constructor. With a big budget reportedly at their disposal, competitiveness should come; but a rocky return in 2016 only garnered three points finishes and eight points in total - enough for a meagre ninth in the final standings.
Okay, the R.S.16 may have been a rough update from their former buyers Lotus' 2015 entrant with a Renault power plant slapped hastily behind the seats that Kevin Magnussen and Jolyon Palmer filled; but more was expected.
Will 2017 live up to said expectations? Well, time will tell, starting next week in Barcelona. With a healthy sense of optimism, a revamped driver lineup and gorgeous new challenger ready to attack the year, the future looks promising.
The car
It was always going to be an improvement on last year, for the R.S.17's development was overseen entirely by Renault, particularly important given the large rule changes brought in this season.
Unveiled at London's Lindley Hall, the new car looks aggressive, with a number of prominent technical features for the eyes to feast upon. For starters, at the two polar ends of the car, the wings are drastically different. As the new regulations call for, the rear wing is lower, wider and features longer endplates; whilst the highly complex front of the car features a re-shaped, thumb style nose - drawing comparisons to the designs run by Ferrari, Red Bull, Williams, Sauber, Toro Rosso and McLaren last year. The front wing itself features a distinct lack of turning vanes as of now, but the most notable inclusion is an 'S-duct' that runs below the top of the nose, before ending with a vent protruding out of the nose cone.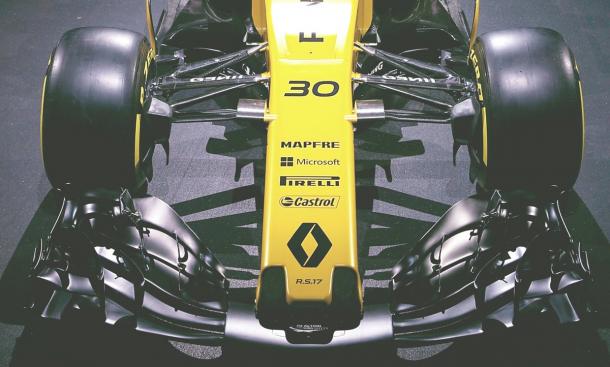 Further down, the most striking part of the car comes above the drivers head, with a re-modelled, wider air box inlet and a shark fin, which we think will be on most, if not all the cars this season. Attention should also be drawn to the side of the car, with Renault keeping the idea of pod vanes, that again have seen major changes to them.
No change in the colour scheme, but the R.S.17 does sport a more aesthetically pleasing, less 'bananary' livery, with the back half of the car predominantly black.
And finally, Renault's hopefully upgraded engine should be more efficient than last year, given the fact that the car has been built around it this year. It sits in the back with a cast titanium gearbox, something that the team have retained from previous years.
The drivers
27 - Nico Hulkenberg
Races - 115
Wins - 0
Podiums - 0
Pole Positions - 1
Points - 362
Best Finish - 4th x 3
Debut - Bahrain 2010
Hulkenberg, a new addition to the team, having made the switch from potential rivals Force India is a welcome coup for the French marque. Still looking for his maiden podium, ergo win, he's turned to a works team for what could be his last big contract in the sport. The German, who turns 30 this August, has always been regarded as a quick and consistent driver, but lacking that edge to be a genuine podium contender.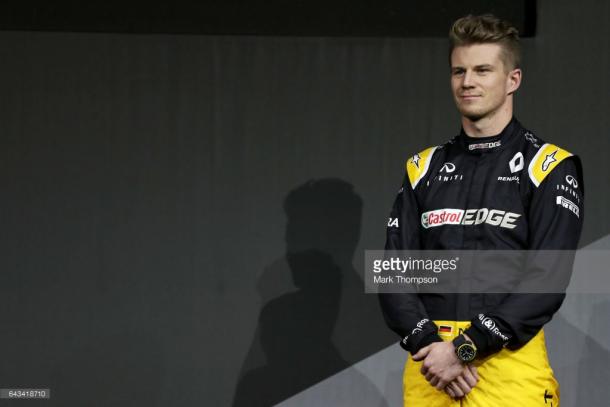 Despite winning the Le Mans 24 Hours with Porsche on his first (and to date, only) attempt in 2015, Hulkenberg's reputation has hit a snag, given former teammate Sergio Perez' stellar performances in the last three seasons.
Now in his seventh season in the sport, can he prove a point and start afresh, and maybe even build upon his one pole position, achieved in his debut season with Williams in 2010. If that can't be achieved, then The Hulk will certainly be eager to smash into the top three at any point in the season.
30 - Jolyon Palmer
Races - 20
Wins - 0
Podiums - 0
Pole Positions - 0
Points - 1
Best Finish - 10th (Malaysia 2016)
Debut - Australia 2016
It was a stressful start to Formula One life for runaway 2014 GP2 champion Palmer. The Brit was embroiled in a tense head-to-head battle with former teammate and closest rival Magnussen in the latter half of last season, with the winner seemingly being rewarded with their seat for 2017. However, with Magnussen unwilling to stay at Renault any longer than one year, Palmer won almost by default. But don't let that fool you into thinking he didn't work hard for it.
With it all to prove, Palmer had to wait until Malaysia to claim his first points finish, having come close on debut in Australia and most notably, Hungary, where he spun out when running in 10th in the second half of the race. Whilst making some typical rookie mistakes, including a crash in Monaco after venturing over a wet zebra crossing (such is the charm and nature of the principality...), Palmer put in some solid displays and will be keen to make an impact alongside his more experienced teammate.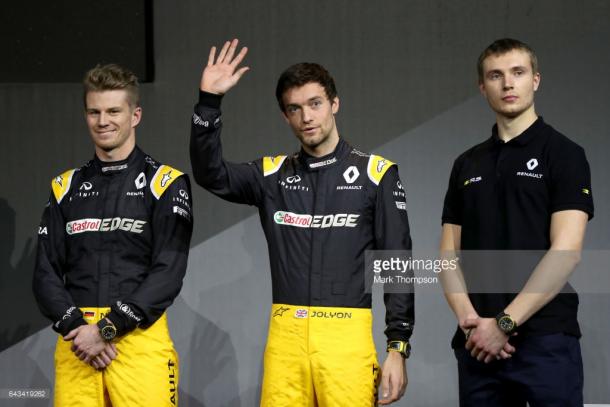 The omens look good for improvement, the 26-year-old regarded as a driver who needs time to bed into a series before being able and confident enough to show what he can truly do. But the world of F1 famously doesn't wait forever.
What can the team accomplish?
At the launch event yesterday, Cyril Abiteboul and co seemed very optimistic, stating that a top five finish in the Constructors' Championship was on the cards. Whether or not that can be achieved is an entirely different matter, but when the rules are changed, the slate is wiped clean and anything could be possible.
The departure of team principal Frederic Vasseur - citing a difference in opinion to the other big names in the team - will be a blow, but due to the amount of preparation in comparison to last year, things can only get better on track. A podium or two for Hulkenberg may be the maximum, but solid points should be the bare minimum for a factory team.
Did you know?
Despite all their success, Renault have only ever managed two 1-2 finishes. The first came courtesy of Rene Arnoux and Alain Prost at the 1982 French Grand Prix, fittingly. They then had to endure a 24 year wait, when in their second spell as a works team, Giancarlo Fisichella beat Fernando Alonso to victory at the 2006 Malaysian Grand Prix.