During the 2016 season there were talks of a new British team that would be launched in the Moto3 category. Unsure of how everything would iron out, television broadcasters, BT Sport were rumoured to become one of the main sponsors of the team. Finally, ahead of the 2017, the new team was launched and has been backed by MotoGP organisers Dorna.
What is the British Talent Team?
Scottish 250cc rider John McPhee, who was unable to complete the 2016 season due to injuries sustained in a racing incident in at the Philip Island round, will represent the new British Talent Team in the Moto3 category during the 2017 season. He was present in London for the launch of the new team and the British Talent Cup. Alongside him was former racing legend, Jeremy McWilliams who will act as the British Talent Scout, and Alberto Puig, who will be the Cup Talent Promotion Director, and CEO of Dorna Sports, Carmelo Ezpeleta.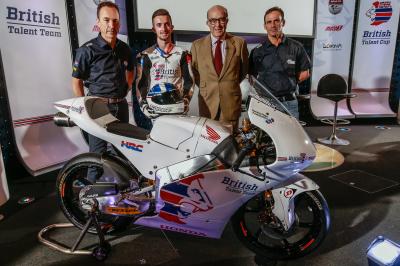 New British Team and Talent Cup possible with the backing of Dorna
Dorna, who have been a part of other similar teams that have proved successful, are working to help to produce more British talent in the motorsport industry but at the same time supporting them in accessing the world level.
Throughout the country, racing takes place at all levels, however, despite the numerous talented riders produced at the various local clubs, not many have the funds to break into the world championships. This is where the British Talent Cup comes in to play.
What it means for young British Talent
The program has been developed as a way of helping potential British competitors to gain access to the elite championships. Riders will begin in local clubs, they may able to raise the funds or find sponsorship that would allow them to gain access to build on experience in other local clubs, or those nationwide. Some may then become successful enough to participate in the likes of the British Superbikes, or other competitions within the series.
A select few may prove fit to take on the World Superbikes and some of them may make their way in to the MotoGP series. The Cup will not necessarily guarantee access to the MotoGP, but may provide an opportunity to compete in the Moto3, before a rider progresses to the Moto2 and then maybe on to the MotoGP class.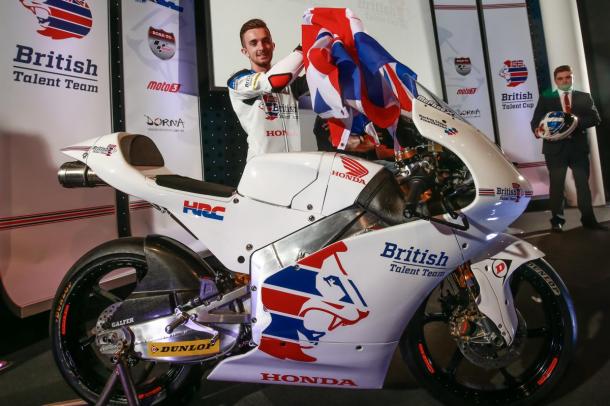 Endless possibilities for those chosen after application
Talent, age, experience and skill are all factors that help a promising rider succeed, and hopefully the likes of the British Talent Cup will mean that lack of funding for example, won't mean the end of the road. A calendar of events will be created at tracks in the United Kingdom and in Spain and riders will compete aboard the Honda NSF 250R Moto3 bike. Those that prove successful enough will stand the chance of taking the reins of the bike in the Moto3 championship.
Some of the rounds on the calendar will take place on the weekend of both the MotoGP and World Superbike at Silverstone; or whatever track the championships will be competing at, at the time. . The championships are currently dominated by Spaniards and Italians, as nine times world champion Valentino Rossi (Movistar Yamaha) has invested a lot in developing riders through the VR46 Racing Academy.
Dorna's efforts have proved successful already
Dorna have already proved that the programs are successful as lots of young talent has emerged from several countries already. They originally began with the FIM CEV Repsol and the Movistar Junior Cup, and have since created other championships including the Asia Talent Cup and the Red Bull MotoGP Rookies Cup. At the moment over 100 riders are currently enrolled in such programmes.
The work done has introduced champions to the world stage with several success stories proving their effectiveness in the form of five times champion Marc Marquez (Repsol Honda), Maverick Vinales (Movistar Yamaha), double Moto2 champion Johann Zarco who will debut in his first MotoGP race with Monster Tech 3 Yamaha and Brad Binder who became the first South African champion in 35 years when he won the 2017 Moto3 championship; he has since moved up to the Moto2 championship with his team for the 2017 season.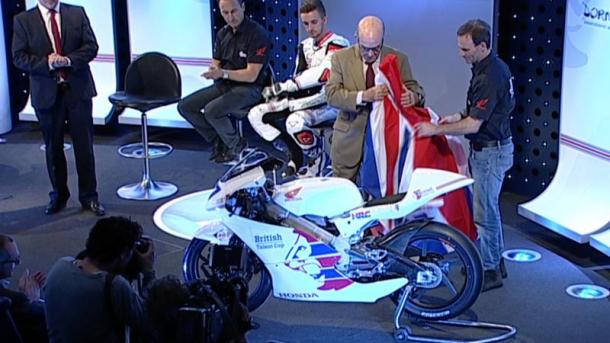 Look out at Silverstone…
Whilst McPhee works to secure a championship title competing in the 250cc class, the first year of the program will be used to spot the talent that the British Isles have to offer. During the week previous to the British round of the MotoGP at Silverstone, those chosen to compete for the places in the British Talent Cup, will go through training and testing in order to gain access to the cup when it begins during the 2018 season.
(An application period for the British Talent Cup will be open from May 5th to June 8th with those selected likely being contacted before July 21st. Riders born between 2001 and 2005 can enter the championship.)
British Talent Team presentation in London
In London, at the presentation, the Honda NSF 250R of McPhee's was draped in a Union Jack to the left hand side of the stage, as was the British Talent Cup bike, which sat on the right. After discussing the new developments in his career and the opportunity he now has, as will others with the British Talent Team, he pulled back the British flag to reveal its bike and its new livery. Mainly white, the fairing sports a lion on the side made up with red and blue stripes. The stripes are repeated all over but with a minimalist design.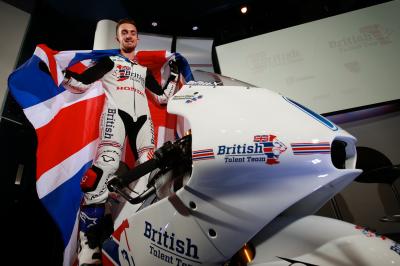 Alberto Puig reflects on Dorna's efforts with young talent
When the presentation got underway it was Puig who was first to talk about the launch of the new team and the new cup. Puig spoke of how for many years Dorna have been trying to "support the sport around the world". Describing Great Britain as a place with a "very long tradition in racing" referring not only to the riders, but the manufacturers that have competed, he felt that they thought it was time to "support or try to get involved in what is happening here and to help", and so they felt it was "good to create a cup for young kids" and at the same to "support a current rider".
Puig thoughts on solo British Talent Team rider, John McPhee
Talking about their new solo rider, McPhee, he feels that he "has an edge" and that he is at "a good age to make a good season". Briefly reflecting on the troubled season he had, that was brought to an early end in Australia, he said, "fortunately that everything is OK" and that he can now become "a reference for the kids here in England". He thinks that McPhee has the chance to "really try to push this year in this team and make everybody happy". He also felt that the 22 year olds' "experience in the past years count" and that he had "the profile to be the rider" they chose to represent them in 2017.
Puig feels that they have a "good team of people who will be going in the same direction", and that when they "start the programme" that they "want to do as best as [they] can". He also spoke highly of McWilliams who he described as an "important" addition due to the many years' experience within the racing world.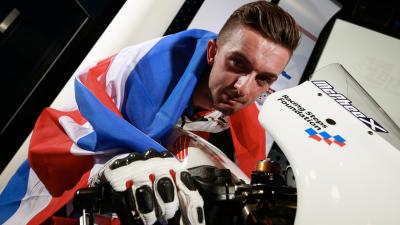 Irish racing legend McWilliams to be British Talent Scout
Jeremy McWilliams was next welcomed to the stage. Having competed in 177 championship races in his career, he collected seven podiums and won one in Assen in 2001 in the 250cc class. Discussing Scottish rider McPhee, he explained the new role he has undertaken for the future in British Motorsport which he said was "to help John perform".
He hopes that from "one rider to another" that they can "impart knowledge", and talking about how he has "been around a race track for many years" he feels he "understands the sport pretty much inside out". He explained how he will probably find the most difficult thing will be "getting that into another rider and helping him on track". He plans to do a lot of "spotting" to help and see "where he can improve" and spoke of how they "see that other riders are using spotting and other coaches to improve, even the likes of Valentino (Rossi)".
McWilliams mentioned how "every rider is looking for that little fain anywhere on track". Referring back to when he and Puig raced, he explained how they "didn't think of it being so important" however now he feels it is "much more important these days because the times are so much tighter".
McWilliams to work closely with McPhee during 2017
The new British Talent spotter hopes to try and "help John to perform on track, win whatever we can", and do whatever they can in the garage while Puig will "help [McPhee] with his training programme in Spain"; in the end he thinks that "the only way is up obviously for John".
Talking about his expectations for McPhee as he returns from a Mahindra with the Peugeot MC Saxoprint team to Honda, McWilliams spoke of how they are "to be realistic" especially as "riders expectations of themselves are really high" before you take into consideration the "expectations of the team around them". He hopes that when "John sees that he has the factory support of Honda" that hopefully he will feel that he "has got a very good opportunity and with that he has to perform at a certain level".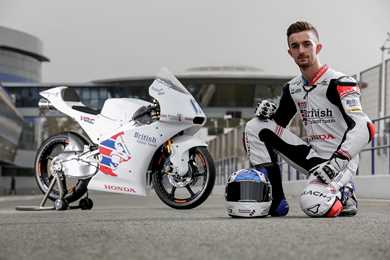 McWilliams expectations are high from the start
Giving his honest thoughts on the results he mentioned how they would "hope to start somewhere in the top eight or ten" and when they have achieved that he said they can "start to choose or at least set goals for where he goes from there". Reflecting on McPhee's experience and ability McWilliams said, "It goes without saying on one of the best bikes in the field that the expectation is high, but we are not going to ask him to perform above where he needs to at the start of the year. He's getting used to the bike and he's coming over from an injury. Let's be realistic."
McWilliams thoughts on the British Talent Cup
Referring his thoughts to the British Talent Cup that Dorna have introduced McWilliams feel it is an "incredible chance for a co-operation between the British championships and the World Championships". Speaking of how when the "cup is launched it's going to be run at mostly British tracks" he feels that from "there on riders will have the opportunity once we understand how that process is going to evolve, and where those riders go to from the British cup". Overall, the Irishman felt that as a result of the investment made by Dorna that the "opportunities are vast".
McPhee officially unveiled in new team colours
The sole rider for the new British Talent Team, McPhee was next to join them on stage in his new leathers. Head to toe in white with splashes of red, white and black, he reflected on his first win in Brno during the 2016 season. He spoke of how "since the first time [he] came to Grand Prix it's always been the dream to win and to go on to better things". After hearing his views on his new prospects, he unveiled his new machinery for the 2017 season.
Mixed 2016 season for McPhee
He reflected on the fact he has "had an up and down time" referring especially to the 2016 season when he felt "everything was looking promising" however he revealed it "seemed to be a bit of a struggle for us in the Peugeot team" and admitted that he "didn't really get to grips with everything". However, in Brno, he felt they "managed to show what the real potential was", at the same time he highlighted he was "still putting in all the effort" that he could by "riding 100%", and so he spoke of how "to get that win was a really special moment", and now with Honda and the British Talent Team he is "hopefully looking forward to some more".
The young Scotsman said, "I can't thank Dorna enough for this amazing opportunity and it's an honour to be the new rider they have chosen to kick start this project with, and I think we can do a good job with it this year."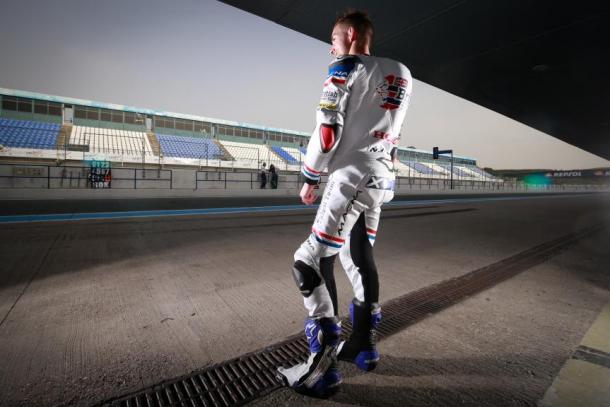 McPhee reflects on testing so far
Discussing thoughts during testing since he returned from injuries sustained in Australia which left him stranded, he was left thinking it was "really good, really promising". He mentioned that it was "nice to be back with a really good group of people around" him whom he said "makes a huge difference".
He knows that in Moto3 that it is "so close" and he feels that "to have all these small details there and have the right people around you with a good bikes, it's made a massive difference already." He felt that they had been "strong both in Valencia and Jerez" which has left him "feeling comfortable". When they resume testing in Qatar he spoke of how they plan to "continue doing what we are doing and keep going in the same direction".
Speaking highly of the team and the people around him, especially Puig and McWilliams he took the opportunity to express his gratitude for their work so far. With Puig he said that he has been "amazing so far" as he feels that he has "really helped" and highlighted to McPhee "what is important and what [he] needs to focus on this year"; factors which McPhee thinks are "going to make the biggest difference".
McPhee optimistic about the new season ahead
He also felt that "having Jeremy (McWilliams) there is amazing" and he spoke of how he "really appreciates what both of these guys have done" and mentioned how he had "a lot of respect for them". McPhee knows he has "been given a great opportunity" and he said he is "going to make the most of it".
Speaking about the season to come in 2017 McPhee said, "At this time of the year no rider knows where they are going to be but every rider believes they can win; I also believe that I can win". This was due to the fact they "won last year", and describing how it's the "ultimate target" he said, "Realistically we have for to take it step by step as it's a complete new project." He explained how with the "new people working around" him that at the moment "the self confidence is really high" however he plans to go to Qatar and see where they can take it from there.
The Scotsman shares his thoughts on new British opportunities
When asked his opinions on the British Talent Cup McPhee felt it was going to be "a massive thing" and reflected on how having come from Britain itself, he knows from experience that "it's really difficult to get into the Grand Prix scene or even to get into the World Championship level". He spoke of how he himself was "really fortunate to have the Racing Steps Foundation there" who he said "brought [him] through" and that what they have done for him was "absolutely amazing", however he said, "Now to have the British Talent Cup is a great opportunity and I imagine there are loads of kids that are going to want to jump on it."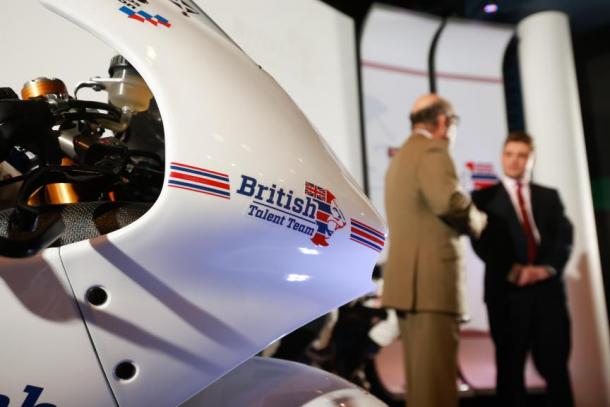 Ezpeleta confirms reasoning behind investments in British Motorsports
Finally joining them on stage was Carmelo Ezpeleta, the CEO of Dorna Sports. Speaking very respectfully of Britain's racing history he explained the reasons behind their new backing for the team and cup in Britain. Explaining how they, "started the young programmes with the sponsorship of Movistar in 1999," Ezpeleta said they are "trying to offer the riders the possibility to race for free" which he said is "one of the key things for us".
Highlighting that they have already been carrying out such project in "different areas due to the demands of the culture of the sport", he feels that "Britain is the place Dorna feel has more emotion for the culture of motorsport". He feels that the UK is already successfully hosting competitions and so their idea is "to develop young talents for motorcycling, not just for the road to MotoGP". He feels it is important that not only have some British riders made it to the MotoGP, but that some have "continued working in the industry", whether that be with Dorna or not.
With the hope of giving more Brits access to race in the MotoGP system, he feels that through Puig and McWilliams spotting and teaching them, and the possibility for everyone to participate will help them succeed in the future. Aware that "Motorsport is expensive" and aiming to alleviate financial problems where they can, Ezpeleta hopes that those who choose to enter the British Talent Cup "will know they will have a future" with the chance of repeating competing in the final year if not successful.
Ezpeleta reflects on earlier times in British Motorcycle Racing history
Ensuring that they are "not coming here to show a different way to anybody" and emphasising how they have "a lot of respect for what Britain is doing", he thinks that the collaborations with them and what they can add to the mix will help the sport to thrive with the competitors and the fans. He reflected on earlier years "when the time was completely different and all the riders were British, all the winners were British" and highlighted that they "want to have more impact".
He mentioned the success of Cal Crutchlow (LCR Honda) who broke a 35 year old record of a British MotoGP winner, and then claimed a second win during an exciting 2016 season, and the success of other Brits such as Bradley Smith (Red Bull KTM Factory Racing) who has secured a factory ride for the 2017 season.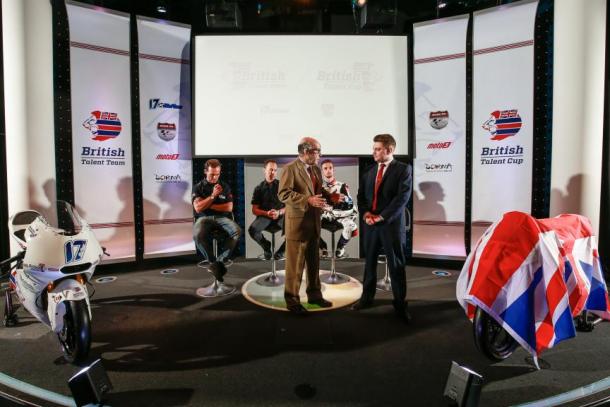 What Dorna aims to do
Speaking about Dorna's aims he explained how they have "a lot of emotion" and that they are keen "to make races" and are "happy seeing people winning races, and trying to". He feels that "motorsport, especially motorcycling sport is a fantastic sport" and spoke of how success can quickly turn to disaster in a race situation as a rider may be leading but then crash and finish with no points.
Aware of the difficulties entailed when it comes to having all the expensive equipment, he spoke of how they are working to "try to reduce the cost" for riders, by providing them with the Talent Cup. He identified how Dorna is "successful economically" they are "trying to revert" some of the difficulties potential talent and teams face. Continuing about the British Talent Cup he went on to say, "it won't be the last as, if this programme is working, we will do it in more countries."