It was a fantastic turnout in Madrid for the Estrella Galicia 0,0 Marc VDS team at the 2017 presentation. The teams, that compete in all three series of the world championships series including MotoGP, Moto2 and Moto3 were on stage presenting the three machines in their new liveries, alongside them was the junior teams.
Four teams line up on stage to unveil the new livery
Emilio Alzamora kicked off proceedings when he presented the Monlau junior riders on the stage before introducing the Moto3 team that will continue on from a successful 2016 season with no changes. Enea Bastianini, who was at one point contending for the championship title in 2016 will put the Honda NSF 250R through its paces. He will again be joined in the 250cc category by teammate, Aron Canet who had a fantastic rookie year.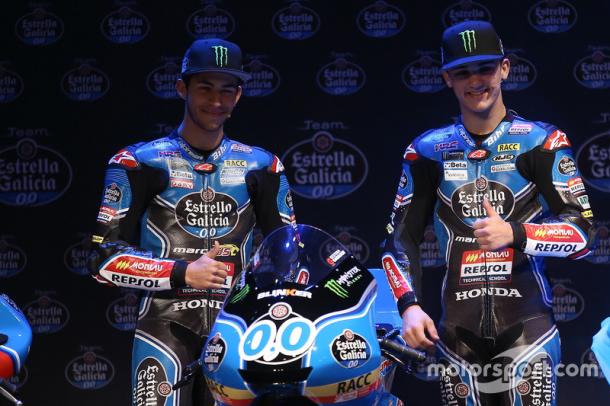 Next to be presented were the Moto2 class. Franco Morbidelli, who came close to winning on several occasions especially during the end of the 2016 season, remains in the 600cc class; should his from continue as it ended the season, then he is definitely in with a chance of competing for the championship. His teammate, and brother to the 2016 MotoGP champion Marc Marquez, Alex Marquez remains at EG 0,0 Marc VDS. His best result came from an otherwise difficult season came in Aragon when he secured second on home soil.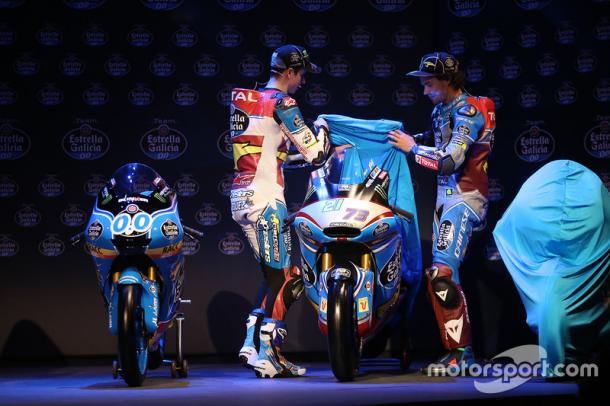 Miller and Rabat complete the line upin the MotoGP class
Then, MotoGP riders Jack Miller and Tito Rabat made their way on to stage to complete the line up in the four categories. Australia, Miller, who won at a wet Assen in 2016, claiming the first ever historical victory for the MotoGP team is about to begin his third consecutive year with the team. Joining him again, after completing his rookie year last year is Spanish rider, Rabat.
Finally, the four pieces of machinery from each category were revealed as they pulled back the covers; the livery varying only ever so slightly since thie year previous. But for something that is so easy on the eye, is there any point in changing it? Once the reveal was made, team owner Marc Van Der Straten joined his empire on stage. He used the opportunity to express his gratitude to everyone involved in the preparation of another year in the elite championships.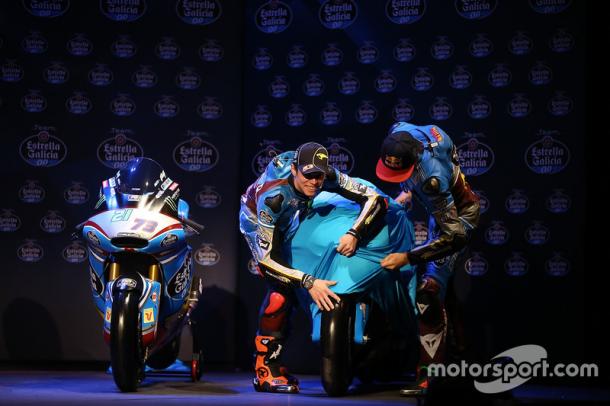 The foundations of a fantastic team explained…
Team Prinicpal at EG 0,0 Marc VDS, Michael Bartholemy described how heading into the 2017 they have "more than 50 people working in the MotoGP and Moto2 teams" highlighting that this team were made up of "10 different nationalities". He spoke of the importance to "rely on the best" and feels he has some of the "best professionals and riders in the paddock". He said, "We have a great team and we're really proud of our riders."
Reflecting on Miller's amazing win, which made him the first Australian MotoGP rider to win since Casey Stoner at Phillip Island back in 2010, he explained how last year they "achieved a dream that changed the team forever". Honda saw the potential in Miller as a Moto3 rider and felt confident in risking promoting him immediately to the MotoGP class with the LCR Honda team, bypassing the Moto2 class, when he almost won the Moto3 title in 2014. He moved to Marc VDS Racing for 2015 and in his second year claimed their first win.
Continuing he said, "Winning in MotoGP only five years after starting this project is incredible" as he noted that "there are people who have been trying to do that for 20 years". He was especially proud of the fact that they "did it as an independent team".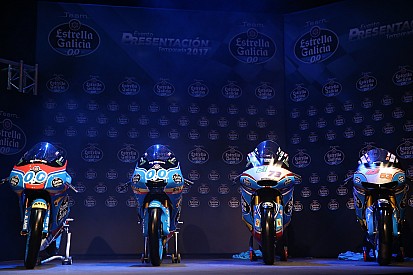 Miller reflects on achievements with his team
Miller also reminisced about his first ever MotoGP win, he said, "The win last year was great of course, but we also had a lot of injuries and problems." He explained how over the pre-season he has been "really focusing" on maintaining his "physical preparation" so that he is "100% at the start of the season". He feels that he has "managed that" and mentioned his thoughts on the first two test of 2017 in Sepang and Phillip Island saying, "The first two tests have gone well and I just hope to keep feeling better and better on the bike."
Miller mentioned how he was "happy with the evolution of the Honda" which he described as "really positive". He felt that his first year with EG 0,0 has "been impressive" and that when he "arrived last year [he] didn't really know what to expect", but he said that "everything has been great overall". Looking forward to the 2017 season he confirmed his hopes to "have the same success this year" saying that his goal is to "keep improving". He declared he was "happy to form part of the team".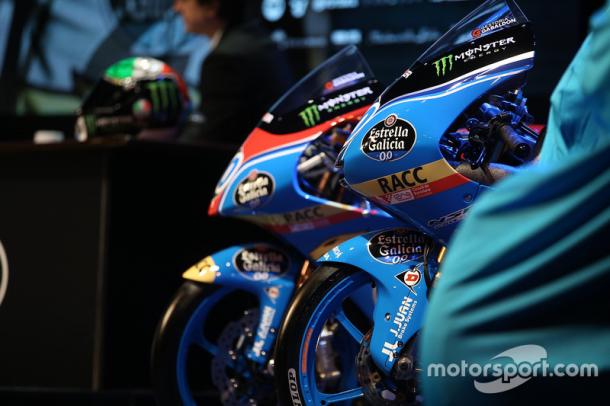 Rabat happy and looking forward to 2017
Former rookie Rabat spoke of his plans of "taking on this year in a different way" now that he has "more experience". He felt he "finished last season quite well" as he felt he "had a good race in Valencia" and then afterwards "a positive test".
Analysing the start of 2017 he said they "haven't been lucky" however he was "really happy with the new chassis" and with his "new technical team" as he now has Julian Simon working alongside him. He explained how "from a personal point of view" he is feeling "very happy to have been part of the Estrella Galicia 0,0 Team" and said that during his time there so far "together [they] have experienced some great moments".