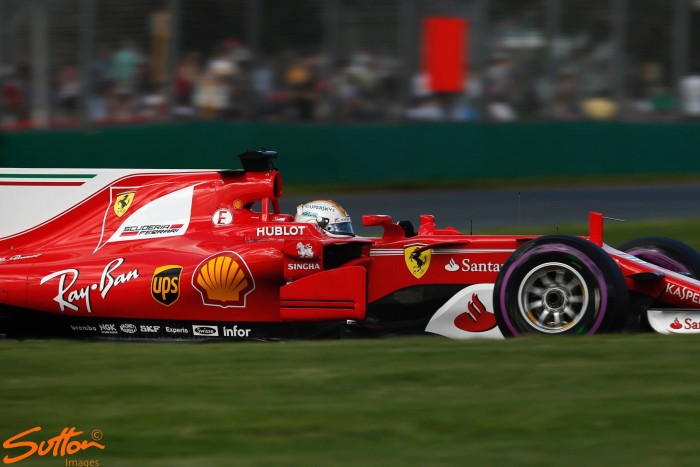 Ferrari fears that Mercedes would dominate the Australian Grand Prix, as Sebastian Vettel broke the unofficial Formula 1 lap record in Melbourne.
Vettel's best time of a 1:23.380s was just under a tenth-and-a-half qquicker than his own record from 2011, and was 0.479s quicker than Mercedes could manage, with Valtteri Bottas edging out team-mate Lewis Hamilton who had dominated FP1 and FP2 on Friday.
Ferrari started the session, and ran throughout exclusivly on the softest ultrasoft tyre, and after some early laps, Vettel had the initial advantage with a 1:23.989s.
Team-mate Kimi Raikkonen recovered from a early puncture and engine cut-out to complete the session normally., which inluded lapping in 1:23.988s, edging Vettel out by 0.001s, before the German responded with his historic lap.
There was an early end to the session, as Williams' Lance Stroll crashed on the exit of turn 10 with seven minutes remaining. The red flag was brought out and the team, lacking spare parts are in a race to get the FW40 repaired in time for qualifying.
Red Bull struggle
After Friday, the pecking order between Mercedes, Ferrari and Red Bull was that way, with the both Daniel Ricciardo and Max Verstappen struggling to find a set-up and balance.
Saturday morning was more of the same, as the team were left behind by their rivals with Ricciardo only managing sixth in the session, behind Nico Hulkenberg's Renault with Verstappen only managing to be 12th quickest.
Meanwhile, Mercedes had a quiet morning, with Bottas and Hamilton only managing second and third, although the Brit's time of a 1:23.870s, which included a purple sector one, was bettered with a 1:23.6 on Friday.
There was little time for improvements after this, as just as the final runs were about to begin, Stroll lost it on the exit of turn 10, and the session duly ended early.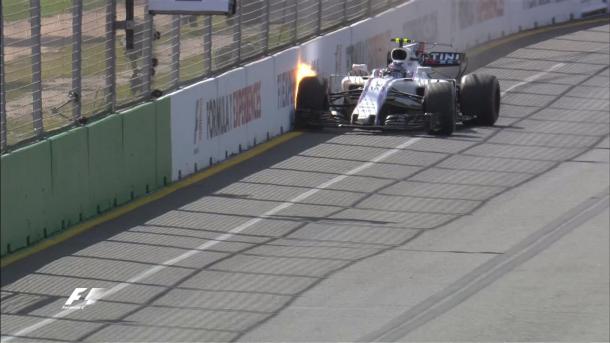 Competitive mid-field
Haas had a strong session, with Romain Grosjean and Kevin Magnussen both in the top 10, accompanied by the Toro Rosso pair of Carlos Sainz and Danill Kvyat.
McLaren had a session with difficulty, although Stoffel Vandoorne had an off at turn 13 mid-way through the session.
After a ruined Friday, Jolyon Palmer completed 12 laps as he focused on race pace and qas 19th quickest.
Last on the timing sheets was Antonio Giovinazzi, who was taking part in his first ever session as a driver, after replacing the injured Pascal Wehrlein for the rest of the weekend, with his new team-mate Marcus Ericsson 18th quickest.
Australian Grand Prix - Third Practice timing sheet

| | | | | | |
| --- | --- | --- | --- | --- | --- |
| Position | Driver | Team | Time | Gap | Laps |
| 1. | Sebastian Vettel | Ferrari | 1:23.380 | - | 12 |
| 2. | Valtteri Bottas | Mercedes | 1:23.859 | +0.479s | 12 |
| 3. | Lewis Hamilton | Mercedes | 1:23.870 | +0.490s | 12 |
| 4. | Kimi Raikkonen | Ferrari | 1:23.988 | +0.608s | 10 |
| 5. | Nico Hulkenberg | Renault | 1:25.063 | +1.683s | 10 |
| 6. | Daniel Ricciardo | Red Bull | 1:25.092 | +1.712s | 15 |
| 7. | Romain Grosjean | Haas | 1:25.581 | +2.201s | 11 |
| 8. | Carlos Sainz Jr | Toro Rosso | 1:25.948 | +2.568s | 11 |
| 9. | Danill Kvyat | Toro Rosso | 1:26.049 | +2.669s | 11 |
| 10. | Kevin Magnussen | Haas | 1:26.138 | +2.758s | 11 |
| 11. | Felipe Massa | Williams | 1:26.237 | +2.857s | 15 |
| 12. | Max Verstappen | Red Bull | 1:26.269 | +2.889s | 7 |
| 13. | Sergio Perez | Force India | 1:26.457 | +3.077s | 12 |
| 14. | Fernando Alonso | McLaren | 1:26.556 | +3.176s | 7 |
| 15. | Stoffel Vandoorne | McLaren | 1:26.699 | +3.319s | 9 |
| 16. | Esteban Ocon | Force India | 1;27.103 | +3.723s | 16 |
| 17. | Lance Stroll | Williams | 1:27.327 | +3.947s | 12 |
| 18. | Marcus Ericsson | Sauber | 1:27.402 | +4.022s | 10 |
| 19. | Jolyon Palmer | Renault | 1:28.320 | +4.940s | 12 |
| 20. | Antonio Giovinazzi | Sauber | 1:28.583 | +5.203s | 18 |