 Valtteri Bottas expertly held off a late charge from Sebastian Vettel to take his maiden Formula 1 win in Russia, in his 81st Grand Prix.
Starting from third, Bottas led into Turn 2 and gradually eased away from the pack during the first stint, and despite a tense finish when Vettel was closing in at a rapid pace, Bottas took the chequered flag by just 0.617s over the Ferrari.
Third was Kimi Raikkonen, taking his first podium since Austria last season, and a distant fourth was Lewis Hamilton, who slips 13 points behind Vettel in the title race.
Max Verstappen was an anynomous fifth, in a race that did not feature a aingle overtake, first lap aside.
The Force India pair of Sergio Perez and Esteban Ocon continued their strong start to the season, coming home sixth and seventh ahead of Renault's Nico Hulkenberg.
Felipe Massa was running strong in sixth, but a late slow puncture, forced him into a second stop, and he could only recover to ninth, ahead of the final points scorer in Toro Rosso's Carlos Sainz Jr.
McLaren's Fernando Alonso did not even take the start, after breaking down on the formation lap, and causing an aborted start.
Bottas gets the jump
From P3 on the grid, Bottas got the best start of anyone, and slipstreamed Vettel into Turn 2, the first main braking zone to take the lead.
Behind him, Hamilton, Raikkonen and Daniel Ricciardo went three abreast down the pit-straight, before Raikkonen slotted in ahead at Turn 2.
At the back, Romain Grosjean and Jolyon Palmer completed a miserable weekend, by colliidng at Turn 2, the Haas trying a move that was risky and spun Palmer's Renault into a Sauber and the two of them into the wall and out of the race.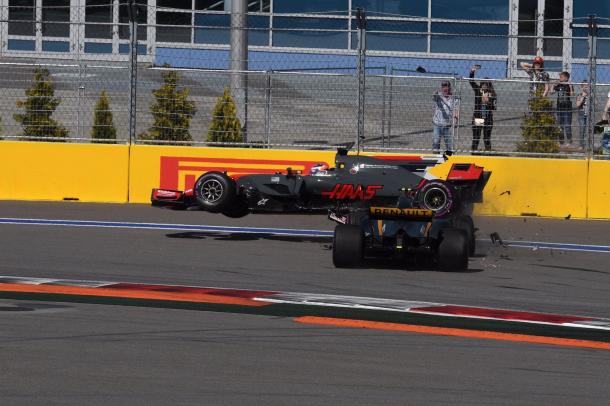 As the safety car was called for, Lance Stroll's Williams spun at Turn 5, but evantually finished his first F1 race.
On lap three, the safety car came in, and Bottas immediately pulled away from the chasing pack, pulling out an advantage of around four seconds, which Vettel cut to 2.5 seconds ahead of Bottas's only stop, for Super-softs on lap 27.
Ferrari kept Vettel out for a further seven laps, and when Vettel emerged from his own stop, the gap was 4.6 seconds, with 18 laps to go.
The Ferrari then began to carve chunks of time out of the Mercedes, closing the gap to a second with a handful of laps remaining, but Vettel just couldn't get within range to make a move, with Massa blocking Vettel on the final lap at Turn 3, ensuring that Bottas took his maiden chequered flag.
Raikkonen was besumed that Bottas was ahead after the stops, asking why that was, being told by engineer Dave Greenwood, "He was leading the race, Kimi". Raikkonen had enough pace to comfortably have the measure of Hamilton, who was strangely off the pace and finished where he started.
Lack of overtaking
In the mid-field, there was not a single overtake, with the only changes in position being when Ricciardo retired with brake failure, and Kevin Magnussen and Stoffel Vandoorne received five second penalties for cutting Turn 2 on the opening lap, something the Dane disagreed with.
Verstappen barely featured, and came home ahead of the two Force India's who scored big points, and just finished ahead of Hulkenberg, who managed to make his Ultra-soft tyres last until lap 39, before the switch to Super-softs.
Sainz took the final point behind Massa, starting 14th after his penalty for crashing into Stroll in Bahrain.
The finishers out of the points were Stroll, Danill Kvyat, Magnussen, Vandoorne, Marcus Ericsson and Pascal Wehrlein.
Retirements
Alonso's season went from worse to catastrophic, as he suffered charge issues on the formation lap, and ground to a halt, causing the start to be aborted, and the double world champion walking away from his car.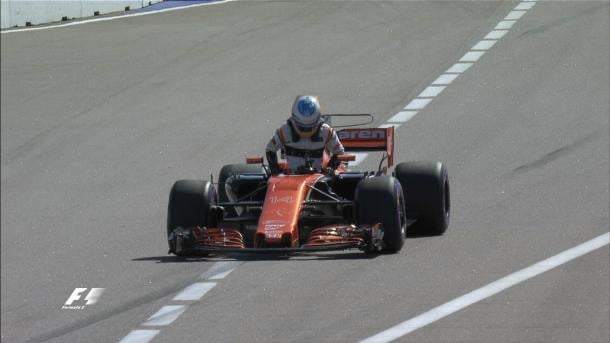 Ricciardo suffered rear-brake failure early on, putting him out as the other two retirees were Palmer and Grosjean in their collision.
2017 Russian Grand Prix - Race Classification

| | | | | |
| --- | --- | --- | --- | --- |
| Position | Driver | Team | Time/Gap | Points |
| 1. | Valtteri Bottas | Mercedes | 1:28:08.743 | 25 |
| 2. | Sebastian Vettel | Ferrari | +0.617s | 18 |
| 3. | Kimi Raikkonen | Ferrari | +11.000s | 15 |
| 4. | Lewis Hamilton | Mercedes | +36.320s | 12 |
| 5. | Max Verstappen | Red Bull | +1:00.416 | 10 |
| 6. | Sergio Perez | Force India | +1:26.788 | 8 |
| 7. | Esteban Ocon | Force India | +1:35.004 | 6 |
| 8. | Nico Hulkenberg | Renault | +1:36.188 | 4 |
| 9. | Felipe Massa | Williams | + 1 lap | 2 |
| 10. | Carlos Sainz Jr | Toro Rosso | +1 lap | 1 |
| 11. | Lance Stroll | Williams | + 1 lap | 0 |
| 12. | Danill Kvyat | Toro Rosso | + 1 lap | 0 |
| 13. | Kevin Magnussen | Haas | + 1 lap | 0 |
| 14. | Stoffel Vandoorne | McLaren | + 1 lap | 0 |
| 15. | Marcus Ericsson | Sauber | +1 lap | 0 |
| 16. | Pascal Wehrlein | Sauber | + 1 lap | 0 |
| DNF | Daniel Ricciardo | Red Bull | Brakes | 0 |
| DNF | Romain Grosjean | Haas | Collision | 0 |
| DNF | Jolyon Palmer | Renault | Collision | 0 |
| DNS | Fernando Alonso | McLaren | Engine | 0 |