On the face of it, the 2017 Russian Grand Prix, does not seem that important, in the grand scheme of the 20 race Formula 1 season.
However, delve a little deeper, and the fourth visit to Sochi could prove to be a vital point in the final standings.
Yes, there is the battle up front to focus on, but there is of course, the sad story of one all of the all-time great F1 drivers, rotting away in equipment that is an embarrassment to the name of the company of make it. But there could be a silver lining for that great of the sport, somewhere where he found greatness once before.
The elephant in the room
First thing first, let me get said elephant out of the room. The race did not feature one single overtake - the first lap does not count - nor a change in order, except for pit-stops and the penalties dished out to Kevin Magnussen and Stoffel Vandoorne for exceeding track limits at Turn 2.
This was exactly what was feared when the new rules were drawn up. Cars simply following each other, not getting close enough to attempt to make a pass and driving on rails. The race, largely a snoozefest, was only livened up in the closing laps by Sebastian Vettel's, ultimately fruitless, charge against Valtteri Bottas, was always down to be one of the more less exciting ones of the season.
Reasons for this include the setting of the race. Sochi may be a beautiful location, as it is located between the Black Sea and the Caucasus Mountain range, and set in the 2014 Winter Olympic Park, but that geography simply does not allow for good racing.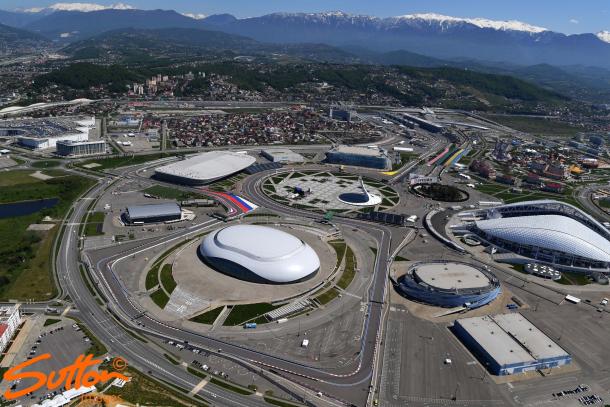 From Turn 4 to the end of the lap, it is pretty much 90 degree corners, most to the right, joined by two short straights and a DRS zone. The characteristics simply don't cater for good racing.
It may be too simple to blame track designer Hermann Tilke for creating another 'Tilkedrome', the term coined to describe tracks designed by the German that feature the same things, think Korea and India, but you can't move Olympic venues out the way.
Moreover, Sochi's tarmac is unique. It has very low degradation, and therefore opens up a one-stop strategy that takes away strategic variety from the race, aside from starting on whatever tyres you want, if you qualified outside the top 10, Nico Hulkenberg managed to nurse his ultra-soft Pirelli's to lap 39, before switching the Renault to super-softs for the final 13 laps to the flag.
Imagine it like this. In the Premier League, not every match will be a 3-3 classic. Sometimes you will get a 0-0 result, with not much happening, and it is easily forgotten. That's what the Russian Grand Prix was, a forgetful 0-0 draw.
Not bad for a Number 2 driver
Forgive the play with words, but after being told to move out the way for Lewis Hamilton in Bahrain, twice, many expected Mercedes to make the call of choosing the Brit as their 'Number 1' driver ahead of Bottas for the season, despite the Finn getting pole in Bahrain.
However, Bottas did his talking on track, and could not have said more to Toto Wolff and Niki Lauda had he tried.
Comprehensivly, he out-performed an off the boil Hamilton all weekend. Bottas out-qualified Hamilton by nearly half a second to make it 2-2 in the inter-team battle at Mercedes.
Bottas also scored his third podium in four races, and trails Hamilton's 73 points in the driver standings by just 10, having closed the gap by 13, courtesy of the Brit's distant fourth place.
It was the best way for Bottas to bounce back, at a track he has always gone well at. Now, the real challenge begins. If he can deal Hamilton more blows throughout the season, then Mercedes must keep its 'No Number 1' policy and risk losing everything in order to win.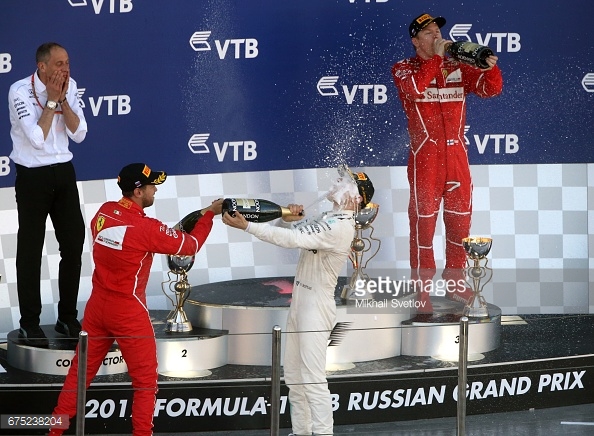 That is because of Ferrari, Vettel and Kimi Raikkonen.
Vettel is unofficial Ferrari 'Number 1' and so Raikkonen, at some point will be told "Sebastian is faster than you", and expected to move out the way to aid the title challenge, especially
toward the back end of the season, or if the veteran Finn has a problem in the race.
In 1986, when Williams had two drivers going for the title, Nigel Mansell and Nelson Piquet, who took points off each other throughout, while McLaren, (more on that later) had a clear 'Number 1' in Alain Prost while Keke Rosberg was the dutiful rear-gunner, in the twilight of his career. Prost eventually won the title, while Williams had enough for the constructors'.
Sound familiar? That is exactly what we could be heading for this season as the two Mercedes keep taking points off each other, allowing Vettel to sneak in and snatch a fifth World Championship crown at the death.
Feeling the Force
The job Force India are doing with the VJM10 is nothing short of incredible. It has had difficulty in correlating data from the wind tunnel to the track, but that hasn't stopped Sergio Perez and Esteban Ocon from scoring double points in every race, and putting the team into an early fourth in the constructors'.
While the opposition continue to have problems, namely Lance Stroll taking time to bed in at Willams, Haas and Toro Rosso unable to string together a good weekend, and Renault being let down by Jolyon Palmer not being able to not have a crash.
Red Bull, despite the RB13 being plagued by understeer and a lack of downforce, are a comfortable third quickest, and not threatened by the ever tightening pack behind.
Adrian Newey had been expected to create a work of art, but the area around the sidepods and bargeboards currently looks more like a blank canvas. Surely the technical genius of Newey hasn't missed his brushstrokes with the new technical regulations?
For the Spanish GP next time out, the team is bringing a major upgrade package, which it hopes will push it further up the grid, and into a three-way battle for the title.
Palmer needs to improve. Fast.
The Renault RS17 is quick. There is no questioning that. Hulkenberg got it well into the top 10 in qualifying and brought home four valuable points for an eighth place finish.
There is feel good factor at Enstone as well, as the facilities are upgraded and more staff are recruited to help the French manufacturer push for the title in the coming years, which is one reason why Hulkenberg jumped the Force India ship to join at the start of the season.
If they continue to bring upgrades at their current pace, then there is no question that in 2018, a possible title challenge may be on the cards, provided the team can solve the problem of a lack of race-pace consistency that has hampered them throughout the season thus far.
But to do that, they need two drivers, consistently bringing home points and taking points off rival teams.
Jolyon Palmer needs to step up and quickly. In the space of four race weekends, he has written off many front-wings, and not been able to show what he is capable of, after all, he is a GP2 champion.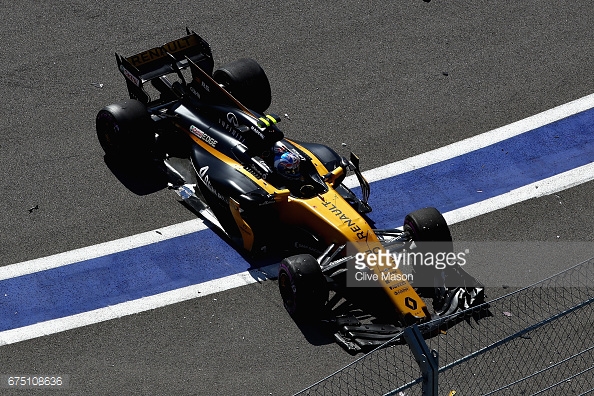 Yes, in Russia he had another disrupted weekend, with a chassis change, engine change and a crash in Q1 before being taken out in a racing incident with Romain Grosjean at Turn 2 on the opening lap, but that is no excuse. He must do better when on track.
He made it into the Q3 shootout for the first time in Bahrain, but that is the single highlight in a season where he has struggled for pace against Hulkenberg and been made to look average at best.
One reason he needs to improve is that a Renault legend might choose to return to his old stomping ground...
Fernando Alonso
Too much has been written about Honda and so I will not add to it, however tempting, but instead I will focus on Fernando Alonso.
If there is a image that will come to describe McLaren-Honda MK2, it will be Alonso walking away from the car after it broke down on the formation lap. Surely after that Alonso's tether must have snapped.
He will do his home Spanish Grand Prix, before jetting off to Indy to do the 500, missing Monaco before supposedly returning for Canada in June.
But just think, if he does well at Indy, maybe even win the second part of the 'Triple Crown' he craves (Monaco GP, Indy 500 and Le Mans) and follow in Graham Hill's pedals, will he want to come back to such incompetent machinery?
He could spend the rest of the season stateside, competing in IndyCar, before returning in 2018, not at McLaren, and who could blame him, but rocking up at Enstone for a third stint, and where he won his two World Championships, in 2005 and 2006.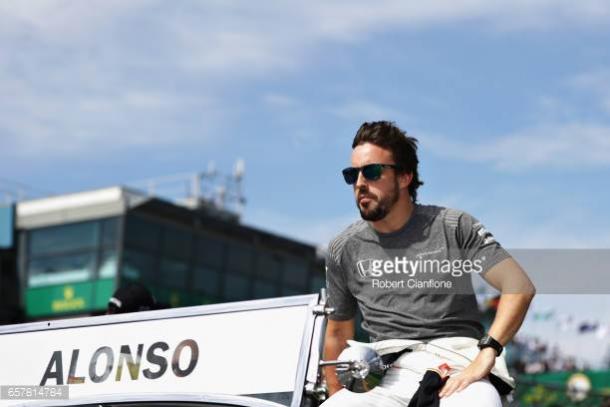 Alonso and Renault seem to work. He destroyed bridges at Ferrari, so isn't going back there, Mercedes won't take him, he is not staying at McLaren, Red Bull prefer to promote from within, and so the only serious solution would be going back to Renault.
At some point, and with all due respect to Palmer, Renault must make a choice. Who do they want in the car for 2018? A two-time F1 world champion, who is still one of the best drivers in the world, or a driver who can't make the most of the decent equipment he has?
The switch may come even earlier than expected. If Alonso does quit McLaren mid-season, and doesn't want to do a full IndyCar season, and Palmer has not picked up by mid-season, the switch could come as early as the Belgian Grand Prix in August.
Just imagine the scene in 2018...
Lewis Hamilton - Valtteri Bottas - Mercedes
Sebastian Vettel - Kimi Raikkonen (probably) - Ferrari
Daniel Ricciardo - Max Verstappen - Red Bull
Fernando Alonso - Nico Hulkenberg - Renault
Eight of the best F1 drivers of the time, in four different cars, three major manufacturers and one with enough power to be considered one, the battle could be immense.
(But then knowing Alonso's luck, McLaren-Honda will get its act together and be the partnership to topple Mercedes.)