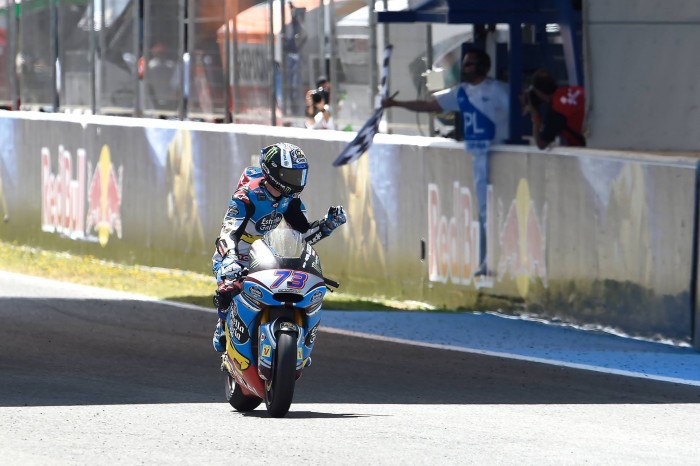 The sun was out, the temperature fortunately for the 600cc class was lower than what they experienced during the Qualifying session the day previous that caught many riders out, but the Moto2 class lined up on the grid to start the first of the European rounds and the fourth round of the Moto2 season at the Circuit de Jerez in Spain.
Would Marquez's domination continue in Jerez?
Alex Marquez dominated in the build up to the race as did the Estrella Galicia 0,0 Marc VDS Team as Marquez and his teammate Franco Morbidelli finished the final Free Practice session and Qualifying on top. Topping every session by the warm-up on race day, Marquez's pole position lap was set at a record breaking pace and he now has the best lap record with a time of 1:42.080 in Jerez.
The air temperature was up to 27 degrees Celsius and the ground temperature was up to 40 and the humidity had decreased down to 35%. After Morbidelli was fastest during the warm-up, the riders lined up on the grid to get the fourth round underway.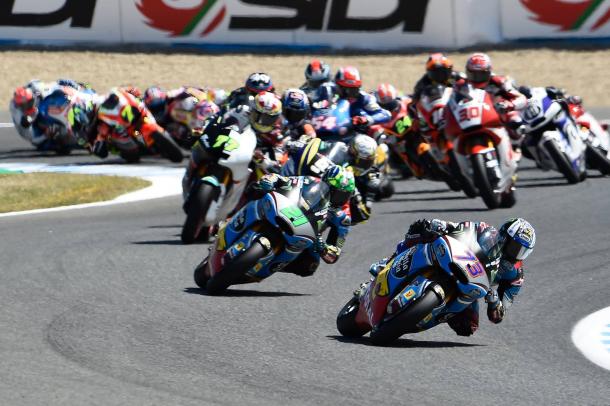 Clean start by everyone at the Circuit de Jerez
It was a clean start from the whole grid and it was second on the grid, Morbidelli who led into turn one as he had the inside line on his teammate and pole position man, Marquez. But, Marquez went round the outside at the next turn to take the lead which is where he remained and began to pull away from the rest of the pack, but his teammate stayed in touch.
As the duo pushed away, the field sorted themselves out behind them. Xavi Vierge (Tech3 Racing) who has been fantastic so far this season was in third initially but lost a position at the end of the straight at turn six, an overtaking hotspot that caught many riders out the previous day, Dominique Aegerter (Kiefer Racing) overtook him.
Vierge comes under attack
Vierge then came under attack from Mattia Pasini (Italtrans Racing Team) at the final turn and another overtaking hotspot, 13 but he was unsuccessful. Miguel Oliveira (Red Bull KTM Ajo) was coming under pressure from rookie, Francesco Bagnaia (Sky Racing VR46) as the two new teams battled it out for sixth in the opening laps.
Bagnaia passed him on the second lap and it was not long before he made his way passed Vierge to take fifth. Pasini had pulled away from Vierge and had caught Aegerter and overtook the Swiss rider to slot into third. Oliveira then lost more positions as he was passed by both Vierge who retaliated on a move from him, and Takaaki Nakagami (Idemitsu Honda Team Asia).
Corsi takes out two riders on lap three
On the third lap though disaster struck for Nakagami and Vierge as they came to the end of the main straight. On the approach to turn six, Simone Corsi (Speed Up Racing) was on the inside line making an attempt to overtake Nakagami only he lost control and slid out. He managed to tack the back of Vierge who had to break harder to avoid Oliveira who was offline, and as he slid sideways he took Nakagami out with him.
Fortunately none of the riders appeared to be injured from the incident. Corsi retired immediately but Nakagami and Vierge were able to recover however several laps later Vierge was forced to retire; a disappointing end to a promising weekend.
Estrella Galicia 0,0 Marc VDS riders extend lead
Meanwhile at the front, Marquez and Morbidelli continued to pull away extended almost a two second lead at the front. In his pursuit of his teammate, Morbidelli set what would be the fastest lap of the race with a time of 1:42.596 which became the new 2017 Circuit Lap Record.
Bagnaia's form continued, extremely promising for a rookie, as he caught Pasini who rides with a modified handlebar which contains the clutch and front brake on the left, and overtook the Italian to place himself in third and potentially on the podium.
Xavier Simeon (Tasca Racing Scuderia Moto2) avoided a crash when he ran on at turn one of lap five but fortunately he was able to keep his bike upright and although he lost time travelling through the deep gravel trap, he was able to re-join and continue on in the race.
Mistake from Marquez allows Morbidelli to take the lead
Marquez was able to continue his lead further as he began lap seven but then as he began the eighth lap, he went wide at turn one which enabled his teammate to benefit and he slotted past to take the lead. Marquez was determined to win, especially on home turf and he immediately applied the pressure to the Italian.
In a way it benefited him as Morbidelli braked early and lost the front end heading into a right hand turn and slid out of the race and into the gravel trap. After leading for less than a lap, and after winning the opening three rounds of the 2017 Moto2 season, he was forced to retire.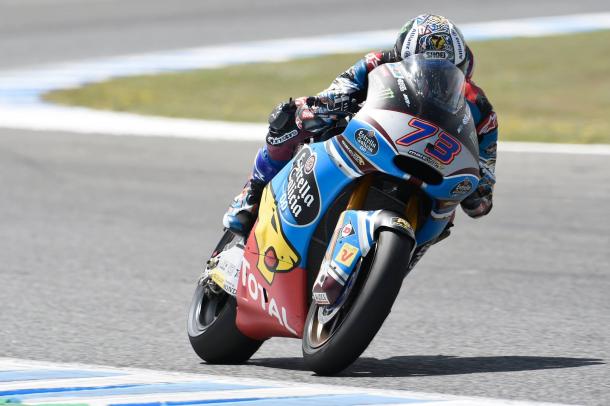 Marquez regains lead after Morbidelli crash
Marquez managed to avoid copying his teammate's mistake and bypassed the corner without fault and regained the lead of the race. This is where he stayed for the remainder of the race looking comfortable. He was quick all weekend and although he was seen wrestling his bike around some points he was extraordinary and claimed a well-deserved first victory in Spain.
It was almost jeopardised on lap 17 when he almost lost the rear and was forced to pick it up on his left knee at turn 13; it acted as a warning which eventually helped him to success.
The race results were not decided
Behind him however it was not so simple. Oliveira began a pursuit of the podium, passing Aegerter at turn 13 on lap 16 and then turned his focus to Pasini ahead of him. Pasini had caught Bagnaia however and was all over the back of the rookie as they took alternative lines. On the 15th lap he was on Bagnaia's tail and looked to make an attack at turn 13 but he almost lost the front allowing Bagnaia to break away slightly.
It was a fantastic save from the Italian on the 17th lap as the front had folded, began to tuck under him, but he made a superb recovery. Other riders weren't so lucky as the likes of Sandro Cortese (Dynavolt Intact GP) went down as did rookie, Khairul Idham Pawi (Idemitsu Honda Team Asia); both riders were unhurt.
Aegerter goes backwards under pressure
Aegerter appeared to crack slightly under the pressure as towards the end of the race he lost two places in one to Luca Marini (Forward Racing) and Marcel Schrotter (Dynavolt Intact GP) who forced him down to seventh. Former MotoGP rider, Yonny Hernandez (AGR Team) put his experience to use passing the likes of rookie, Jorge Navarro (Federal Oil Gresini Moto2), Lorenzo Baldassarri (Forward Racing Team) and Axel Pons (RW Racing GP) in the closing stages.
Oliveira determined to get on podium
The final surge came at the end of the race. Oliveira managed to catch Pasini and passed him as they approached turn six. Pasini was forced to pick up his bike as he turned when he was overtaken as he did not expect the Portuguese rider to be there at that time. A final attempt from Thomas Luthi (CarXpert Interwetten) to take seventh went wrong as he overshot the corner and ran wide fortunately avoiding Schrotter and Aegerter but he recovered to his original position.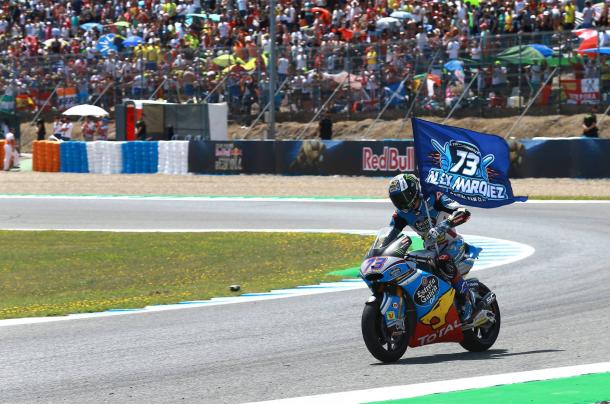 First Moto2 victory for Marquez in Spain
Marquez collected his first ever and well-deserved Moto2 win at the Circuit de Jerez in Spain winning with a comfortable lead of 2.442 seconds. Rookie, Bagnaia collected his first ever Moto2 podium finishing second in Jerez and Oliveira completed the podium in third. Pasini finished the race in fourth despite coming under pressure from Marini who finished up seventh. Schrotter was sixth ahead of Aegerter and Luthi who had to settle for eighth.
Hernandez won the battle for ninth against Axel Pons in 10th and Baldassarri in 11th. Rookie, Navarro was 12th ahead of Hafizh Syahrin (Petronas Raceline Malaysia) who celebrated his podium in Jerez. Ricky Cardus, who is standing in for injured Brad Binder with the Red Bull KTM Ajo team again finished in the points in 14th and collecting the final point in 15th was rookie, Tetsuta Nagashima with the Teluru SAG Team.
Rookie Quartararo just outside the points
Just outside the points was rookie, Fabio Quartararo and his PonsHP40 teammate, Edgar Pons. Isaav Vinales (Be-A-VIP SAG Team) was 18th ahead of Simeon, Jesko Raffin returning to race in Jerez with the Garage Plus Interwetten Team completing the top 20. Nakagami recovered to 21st ahead of injured Remy Gardner (Tech3 Racing) who bravely finished 22nd with a broken and plated ankle.
Rookies, Axel Bassani (Speed Up Racing), Federico Fulgini (replacing Danny Kent who parted ways with Kiefer Racing), Stefano Manzi (Sky Racing Team VR46) who came off earlier in the race and recovered, and Andrea Locatelli (Italtrans Racing Team) completed the list of finishers in the Moto2 class in Jerez in 26th.
Morbidelli retains championship lead
Despite collecting a DNF in Jerez, Morbidelli still leads the Moto2 championship as his three wins previous has him on 75 points. Behind him Luthi is second on 64 points ahead of Oliveira in third with 59 points. Marquez's win means he is fourth with 49 points, and Bagnaia's first podium means he is the highest placed rookie in fifth on 33 points. Nakagami, Marini, Aegerter, Baldassarri and Vierge currently complete the top 10 four rounds in.