He sounded unusually exhausted over the course of his many radio conversations with race engineer Pete Bonnington.
Post race, he slumped down in his chair - as if he were a defeated boxer - whilst removing his radio set, his helmet and other paraphernalia in the cool down room. This was a victory that Lewis Hamilton really had to work for, in a thrilling Spanish Grand Prix that exceeded all expectations.
And despite all the pre-season patter and murmurs that overtaking would be an impossible task in 2017 thanks to the new regulations, it was here, at the Circuit de Catalunya - a place renowned for being tough to pass on, that we saw the most gripping, action-filled race in the early stage of the 2017 season.
Sebastian Vettel pushed Hamilton hard, leading for the majority of the first half of the race, as he looked to extend his lead at the top of the World Championship; but Hamilton was not to be denied a 55th career win in Formula One, his second in Barcelona.
It came at a crucial time too. Without a win since the Chinese Grand Prix at the start of April and having seen his Mercedes teammate Valtteri Bottas take his maiden F1 win in Russia and close the gap in the championship between the pair to just 10 points; Hamilton had to rebuild the buffer between the two and stop Vettel from running away with the title he so desperately wants to regain.
Although Bottas, keen to step out of the 'second driver' role he was in danger of assuming, proved to play a crucial part in Hamilton achieving his target. Before his retirement on lap 39, he played the rear gunner, holding Vettel behind him before his sole pitstop, allowing the Brit to close up on the German and ultimately get into a position to pass him.
Wheel banging
There was drama from the very start. Even though Hamilton started well initially, Vettel's second start phase was unparalleled and helped propel him into the ascendency when those behind him lost their heads. Squeezed on the inside of Turn 1, Bottas clipped Kimi Raikkonen, sending his compatriot into a wiggle that resulted in giving Max Verstappen's Red Bull a hefty whack. In the chain reaction, Felipe Massa pushed Fernando Alonso onto the gravel when taking avoiding action. Alonso never recovered the pace he had in Qualifying yesterday, finishing a distant 12th.
Both Raikkonen and Verstappen were eliminated on the spot with suspension damage, prompting tears from a young Ferrari fan in the grandstand. His day got considerably better when he was allowed access to the paddock and got to meet the Ferrari driver.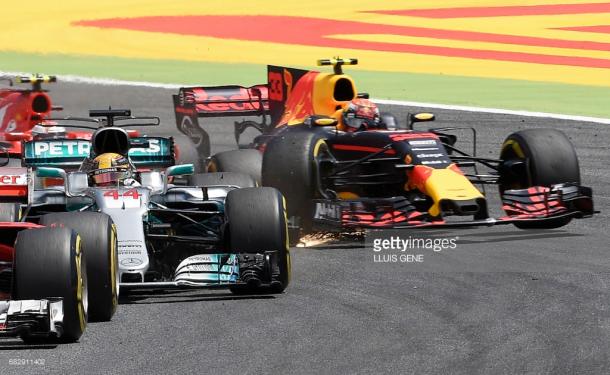 Back at the front, Vettel built up a two-and-a-half second gap to Hamilton and that's how it stayed for the first 15 laps - Hamilton keeping pace, but cautious about his levels of tyre wear. The procession was ended with Vettel's first stop for another set of soft tyres; he rejoined fourth, behind Hamilton, Bottas and the remaining Red Bull of Daniel Ricciardo.
Bottas halts Vettel charge
Whilst he wasted little time in negotiating the Australian, Bottas proved to be harder nut to crack after Hamilton's own stop - with Mercedes opting to utilise the medium compound early in the race. For lap after lap, Vettel poked and prodded the Mercedes, ducking and diving in order to find a way through; but, just as in Russia, Bottas was not to be flustered in a typical, Finnish fashion. A stellar display of defensive driving frustrated Vettel, with Hamilton gaining time hand over fist - slicing the gap from seven-and-a-half seconds to four.
It was going to have to take something special to get past, and Vettel delivered it on lap 25. Using DRS to draw alongside the Mercedes, Vettel faked to the outside before jinking back to the inside line, even putting a wheel onto the grass to slither past Bottas for the lead at Turn 1. It was greeted with a cheer in the stands and the Ferrari garage; but Mercedes still sported a smirk.
Hamilton was waved through a little easier by Bottas than Vettel was a lap earlier and set off in hot pursuit. However, the gap stayed constant, just as it did in the first stint as Hamilton became more and more concerned about the performance of his medium tyres.
A change in complexion
Away from the front, Pascal Wehrlein was displaying the efficiency of a one-stop strategy, holding seventh in his Sauber. On the soft tyres, the German did nearly 40 laps, pitting under the Virtual Safety Car that was a result of an incident between Stoffel Vandoorne and Massa at Turn 1. Vandoorne's miserable first full season continues.
Back to Wehrlein, he remained in the top 10, and stayed there for the rest of the race after a gutsy drive - despite receiving a five second penalty for a pit lane infringement - earning Sauber a crucial six points.
That incident not only benefitted Wehrlein, but Hamilton, who got rid of his medium tyres for the soft compound, staying in second. Two laps later, Vettel changed his softs, edging Hamilton out into Turn 1. The two banged wheels, Hamilton having to take to the tarmac run off.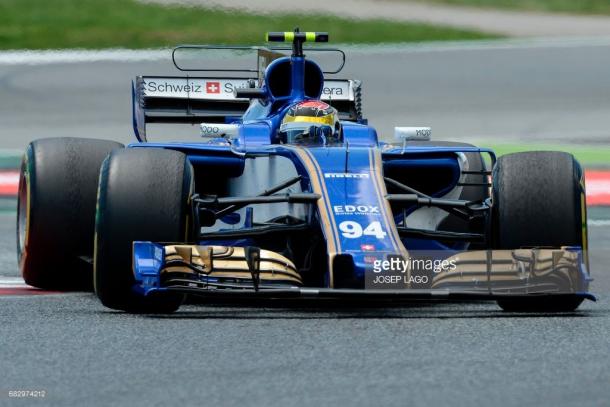 Bottas had failed to close up on the pair before his race came to a premature end, thanks to an engine failure. The old power unit cost him dear, not only in terms of the race, but also the championship, as he now sits 41 points behind Vettel.
Hamilton had had several nibbles at Vettel in the five laps that followed, but thought better of a move, biding his time in order to preserve his tyres. On lap 44 however, number 44 had had enough - sweeping round the outside of the Ferrari at Turn 1, exacting his revenge for Vettel's forceful defence.
He scampered away, Vettel comparing him to "a train" over the radio. Hamilton admitted after the race that he had to nurse his tyres at the end, and was thankful for Massa holding up Vettel unintentionally at La Caixa hairpin on lap 60 - costing the German a further one-and-a-half second.
He eased home for his second win of the season to close the gap at the top to just six points. A second successive win at Monaco would put him ahead of the German for the first time this year, no matter where Vettel finishes.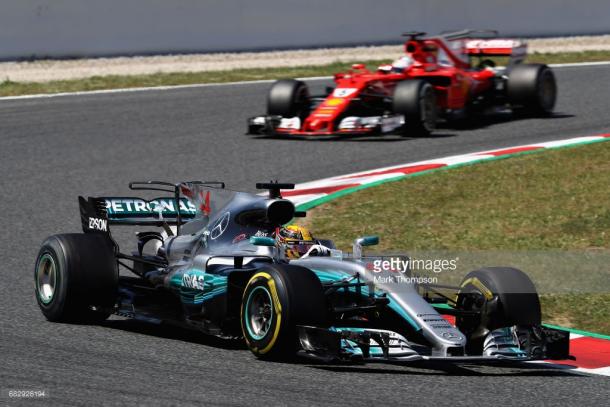 Force India tickled pink
Noteworthy performances not only came from Wehrlein in eighth, but the Force India pairing of Sergio Perez and Esteban Ocon, in fourth and fifth respectively. Just behind them in sixth, Nico Hulkenberg helped Renault's weekend end on a high note after they'd fallen victim to the computer hacking that's affected many large operations in the past couple of days.
FINAL CLASSIFICATION

| | | | | |
| --- | --- | --- | --- | --- |
| Pos | Driver | Team | Time/Reason | Points |
| 1 | Lewis HAMILTON | Mercedes | 1:35:56.497 | 25 |
| 2 | Sebastian VETTEL | Ferrari | +3.490 | 18 |
| 3 | Daniel RICCIARDO | Red Bull | +1:15.820 | 15 |
| 4 | Sergio PEREZ | Force India | +1 lap | 12 |
| 5 | Esteban OCON | Force India | +1 lap | 10 |
| 6 | Nico HULKENBERG | Renault | +1 lap | 8 |
| 7 | Carlos SAINZ | Toro Rosso | +1 lap | 6 |
| 8 | Pascal WEHRLEIN | Sauber | +1 lap | 4 |
| 9 | Daniil KVYAT | Toro Rosso | +1 lap | 2 |
| 10 | Romain GROSJEAN | Haas | +1 lap | 1 |
| 11 | Marcus ERICSSON | Sauber | +2 laps | |
| 12 | Fernando ALONSO | McLaren | +2 laps | |
| 13 | Felipe MASSA | Williams | +2 laps | |
| 14 | Kevin MAGNUSSEN | Haas | +2 laps | |
| 15 | Jolyon PALMER | Renault | +2 laps | |
| 16 | Lance STROLL | Williams | +2 laps | |
| | | | | |
| Ret | Valtteri BOTTAS | Mercedes | Engine | |
| Ret | Stoffel VANDOORNE | McLaren | Collision | |
| Ret | Max VERSTAPPEN | Red Bull | Collision | |
| Ret | Kimi RAIKKONEN | Ferrari | Collision | |