I'm going to start with a cliché. If you didn't watch the 2017 Spanish Grand Prix, and saw just the results, that Lewis Hamilton won his 55th Formula 1 race, from pole and Sebastian Vettel was second, then you'd be forgiven for thinking it was a boring race.
However, the race was anything but boring. At a track that is notoriously difficult to overtake on, the drivers served up the race of the season thus far.
The 66 laps were a showcase of everything what F1 should be, DRS aside of course.
There was a battle up front, between two different teams, a strategic duel not seen since 2010, drivers sounding exhausted, wheel-to-wheel racing throughout the field before one driver emerged victorious.
After the dull nature to the Russian Grand Prix, the weekend in Spain came at the best time possible.
Hamilton vs Vettel. Finally.
It is a quirk of F1 that the two of the top three drivers in the world have never competed, directly against one another for the title.
Both Hamilton and Vettel made their debuts in 2007 and have won, before the Spanish GP, 98 Grand Prix and all but two titles since 2008.
Finally though, in Barcelona, we got to see the two of them slog it out, directly for a win. Only on a very few number of occasions have the two of them gone wheel-to-wheel and that was only when one was struggling with tyres and pace.
It was refreshing to see the Triple and Quadruple World Champions go at it, and go at it they did. Throughout the first stint, Vettel had a comfortable lead out front, of about 2.5 seconds, with Hamilton content to sit behind.
As Vettel tried to clear the traffic after his first stop for soft compound Pirelli's, it was a shame that Valtteri Bottas held Vettel up, but that cost Vettel around 3-4 seconds, which allowed Hamilton to close back up after his own stop seven laps after Vettel for medium Pirelli's.
On Lap 25, Vettel finally made the move for the lead, dancing the rear of the Ferrari on the grass, while diving up the inside of Bottas after, twice, selling him a dummy.
Ferrari lost the race by not pitting Vettel for Mediums under the VSC deployed for Stoffel Vandoorne's accident at Turn 1 with just over 30 laps to run, while Mercedes did with Hamilton, switching him back to soft compound for a blitz to the flag.
When the Ferrari exited the pits, it was game on. Two of the all-time greatest F1 drivers finally went wheel-to-wheel. Banging wheels at Turn 1, Hamilton was forced wide as Vettel struggled to get heat into his fresh rubber.
Finally though, on Lap 44 after Vettel lost the assistance of back-markers giving him a tow on the pit-straight, Hamilton made the decisive move and that was that.
Number 2 Drivers
Despite winning in Russia, Bottas must now be considered the Number 2 driver at Mercedes, as Kimi Raikkonen should be at Ferrari after his DNF, more on that later.
A DNF for Bottas as well, left the two Finn's more than more than a race win, in terms of the points from their team-mates, with Raikkonen almost two away, 49 points behind Vettel, who is on 104 points having made his best start to a season, first or second in every race, since 2011.
As Hamilton and Vettel continue to show how it is done, their more than capable team-mates are being made to look average. You'd almost be forgiven for thinking Hamilton is the reigning World Champion.
Such is his effortlessness in claiming pole and ability to grind down a gap and make a move when the opportunity is right, that Bottas is feeding off scraps, but can beat Hamilton on his day, as he did to get pole in Bahrain.
Raikkonen is now a spent force. He will still haul good points, and occasionally a podium, but that lightning quick pace has slowly been leaving the 2007 champion. It could be argued that he hasn't been the same since he was on Michelin rubber back in the V10 days.
Force India pull away
Despite bringing an extensive upgrade package to Barcelona, Red Bull was more than a minute behind the leaders and Daniel Ricciardo was the only car un-lapped by Hamilton and Vettel.
If Red Bull isn't careful, Force India could conceivably snatch third place in the Constructors'.
The Silverstone team have had their own correlation problems with wind-tunnel data compared to the on-track variety, but the results speak for themselves.
Force India is the only team to have both cars in the points at every race, and have made their best ever start to a season, claiming 53 points in five races, with Sergio Perez taking fourth in Spain, ahead of Esteban Ocon recording his best result, with fifth.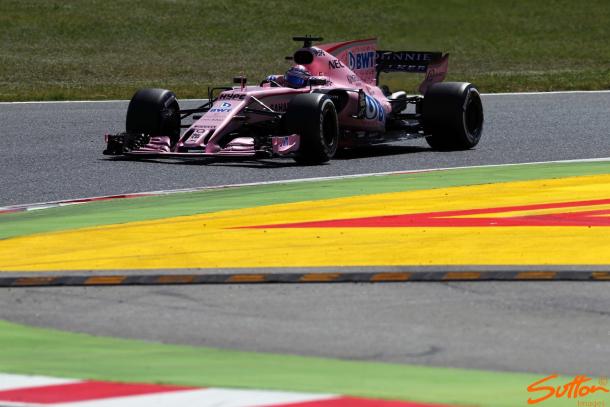 Williams is the closest challenger to Force India, in theory, but once again the Grove outfit suffered from a miserable weekend. Lance Stroll was on one less stop than Felipe Massa, but the Brazilian still finished ahead and out-qualified Stroll by nine places.
The young Canadian is quick, he dominated European F3 last year, but the new breed of F1 car is a different story. As a result of the prize money structure of F1, the need to capitalise when you are strong is paramount.
Of the mid-field teams, Williams arguably started with the best car, but now, as Force India gets its act together, they have been usurped. Stroll needs to find his feet, quickly.
Headline Act
Put yourself in this scenario.
It's Friday morning, and you are getting ready to go out for FP1. You are eager to test all the new upgrades the team have brought to the car and see, just how far you can move up the grid.
The data says you should feel more downforce and grip. Trundling down the pit-lane you feel optimistic.
Up through Turn 1 and Turn 2 on the install lap, everything is going as it should, then Boom, you remember you've got a Honda Power Unit bolted in behind you.
Your car has suffered a massive engine failure and is leaking oil like no tomorrow, you then decide to go and play tennis, leaving doubt that you'll return for FP2 in a matter of hours.
Fast forward to 13:40pm ish local time on Saturday afternoon. You get the McLaren-Honda MCL32 into Q3 for the first time and everyone lauds you.
This is not how it should be for Fernando Alonso. After the humiliation of breaking down on the formation lap in Russia, and then suffering the failure on the install lap, there were some questions whether Alonso would leave for Indy immediately. Thankfully he didn't and we got to see lap of the season.
Somehow, and I'm not sure even he knows he, he man-handled the McLaren to seventh on the grid. Briefly reminding us all that he still has it. He can still do it. If only he had a competent engine behind him.
The race was ruined by the first corner incidents, and he trailed home two laps down, but at least he had finished before he swiftly departed for a private jet to take him to Indy.
Knowing Alonso's luck, McLaren will win the Monaco Grand Prix 1-2, before he suffers another engine failure on the first lap in Canada upon his return.
Formula 1 wins
One thing the Bernie era of F1 was lambasted for, was the lack of accessibility to the teams and drivers. Teams weren't even allowed to post videos from the paddock, showing around a drivers room for example.
Thankfully Liberty Media relaxed such rules, and the Spanish GP was another positive step forward.
Firstly, through F1 experiences, two two-seater cars were available to be driven, with fans in the back, although this was more of a tester run-out with celebrities such as Carlos Puyol and journalists such as Will Buxton being driven around the circuit.
After qualifying, the top three, plus Alonso, were told to go directly onto the grid to be interviewed in front of the main grandstand. There were some teething problems, such as the apparently not being told about it, but the intent was there.
Of course, I couldn't write an analysis of the Spanish GP without talking about the star of the race, Thomas.
If you don't know his name, you'll have seen the picture by now.
Under Bernie, it would've been a tough luck kid attitude, as the young French boy's favourite driver, Raikkonen retired on the first lap, and he proceeded to cry his heart out.
However, in a stroke of genius, some bright-spark in Ferrari and FOM PR decided to bring Thomas and his parents into the paddock, to meet none other than Raikkonen.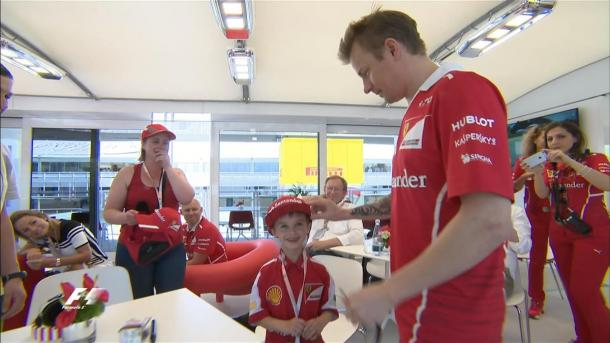 The tears were soon replaced by a beaming smile as he looked up to see standing in front of him, Kimi Raikkonen himself, who signed a cap to replace the boys own.
It is the little touches that go a long way, and just wait until we get to Silverstone when Lewis Hamilton is taken out at Turn 1, and Mercedes are swamped by thousands of young fans…