 PROVISIONAL CLASSIFICATION

1. Vettel
2. Raikkonen
3. Ricciardo
4. Bottas
5. Verstappen
6. Sainz
7. Hamilton
8. Grosjean
9. Massa
10. Magnussen
11. Palmer
12. Ocon
13. Perez

Retired: Stroll, Kvyat, Vandoorne, Ericsson, Button, Wehrlein, Hulkenberg
It's Ferrari's first win at Monaco since Michael Schumacher in 2001 and what a way to do it - a 1-2. Hamilton gets 7th, which I'm sure he'll be content with given his starting position.
CHEQUERED FLAG: Sebastian Vettel wins in Monaco for the second time in his career, ahead of Kimi Raikkonen and Daniel Ricciardo.
78: And it's a new lap record. Vettel starts his final lap of the day.
77: Another fastest lap by Perez, this time a 1:14.820. 1.2 seconds off of last year's pole time!
77: Perez with the fastest lap, a 1:15.017
74: Five laps to go.
73: Stroll is wheeled back into his garage.
72: And now, he stops. Perez complains again down the radio about too much talking from his engineer.
72: Kvyat and Perez clash, Kvyat has damage and he slows.
71: "If you're comfortable, go Strat 6." says Tony Ross.

"Does it look comfortable?" replies Bottas.
69: Verstappen is right on Bottas' gearbox.
68: Ricciardo continues in third, luckily for him.
67: As does Vandoorne!
67: Ricciardo hits the barrier!
67: We're back underway, with the top seven as close as they've been!
66: The Safety Car will be coming in, we'll have a 12 lap shootout.
65: Ericsson hits the wall whilst unlapping himself. No tyre temperature, no brake temperature, equals no grip.
64: Stroll complaining about falling brake temperatures.
64: Verstappen used the Safety Car to pit and remains in 5th. We are still under the control of Bernd Maylander.
63: Wehrlein jumps out and is walking back.
62: Great to hear Wehrlein communicating over the radio. He says that his only worry is that he can't jump out.
61: Jenson's comeback is over, he's parked on the escape road at the Nouvelle Chicane. Maybe he tangled with Wehrlein?
61: He's at completely the wrong angle, big worries here.
61: A car in the wall at Portier, a horrible crash by the looks of it. It's Wehrlein! Safety Car out.
60: The order with 19 laps to go: Vettel, Raikkonen, Ricciardo, Bottas, Verstappen, Sainz, Hamilton, Grosjean, Kvyat, Vandoorne.
60: Perez nearly barrelled into Wehrlein whilst trying to lap him.
57: "Track breaking up at Turn 1," Button is told.
57: The best battle on track seems to be Ocon and Ericsson for 16th. The Swede has the advantage.
54: Ricciardo currently the fastest man on track. A loose drain cover reported at Turn 1, which is a huge safety concern.
50: A lot of people complaining about Ferrari "swapping" Vettel and Raikkonen. Raikkonen was struggling with his tyres, showing slower pace than Vettel and hinted that he wanted to pit. Vettel was helped by Ericsson stopping and not holding him up. There's no sabotage.
47: Hamilton into the pits. It's a decent stop and enough to see him rejoin in 7th.
46: Mercedes look ready to spring out of the garage for Hamilton.
44: Vandoorne stops from 7th and rejoins 10th. Hamilton remains the only man yet to stop.
43: Magnussen having to stop again.
43: Hamilton showing good pace in sixth, still yet to pit.
42: Williams ready for Stroll in the pits.
40: "Has Daniel stopped?" asks Verstappen. Gianpiero Lambiase says yes and he's gained two places. Cue a string of expletives from Verstappen.
40: Ocon has a rear left puncture.
40: The order at halfway +1 lap: Vettel, Raikkonen, Ricciardo, Bottas, Verstappen, Grosjean, Hamilton, Vandoorne, Sainz, Magnussen.
39: And the German is in. It's a good stop and it's good enough for him to take the lead!
39: Vettel told to box.
39: Ricciardo in, as Vettel sets another fastest lap. Ricciardo rejoins in 3rd - gaining two places on Verstappen and Bottas!
38: Hamilton up to 7th as it stands. Yet to pit though.
38: Vettel responds, a 1:15.587 is a new fastest lap.
36: Ricciardo is flying. Ericsson pits and thus releases Vettel into clean air.
35: Perez is told that engine temperatures are critical, he is asked to either pass Stroll or drop back. He replies: "Man, calm down. Who cares if the engine blows."

Force India I'd presume.
35: Ricciardo on fire with the fastest lap, a 1:16.117.
35: Raikkonen asks if he is to pit and his team confirms it. Super-softs on, he comes put ahead of Sainz in 3rd.
34: And here he is. Super-softs on. He rejoins in 5th, just ahead of Verstappen.
33: Mercedes are out, presumably for Bottas.
32: "Box, Max, box. Opposite Bottas."

Because Bottas doesn't come in, Verstappen pits for a set of super-softs. He rejoins in 6th.
32: Now Verstappen is catching Bottas.
30: We should be coming up to the pit stop window soon.
29: Hamilton hasn't been making ground on Kvyat recently.
28: Bottas is closing in on Vettel.
25: Ericsson yells down the radio complaining about balance. He performs a nice drift at the swimming pool.
23: Perez is hassling Stroll, but the Canadian stands firm.
21: The gap between Raikkonen and Vettel is hovering around 1.4-1.6 seconds.
20: The order: Raikkonen, Vettel, Bottas, Verstappen, Ricciardo, Sainz, Grosjean, Magnussen, Kvyat, Hamilton.
17: Perez in the pits and he's having a front wing change, which means we've missed something. He puts on super-softs.
17: A "major gearbox failure" for the German and he's parked by Portier.
16: Smoke from Nico Hulkenberg's Renault. His engine has expired just before Mirabeau.
15: Fastest lap from Vettel - a 1:16.197. We're already 1.8 seconds faster than last year's fastest lap.
13: Wehrlein gets a five second time penalty for an unsafe release. Unlike Spain two weeks ago, this transgression of the rules is not his fault.
12: Vettel brings the gap down to under two seconds.
10: Vettel now with the fastest lap - he's far from finished. A 1:16.421 is the new benchmark.
9: Raikkonen has built up a 2.3 second gap to Vettel in second.
8: Raikkonen smashes the fastest lap - a 1:16.666. Ominous.
6: It would be wise to stop Hamilton in a few laps, but we don't know what Mercedes have up their sleeve.
6: "It's hard to get close to these guys." Hamilton explains.

He's told that his race will come later.
5: Button complains about an unsafe release; Wehrlein looked like he was released in the Brit's path.
5: Raikkonen with a new fastest lap - a 1:17.072.
4: Verstappen is edging away from Ricciardo in fourth, his lap times are on par with Raikkonen.
2: Button and Wehrlein on a different strategy to everyone else, as they pit.
2: The order: Raikkonen, Vettel, Bottas, Verstappen, Ricciardo, Sainz, Perez, Grosjean, Magnussen and Hulkenberg. Hamilton in 12th.
START: Raikkonen gets off well and leads into Turn 1 ahead of Vettel and Bottas. Everyone through cleanly.
Jenson Button receives a nice message from Fernando Alonso. He's asked to take care of his car, Jenson replies "I'll pee in your seat".

Come back permanently, please.
FORMATION LAP: We're off!
Five minutes to go until we embark on the formation lap.
Eddie Irvine is on the grid with bleached blonde hair. More at 10.
Of course the biggest issue for Ferrari is themselves. How do they manage the Vettel/Raikkonen situation?
Mika Hakkinen has just said his famous "unbelievable". I've missed that.
Our retired reigning World Champion Nico Rosberg is at one of his home races as a relaxed spectator today. He believes that Hamilton's problems are setup based - meaning that points or even finishing may be a hard task.
Good afternoon to all, welcome back to VAVEL's LIVE coverage of the 2017 Monaco Grand Prix. I'm James Eagles, joining you with about half-an-hour until the formation lap.

The lights are green at the pit exit, and we're seeing a steady stream of drivers embarking on their reconnaissance laps.
What they said

Kimi Raikkonen: "It's great to be on pole position, this is one of the races where it is probably most important to be at the front. Half of the job is done, but we still have a big challenge in front of us tomorrow. So far so good, I'm happy with the car. This is a very special place, it's been a bit tricky to get everything working as we wanted."

Sebastian Vettel: "I am not happy with myself because pole position was up for grabs, but it's great for the team. If I had to give up pole position and hand it to someone, I would choose Kimi. I am happy for him. He did a very good job in Qualifying. As I said, it's been fantastic for the team, but I am not totally happy with my performance today. I should have done a better job overall."

Valtteri Bottas: "It was very close today but Ferrari seems to have the upper hand here - they were very strong this afternoon. Of course it would be nice to start on the front row but anything is possible from P3 on the grid. It's difficult to overtake here but it's definitely a race of opportunity. Tomorrow is Monaco, where anything can happen."
Our classic race is similar to something Hamilton needs in order to win his third Monaco Grand Prix. We go back to 1996, where Ligier's Olivier Panis starts from 14th.

Rain battered the track on Sunday morning, welcoming the unexpected and spelling the end for Andrea Montermini, as he crashed his Forti in the tricky warm-up. But this was more than that. Throughout the course of the race Jos Verstappen, Fisichella, Pedro Lamy, Rubens Barrichello, reigning world champion and renowned "regenmeister" Michael Schumacher, Ukyo Katayama, Ricardo Rosset, Pedro Diniz, Gerhard Berger, Martin Brundle, Damon Hill, Luca Badoer, Jean Alesi, Jacques Villeneuve, Eddie Irvine, Mika Hakkinen, Mika Salo and Heinz-Harald Frentzen all fell foul to either technical problems or clashes with the barriers - leaving Panis to claim an unlikely maiden victory ahead of David Coulthard and Johnny Herbert.

It remained Panis' only victory in F1, a promising 1997 was wrecked by two broken legs in the Canadian Grand Prix; from then on, he was lumbered with uncompetitive machinery until his retirement at the close of 2004.

But what a victory it was!
For the first time since the Japanese Grand Prix of 2002, Fernando Alonso is not part of the weekend - he's currently in the States, preparing for his debut in the Indianapolis 500 with McLaren Honda-Andretti, the next step in his pursuit of motor racing's fabled "Triple Crown".

His replacement? Jenson Button, who said he hasn't missed Formula 1 in the six months he's been away, but thoroughly enjoyed being back in the car on Thursday and today. He'll start from the back due to the fact he's inherited Alonso's multiple engine penalties - but that won't dampen his spirits too much. After all, he's here for fun - and it's a short walk home...
No Ferrari driver has won in the principality since Michael Schumacher all the way back in 2001. Starting from pole, Kimi Raikkonen has the best chance to amend that, with Ferrari doubly buoyant as Vettel shares the front row with the Finn.

Raikkonen's 17th career pole came 8 years, 11 months and six days after his 16th, breaking Giancarlo Fisichella's record of the longest time between two pole positions. That day, at Magny Cours in 2008 also saw Hamilton start from 13th, freakishly similar to the Qualifying result for this weekend. He must be glad Raikkonen's slowed down on the pole front!

How did it happen? Red my report to find out here.
It's the race every driver wants to win. But who have been the victors in the past ten editions?
| | | |
| --- | --- | --- |
| Year | Driver | Team |
| 2016 | Lewis HAMILTON | Mercedes |
| 2015 | Nico ROSBERG | Mercedes |
| 2014 | Nico ROSBERG | Mercedes |
| 2013 | Nico ROSBERG | Mercedes |
| 2012 | Mark WEBBER | Red Bull |
| 2011 | Sebastian VETTEL | Red Bull |
| 2010 | Mark WEBBER | Red Bull |
| 2009 | Jenson BUTTON | Brawn |
| 2008 | Lewis HAMILTON | McLaren |
| 2007 | Fernando ALONSO | McLaren |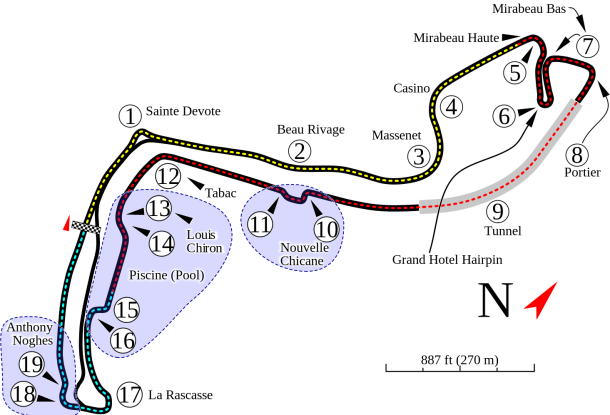 The track today needs no introduction, the 75th running of a race around here will probably be held under a glorious blue sky and in brilliant sunshine, meaning the jewel in the F1 crown sparkles that little bit brighter. It is a manifestation of glutton and one of the most challenging tracks in world motorsport. Slither past the casino, the Hotels Fairmont and de Paris, the yachts in the harbour; blast through the tunnel - Monaco is stacked with world renowned sights.
It's been two weeks since Formula 1 last convened for an event, in Spain. Lewis Hamilton held off Sebastian Vettel to claim a much needed second victory of the 2017 season, reducing the gap to the German at the top of the standings in the process.

In case you need a reminder, my race report can be viewed here.
Hello and welcome to VAVEL's live coverage of the 2017 Formula 1 Grand Prix de Monaco. Once again, I'm your correspondent, James Eagles and will be guiding you through all the events of today's Grand Prix from the iconic Circuit de Monaco, wound around the unforgiving, glamorous streets of the principality, for the sixth round of the World Championship.