VAVEL UK's Formula 1 Editor Jake Nichol writes of his first experience watching the Indy500 as F1's Fernando Alonso battled for victory .
My original plan for the Indianapolis 500 was to watch it all and then write a report on it. That failed as I fell asleep on about Lap 94, not because I was bored, but because I had been awake for about 21 hours at that point – (seeing as I'm a student and my sleep cycle is a distant memory right now.)
But, in those 94 laps, I saw enough.
I'm going to be honest - even at the start of May and preparations for the Indy 500, I was a member of the "they just turn left" brigade.
The footage of Fernando Alonso completing his rookie test, as well as other practice sessions for the race, did little to persuade me otherwise. I knew I was wrong in making that assumption, but didn't have anything to tell me otherwise.
I only caught the end of the Indy 500 in 2016 when rookie Alexander Rossi won in the 'Brickyard', and quite honestly IndyCar isn't a series I would generally go out of my way to watch, unlike Formula 1, Formula E or the World Endurance Championship.
Like many others, I suspect I was only watching because of Alonso's attempts to win the second part of the 'Triple Crown' – having already won in Monaco in 2006 and 2007. (The Le Mans 24 Hours is the third part.)
Lasting Impact
However, I was quickly disabused of those thoughts about they just turn left.
Racing inches apart, surrounded by concrete barriers at 230mph, might have had something to do with that, and I feel as if I owe IndyCar an apology.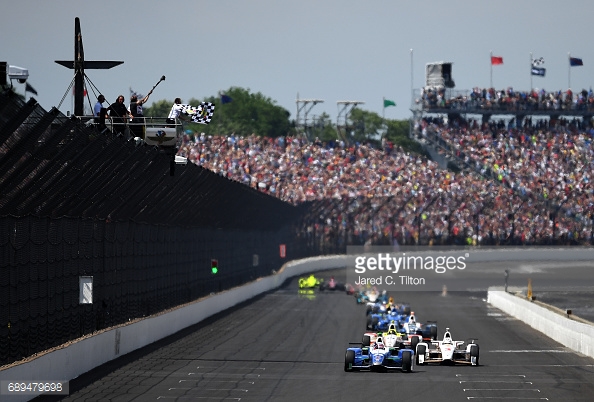 Quite often, I only pay attention it when the 500 is on, or the title is decided. That is it.
One event I'll remember for a long time was Scott Dixon's horror shunt with Jay Howard. - click on the link for a video of the horrific accident.
The forces involved were so big that Dixon's Chip Ganassi Dallara chassis actually bent when it hit the barrier and the rear wheel block, with half the engine was ripped from the rest, not to mention a spit of flame.
Thankfully, the advancements made in motorsport safety since 1994 ensured that Dixon, Howard and the spectators on the inside of the barrier were not badly injured. Helio Castroneves was incredibly lucky as Dixon literally flew upside down over the top of the Brazilian's Penske.
Alonso watch
To see Alonso in the lead, fighting wheel to wheel with fellow racers was refreshing, to say the least. It's been a long time since he had half competent machinery.
Once again, and with about half an hour left to run, the Honda engine let go and he retired, losing a probable victory in process. You fly across the Atlantic to avoid a Honda engine for one seemingly half reliable, only for that to go pop. It seems Alonso's luck followed him.
The only good thing to come from Alonso's retirement was that veteran Japanese racer Takuma Sato won his first 500. The likeable Andretti Autosport driver richly deserved his pint of milk in the victory lane after a composed drive.
Alonso says he is not finished with Indy yet. He said: "Definitely, yes" when asked if he would like to return. "Obviously if I come back here, at least I know how everything is. It will not be the first time I do restarts, pit stops. It will be an easier adaption. I need to keep pursing this challenge, because winning the Indy 500 is not completed."
And that is music to anyone's ears. As much as I admire Alonso, to see him rotting away fighting at the back in F1 is hard to watch.
If he decided to quit F1 and move to IndyCar, and actually be fighting at the front and winning races and being the title fight, I for one certainly wouldn't mind.
Compared to Monaco
For those who watched both the Monaco Grand Prix and Indy 500, the difference could not be clearer.
Both are regarded as the jewel in their respective series crowns, but there was one of the two that went to town on its build-up, its 'show' and it wasn't the self-proclaimed 'pinnacle of motorsports' offering.
Yes, Monaco has all the glitz and glamour, but Indy was where the proper racing was. Liberty Media want to increase fan engagement, and wouldn't be harmed to take a leaf out of IndyCar's book.
Granted, F1 is a little behind in this area, thanks to Mr E's assumption that social media wouldn't be good to entice new fans, as back in the day, that wasn't how it was done, but there are a few things that F1 could borrow.
Josef Newgarden in his Penske was running a visor cam. Rarely seen in F1, most of the comments on Twitter from the watching F1 paddock was that Liberty could do a lot worse than introduce it.
Romain Grosjean was amongst those to voice his support. One reason why helmet/visor cam is so rarely seen in F1 is the fact that sponsors worry they won't be visible.
But they might be interested for the following reason. Things like helmet cam, which saw just how a driver is working entices new fans and a new market for the sponsors. It is common knowledge that most people who watch F1 are older and have done for a number of years and so are familiar with the sponsors.
They might have to give a little, to make a lot. At the end of the day, money talks. Whether we like that or not.
Apology to IndyCar
I'm sorry. Everything I thought I knew at IndyCar and the 500 was wrong. Of course they race on circuits, and the 500 is a special event.
It must be hard for a series to only get a massive viewing spike when its showpiece event is on, and when there is epic racing throughout, unlike F1.
Nevertheless, Alonso's presence has done wonders for IndyCar and a new generation of fans have surely been hooked. I know I have.
My first proper IndyCar experience was enlightening, frightening and exciting. I really enjoyed seeing slipstreaming, proper overtakes, without the mother of all gimmicks, DRS, and proper racing in the bit I watched.
I'll definitely be back for more IndyCar and watch it whenever it is on now. They certainly just don't turn left…