Typically, the Monaco Grand Prix is normally a dull affair, with limited overtakes and not much action to talk about. However, Sunday's race was different.
There was the very event itself, with a handy direct comparison to the Indy 500 being able to be drawn, one unlucky Ferrari driver, and the unlucky nature to a returning cameo that went from excellent to terrible.
Monaco must do more
Yes, the Monaco GP is the jewel in the Formula 1 calendar, always has been, always will be, but it has to do more. It is the showpiece event. But you wouldn't think it.
All the drivers say how much it would mean to them to win around the streets and every year on TV packages, legendary moments around the streets are played and interviews with those legends are the norm.
Yes, F1 should celebrate its history at Monaco, but it must look to the future. The race is usually a dull precession, so why not give it a bit more je ne sais quoi?
It's Monaco, give it the razzmattaz it deserves. Throw everything at it. When you look at the other two big championships in the world, IndyCar and the World Endurance, cameo appearances in the 500 and in the Le Mans 24 Hours are common? So why in F1 at the Monaco GP?
Surely FOM or the FIA could have ready a decently respectable package for a top driver to come for one race. It happens in other series, so why not the 'Pinnacle of Motorsport?'
And that is F1 inherent problem. It thinks it is the best in the world. But quite frankly it is not. The fact that one of its greatest ever talents decided to skip it, albeit under special circumstances, for a rival series' showpiece event should speak volumes.
We love the Monaco Grand Prix – it is the one track that even a person not overly keen on F1 knows about – "the one with the boats?" I was asked by a family member when asked what race was next on the calendar.
The fact that Jenson Button was so inclined to return for his one-off race in the tight, twisting, iconic streets should tell you all you need to know.
The drivers love it, the fans love it, that's why we need the Monaco Grand Prix to be given that oomph it so desperately needs.
Look at Hamilton in '15, Ricciardo in '16 and Raikkonen in '17. They all should have won the race, but didn't. Their faces on the podium, and that's another thing, beared their pain to millions around the world. They had lost the Monaco Grand Prix and there was to be no consolation prize.
One of the highlights of the season was always the celebrations after the podium when drivers would spray the champers with their mechanics on the grid. No more in 2017 however.
A new raised podium proved to be no short of a shambles and left many crying out for the return of the old one. It was not something that needed changing.
There are some who argue that the race should be totally dropped as it is not fit for purpose. But I'm sure there are many who would give a list of some races that would be for the chop before Monaco was even considered.
But to drop it would be commercial suicide from Liberty Media. It would be like the FA dropping the FA Cup from the football season, just because of a few disappointing results.
Like the Cup, it is magic, the aurora the feeling of the Monaco Grand Prix that year after year bring fans back to the Principality. It is dying out for reform however.
It has so much untapped potential that is just waiting to be exposed to the sunlight.
We put pressure on the Monaco Grand Prix to be the best, because it is. Diamonds are created under pressure, and so putting a bit more pressure on 'The one they all want to win' will surely create a bigger Diamond.
Raikkonen throws it away
Now, it wouldn't have gone unnoticed by some that Ferrari's last 1-2 victory before Sunday was in the 2010 German GP, and we all know what happened there.
However, talk of Ferrari deliberately pitting Kimi Raikkonen to ease Sebastian Vettel past to maximise his points advantage after Lewis Hamilton's problems is just nonsense.
It is a well established norm, that of a team and its two drivers, the lead one gets preferential strategy and gets to pit first. It is their decision when to pit.
Quite simply, Ferrari pitted Raikkonen owing to his lack of pace on the Ultra-soft tyre. He had dropped well off and was in the 1:16/1:17 region in the few laps before he was called in.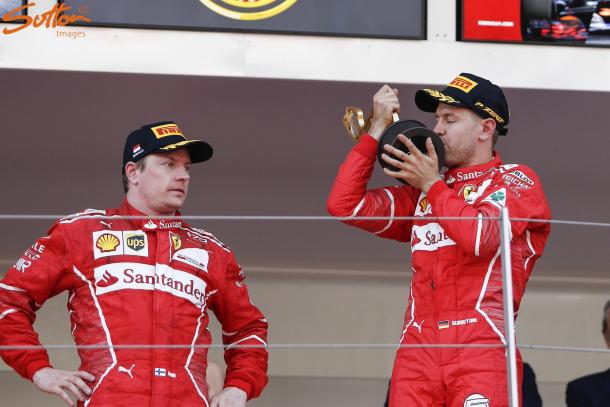 And that released Vettel. In clean air, the German was able to lap in the 1:15's and able to get the 20 or so seconds he needed to be ahead of Raikkonen after his own stop.
Coupled with the fact that the undercut didn't work and the overcut was best, owing to the fact the warm up of fresh tyres took a couple of laps, it was a perfect cocktail that led to Vettel jumping Raikkonen in the stops, as Daniel Ricciardo did to Valtteri Bottas and a less than amused team-mate, Max Verstappen.
It was just a coincidence that it was Vettel passing Raikkonen, which allowed the German to claim his second Monegasque victory and the full 25 points, which saw him pull 19 out on Hamilton and extend the lead to 25.
Already, it is looking like Ferrari and Vettel, who has been first or second in every race this year, who are favourites to dethrone Mercedes.
Mercedes troubles
Whatever way you look at it, Mercedes is in trouble. For whatever reason, this was its worst weekend of the season, exactly when it wasn't needed.
A fourth and a seventh, compared to Ferrari's 1-2 was a potentially fatal strike to its hopes of claiming the Quadruple in 2017.
Tyre warm-up seems to be the problem of the W08, and this could be to do with the long wheelbase layout the team have opted for.
Yes, this layout does have an advantage, in that it allows for the bargeboard aerodynamics to work more efficiently, but in Monaco, that's not really what you need.
What you need is a light, agile, nimble handling car, which can get heat into its tyre as quickly as possible, something like the SF70-H perhaps…
Anyhow, Mercedes has recently confirmed that the 'No Number 1' policy has once again been deployed, and that neither Hamilton or Bottas will receive preferential treatment.
However, with Vettel being Ferrari Number 1 in all but name, and having nearly double Raikkonen's points tally already, and the two Mercedes' being considerably closer, the world champions have a lot of thinking to do. And fast.
If the weekend ended on Saturday
Then McLaren-Honda would've been delighted with its work, getting both cars into Q3 for the first time this season, albeit Stoffel Vandoorne didn't take part, as he crashed at the end of Q2.
It was refreshing to see Vandoorne finally get a chance to show what he is capable of, after a below par start to the season, including crashing into Felipe Massa in the Spanish Grand Prix.
It was a big weekend for him, seeing as who was across the garage.
For one race, and one race only, Jenson Button was back, and showed he hasn't lost all the magic he had before Abu Dhabi last year.
Had Button come in, and been faster than Vandoorne all weekend, that would've reflected badly on the Belgian, but to his credit, Vandoorne had a pace advantage over the 2009 champion.
Of course, Sunday was a bad day for the team, in its best chance to score points this year, with a double DNF, Button due to his accident with Pascal Wehrlein and Vandoorne after bumping the Sainte Devote barrier after the safety car had gone in.
Nevertheless, the team did provide the highlight of the weekend, when Fernando Alonso came over the radio from Indy to wish Button luck…