The Moto3 class were met with cool but sunny conditions as they took to the Autodromo de Mugello for the sixth round of the season in Florence, Italy.
The 250cc class, dominated heavily by Italian representation, will be wanting to make up for the results that may have proved disappointing following the carnage that occurred on the second lap in Le Mans that saw a record number of riders crash out.
One wildcard, Sintoni in Mugello
Making a wildcard appearance in Mugello, on what would be home turf for him, is Edoardo Sintoni (3570-MTA). The class will be without former Moto3 champion Danny Kent who - after a fantastic wildcard appearance in Le Mans with the Red Bull KTM Ajo team - is returning to Moto2 to replace the injured Iker Lecuona with Garage Plus Interwetten.
Italians understandably familiar at start of Free Practice
An air temperature of 21 degrees Celsius, and ground temperature of 28, meant that the riders were able to focus solely on time.
Several Italian riders highlighted their familiarity with the track in Florence, as the likes of Enea Bastianini (Estrella Galicia 0,0), Sky Racing Team VR46 teammates, Andrea Migno and Nicolo Bulega, and Romano Fenati (Marinelli Rivacold Snipers) all visited the top of the timesheets as they quickly settled into the lap times.
However, championship leader Joan Mir (Leopard Racing) made sure his presence was felt as did Juanfran Guevara (RBA ROE Racing Team) whose current impressive form remained.
Migno first to lap under two minutes
First to lap under two minutes in Italy, and who remained in a dominating position throughout the session, was Migno. Always 'there' come race day, he was looking incredibly promising as his lap times proved consistent. In stereotypical Italian form, he was seen correcting other riders, gesturing to them to let him know they got in his way.
With 20 minutes of the opening session remaining, it was Migno who remained top of the timesheets with a time of 1:58.966. The rest of the pack appeared to settle, and things quietened down for a few minutes in the last few minutes while changes were made.
Fenati makes presence felt in Mugello
The last surge of laps brought a flurry of change on the timesheets however, with five minutes remaining, Fenati went top. He soon came under pressure once again moments later from Jorge Martin (Del Conca Gresini Moto3) who has picked up several pole positions so far this season.
Fenati retaliated lapping quicker on his penultimate lap. The flag went out, and for many sector four appeared to be proving tricky and spoiling others from being in contention of stealing the top spot. Fenati was flying though, and he improved once again on his final lap, setting a quickest time of 1:58.347 at the end of Free Practice 1.
Riders off record pace
The lap records still stood from 2015. The 2016 Moto3 champion, Brad Binder holds the Circuit Record Lap, set during the race with a time of 1:57.318. However it is British rider, Kent who has the best lap time from 2015 when he won the championship, set during Qualifying with a time of 1:56.615.
Martin had to settle for second quickest, 0.126 seconds behind fellow Honda rider Fenati. The top KTM was Bulega in third just 0.152 seconds slower than Martin. Championship leader, Mir was fourth quickest ahead of Guevara and Migno ended up sixth. Lorenzo Dalla Porta (Aspar Mahindra Moto3) was the highest placed Mahindra in seventh ahead of Belgium rider, Livio Loi (Leopard Racing), rookie, Tony Arbolino (SIC58 Squadra Corse) and Bastianini completed the top 10.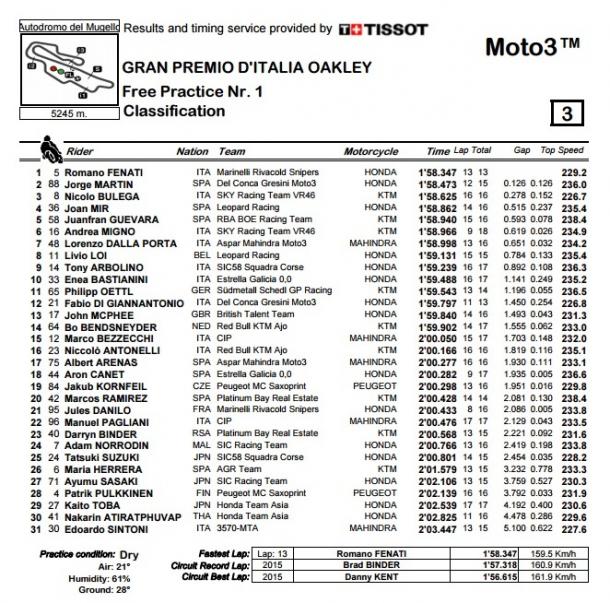 Busy track for Free Practice 2
After a relaxed start once again to the second Free Practice session for the Moto3 class, the riders soon found the track to be incredibly busy, and so they struggled to meet the times set earlier n in the day.
The busy track meant lap times were close as they were fighting for tarmac rather than able to improve lap times. It was rookie, Arbolino who ended up leading the timesheets a third of the way through the session with a time of 1:58.577.
Relaxed approach from Fenati
Fenati remained in the pits and watched on as the rookie led the way on the busy track. He made a brief visit to the track where he was flying again. With 22 minutes to go, he crossed the line with a time of 1:58.325 followed closely by Tatsuki Suzuki (SIC58 Squadra Corse) who ran him off track heading into turn one.
The Italian avoided a crash after his eye-line was stolen by the Japanese rider; he managed to remain on the run off area rather than enter the gravel. Moments later Aron Canet (Estrella Galicia 0,0) just about managed to make his Honda stop heading into turn one, also narrowly avoiding the gravel. He suffered slightly more misfortune a few laps later as the aerofoil attachment used to slipstream his helmet flew off.
Migno crashes out in Mugello
With less than 15 minutes of Free Practice 2, Migno crashed out at turn 13 of the track. As he exited turn 12, he came off, and was narrowly and fortunately avoided by other riders who followed him on track.
Unfortunately for Fabio Di Giannantonio (Del Conca Gresini Moto3), it inadvertently spoiled a flying lap for him as he had to act to avoid contact after the crash. However, he made up for it on the following lap, as he continued on at his pace and went top with a time of 1:57.923 which made him the first rider to lap under 1:58 minutes, and placed him as top on combined times.
Bulega was also pushing hard, and some alone time on track allowed him to settle into a rhythm that brought him up to second. Many other riders remained in the pits completing final changes to be made and tested before their opening day finished. Bulega continued round the track, powering through past any riders that may have gotten in the way.
Busy track did not stop fast times
The track was once again extremely busy, as Free Practice resembled a race rather than a time attack. Mir began a push, forcing his way past and away from a group and broke away completing a personal best in the process and closed in on Di Giannantonio's time. A strong final sector for Martin allowed him to go above Mir with three minutes to go, before he almost ended up in the gravel at turn one.
Working in a group was not necessarily a disadvantage for some. With just over two minutes to go, Bulega, Lorenzo Dalla Porta (Aspar Mahindra Moto3) and Di Giannantonio made an attempt at stealing the top spot, with Bulega achieving it initially before it was stolen by Di Giannantonio. Dalla Porta lost around two tenths of a second in the final sector which meant he had to settle for third behind them.
Di Giannantonio quickest at the end of day one in Mugello
The flag went out to end the session, and the riders had to do what they could with their final lap. There was nothing they could do however as the track proved too busy to make any further improvements. The second session meant that all riders bar Loi and Marco Bezzecchi (CIP) were able to improve on their previous times set during Free Practice 1.
Di Giannantonio finished the session and the opening day in Mugello on top; his time 1:58.347 was enough to make him quickest at the end of the day of practice. Bulega finished the session in second ahead of Dalla Porta as the top Mahindra; making it an Italian top three.
John McPhee (British Talent Team) finished up as fourth quickest ahead of championship leader Mir in fifth and Martin in sixth. Guevara was an impressive seventh ahead of Fenati, who's relaxed approach to practice where he completed minimal laps left him eighth overall. Canet finished up ninth and Bastianini completed the top 10.
Three riders unable to improve from Free Practice 1
Combining times between the two Free Practice sessions, it was only Loi, Bezzecchi and Manuel Pagliani (CIP) who were unable to improve on their times from Free Practice 1. All other riders were able to improve.