 Much has been said about Sergio Perez and how he has grabbed the second Formula 1 opportunity Force India granted him in 2014 after he got dumped by McLaren.
Perez was hired to replace Lewis Hamilton for the start of 2013, but hopes of possibly winning a maiden world championship, in what was just his third season, were soon dashed by the MP4-28 being extremely erratic and hard to get into the optimal set-up window.
His best finish of the season was fifth, in India, and after bursting onto the scene so well in 2011 and 2012, with Sauber it seemed his career was over before it had truly began.
However, Dr Vijay Mallaya, the shrewd operator that he is, saw Perez as a perfect fit for his team, and the Mexican was signed to partner the highly rated returning Nico Hulkenberg.
It must be taken into account, that after losing a top drive, Perez was seen by some as damaged goods, and should be avoided, while many saw Hulkenberg, given the right chance, as a future world champion and the better of the two.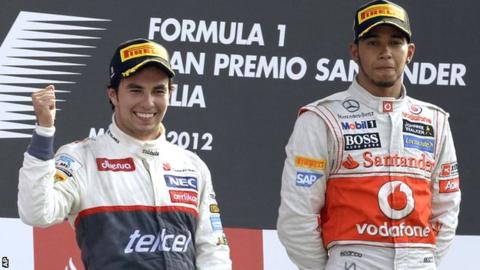 Over the course of the Hulkenberg-Perez partnership at Force India, their compared records were slightly better for the Renault bound German, 23-22 in races where they both finished and 35-24 in qualifying – although Perez took the point for 'Most points scored', 238-226.
He also scored four of the team's five ever podium during those three years, Bahrain (2014), Russia (2015), Monaco and Azerbaijan (2016) while Hulkenberg has still to spray the champers after a race.
For 2017, Perez would be placed in the position of team-leader for the first time with the arrival of Esteban Ocon.
Asserting who is boss
After a pleasant opening to the season, things came to a head in the Canadian Grand Prix last Sunday.
Ocon, who went long in his first stint was stuck behind Perez, who was, in vain, trying to find a way past Daniel Ricciardo's Red Bull.
The young Frenchman pleaded with the team to let him try and attack Ricciardo, and if he couldn't get past, he would hand Perez back the fourth place.
Despite Deputy Team Principal Bob Fernley getting involved and trying to explain to Perez the situation, that the team could haul a podium, he bluntly refused to listen or budge.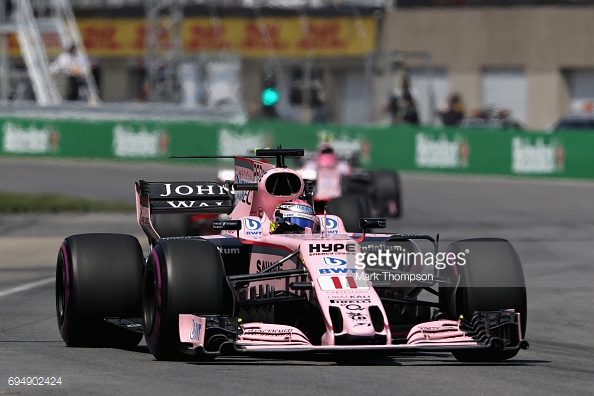 And that is what could grab the attention of Ferrari, should Kimi Raikkonen finally be nudged onto the retirement track.
Let's not forget, Perez was a member of the Ferrari Driver Academy, their version of the Red Bull young driver programme for reference, but had to cut ties with the Italian team to take the McLaren drive in September 2012.
He still has links to Maranello, and they will like what they see.
Think of (some of) the greats. Mansell. Prost. Senna and Schumacher in particular. One thing they all had in common was ruthlessness. The same can be said of Hamilton, Alonso, Vettel today. They take no prisoners.
To succeed in F1, you need to be strong willed and strong minded and do what is best for you.
Complete package
By refusing to gently wave the sister VJM10 through in Montreal, Perez sent a very clear message. He is now arguably the complete driver.
Very adept in the wet, one of his best characteristics in the high-degradation Pirelli era was eeking out tyre life through smooth driving and throttle application.
This saw him haul the podium in Russia when Raikkonen turned his Ferrari into a Valtteri Bottas sized battering ram on the final lap at Turn 4, allowing Perez's early decision to pit under the safety car for soft tyres to pay off, after both had passed him seconds before.
Consistency is key
With Ferrari engrossed in what looks to be a fight with Mercedes for years to come in the Constructors', they need a driver who will consistently, given the opportunity bring home the big points and pick up the points when Mercedes and his own team-mate have an off day.
As it stands, after the Canadian Grand Prix, Vettel has 141 points compared to Raikkonen's 73, just over half. That equates to 224 constructor points, seven behind Mercedes.
Raikkonen is still a quick driver, but has too many bad days to help the team do well.
He got obliterated by Alonso in '14, fared a bit better against Vettel in '15, before a good start to '16 saw him tail off, and failed to score a podium after Austria in July – although he did out-qualify Vettel 11-10.
Perez finished 'Best of the rest' or seventh in '16 – that is behind the two Mercedes, two Ferrari and two Red Bull drivers.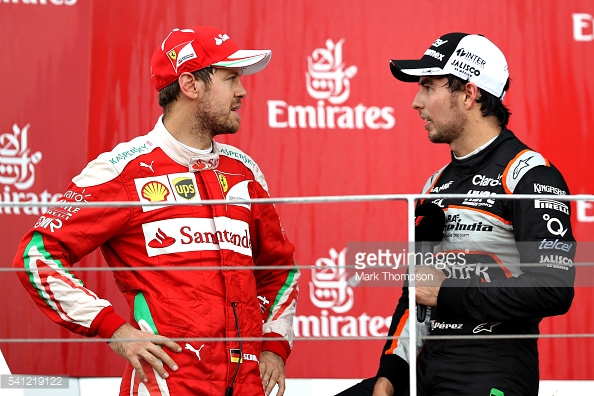 He was the only driver outside these three teams to score over 100 points, 101 to be exact.
He has taken his equipment to the maximum and can't do no more.
The 2017 Force India VJM10 suffered from data correlation issues early in the season, but despite this he still collected 22 points in the first four races before the update package came in Barcelona.
In the three races since, he has doubled his tally, including being out of the points in Monaco after a uncharacteristic rash move on Danill Kvyat's Toro Rosso late on.
Yes in Barcelona, Bottas, Raikkonen and Max Verstappen all retired, but the 27-year-old was still there to hover up the points on offer. That is all he can do.
Moreover, he has finished every race since Austria last year, when he crashed out with brake failure in the closing stages.
His refusal to move in Canada may be seen by some as a weakness, but others protest that it shows how far he has come as a driver – going at odds with the team to secure a good result for himself. As we discussed earlier. All the greats did and do it.
The future
So, what does the future hold for Perez?
If you look at things through a pair of commercial tinted glasses, Ferrari would love to have him to help shift more road cars in the Americas, but let's not dwell on that.
With all respect to the massively impressive job Force India have done and are doing, chances are they will not be able to go one better than fourth and clinch third in the constructors'.
This is owing to the fact that Mercedes and Ferrari are both manufacturers, Red Bull are as good as one, Renault will gradually clamber the standings and McLaren just might sort their act out by dumping the Honda in the back.
He won't go to Mercedes, Red Bull do their own thing and so that is a no, while he could go back to McLaren, but it is a long shot. That leaves Ferrari or Renault.
The French team tried to sign him last year before he rejected their advances and they plumped for Hulkenberg after offering the drive to pretty much everyone – Yuji Ide and Ricardo Rosset included. (Spoiler - not really)
Vettel wants someone alongside him who won't cause too much trouble, potentially beating him on an off-day and who the team could work well with.
That leaves two options. Perez or Antonio Giovinazzi, the official reserve driver, but putting essentially a rookie into a works seat so early on in his career may sway Sergio Marchionne's decision who to put in the Rosso car adorned by the Cavallina Rampante.
Second chances in F1 are rare to say the least. Very few drivers get them, and even fewer make the most of it. Sergio Perez is different.
He has matured into a fine racer, comfortably seeing off a highly rated team-mate and not afraid to go wheel-to-wheel with a World Champion.
His authoritive refusal to move in Canada shows that he is boss at Force India, and Ocon, despite his best efforts, just isn't up to Perez's high standards – yet. That is the rub of the green and how it goes. Ocon's time will come.
Perez is probably about two seasons behind where he should be – with the two being '13 and '14. He left Sauber a season or two too early and his development suffered in the toxic McLaren atmosphere of the time.
The next chapter in his career will be the defining one. To further and make good on his promise, he must spread his wings and risk it all to become a World Champion, something, with what he has shown at Force India, he can unquestionably do.