 Red Bull Team Principal Christian Horner admitted that after "such promising practice sessions, it's perhaps slightly underwhelming to be fifth and 10th on the grid" for tomorrow's Formula 1 Azerbaijan Grand Prix.
Max Verstappen topped both first and second practice on Friday, and the team was hopeful of possibly getting in among the Ferrari's for third on the grid, which according to Verstappen, "was a realistic shot, which on this track would have been a fantastic result."
The Dutchman, who qualified in Red Bull's now customary fifth, explained that "On my final lap in Q3, I was going about three tenths quicker than my best time, but then I lost gear sync in the second sector, it cost me a couple of tenths which was fustrtating.
He continued: "I'm hopeful we can get on top of these issues overnight and be ready for tomorrow. It would be great to get on the podium."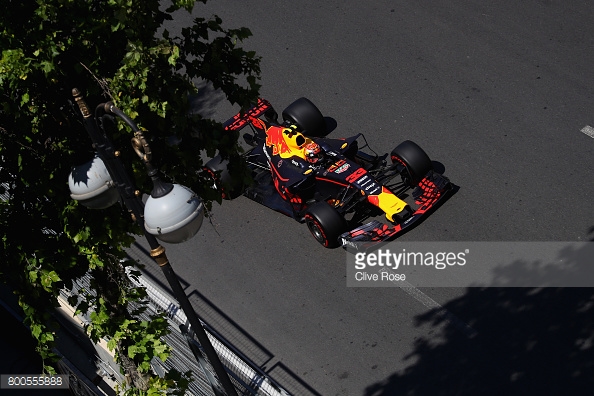 Ricciardo on the limit
Verstappen was joined in his fustration by team-mate Daniel Ricciardo who brought out the red flag in the final qualifying segment at Turn 6.
The Australian said: "I knew Turn 6 was a corner where I could do better. I was trying to carry more speed but I lost the rear on the exit and hit the wall. The rear was coming around, and I tried to drive out of it, but it kept going.
"I'm not happy with the mistake, but it's one of those tracks. Verstappen said. "Part of me doesn't like it right now, but the reality is that I do like street circuits for those reasons. It shows when you are on the limit and you pay the price when you are over that limit."
"Definite progress"
Despite the lacklustture grid positions, in which Horner said the team was "certainly hoping for more", Ricciardo commented on how much progress the team has made in recent weeks, despite the Renault power unit still lagging behind the Mercedes and Ferrari offerings.
"This weekend, Max and I have been happy with the balance of the car and it is responding well so we have made definite progress."
Red Bull are currently third in the constructor standings, and are in no-mans land. It won't catch Mercedes and Ferrari ahead of it, but won't be caught by Force India, who sit in fourth.
After a slow start to the season, when the team was caught sleeping by the new regulations, it has been playing catch-up ever since Melbourne.
Verstappen has one podium to his name, in China, while Ricciardo has scored three consecutive third place finishes in the last three Grand Prix.