 How costly can a gearbox penalty be? If you are Lewis Hamilton, the penalty you suffered for changing your gearbox could, in the end, prove fatal to your hopes of regaining the crown.
Only finishing fourth in the Austrian Grand Prix, while your rival, Sebastian Vettel, came home second, extending his lead by a further six points, represents a troubled weekend.
The only saving grace for Hamilton was the fact that team-mate Valtteri Bottas drove an immaculate race from pole, including that start, to just about hold on to take his second Formula 1 win. And that is where we shall start.
Bottas makes it a three-way battle
One thing is now certain. Bottas will be at Mercedes in 2018. Some viewed him as just a stop-gap, until the driver market really opens up in 2018 and 2019, but Toto Wolff would be silly to get rid of the Finn now.
Let's look at the facts. Whenever Hamilton has had an off weekend this season, Bottas has been there to pick up the pieces.
When Hamilton struggled to find his rhythm in Russia, Bottas was there to win the race for Mercedes, having expertly soaked up the pressure from Vettel's late charge.
But Bottas's drives in Azerbaijan and Austria will be hard to top.
Being lapped in Baku after the early puncture and damage would usually see a race effectively ended there and then.
However, Bottas got his head down and drove the race of his life, to storm back onto the podium, but he didn't stop there.
Lance Stroll was about 12 seconds up the road with 12 laps to go. Driving qualifying laps, Bottas took chunks of time out of the Williams, to literally pip the young Canadian on the line, to take second place, rescuing another three priceless points for Mercedes in its constructors' battle with Ferrari.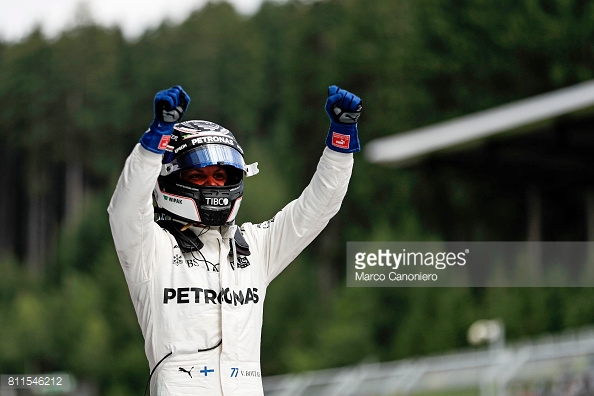 In Austria, the Finn was able to have the perfect weekend. Taking pole position, on merit, and then making the absolute perfect getaway, just 0.201s after lights out, and then driving off into the distance.
Only at the end did he come under pressure from Vettel, but he held his ground against the four-time world champion, and hauled himself into the title race.
Bottas is 35 points behind Vettel, on 136 points, but just 15 behind Hamilton's tally of 151.
So, Bottas is closer to Hamilton, then Hamilton is to Vettel. If his engine hadn't failed in Spain, Bottas would be level with Hamilton on 151 points.
Two wins, two poles and four further podiums mark an exceptional start for Bottas at Mercedes.
Whereas, Hamilton does have three poles more and three wins, he has only collected two other podiums, when he has not won, the last of which came in Bahrain.
This suggests that Bottas is more on top of the "diva" that is the Mercedes W08 than Hamilton, as the Finn is still picking up the points, even though the car might not be to his liking, with Bahrain the perfect example.
Bottas, from pole, started with the tyre pressures too high, which caused a slow first stint. Despite being told to move out of the way for the faster Hamilton, he still hauled another podium.
In Australia, after the pit-stops, for a while Bottas was actually hauling Hamilton in.
His experience driving cars that are hard to set-up during his time at Williams are coming in key for Bottas, and that could help him become the fourth Finnish World Champion, if not this season, then almost certainly in the future.
Raikkonen must go
The equation is simple for Ferrari. If it wants to win the constructor's championship, which of course it does, then Kimi Raikkonen must go.
He was brought back in 2014 to help the team to try and win the championship, but his form is a major cause for concern, and he must be replaced at the end of the season.
The stats don't lie. He is 88 points behind Vettel after just nine races, only scored two podiums since the Austrian GP in 2016 and has a knack of going missing in races.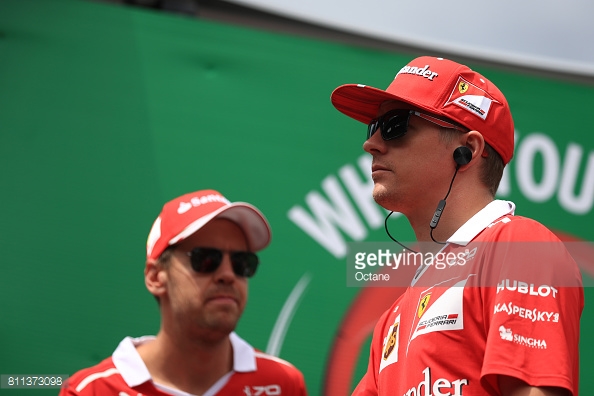 In Monaco, when he was on pole, his slow pace on the ultra-soft tyre led to Ferrari bringing him in for a pit-stop, which then unleashed Vettel's blast which saw him leapfrog the 2007 champion.
When Raikkonen realised what had happened, instead of getting on it, to try and catch and pass Vettel, he basically went into a sulk and became anonymous until the chequered flag.
The same thing happened on Sunday too. After Ferrari hung him out to dry, strategy wise, keeping him out of badly worn tyres to try and back Bottas into Vettel, he pitted for super-soft tyres on lap 44.
27 laps later, despite having the freshest tyres of anyone, he was 20 seconds down on Bottas, 13 seconds behind fourth place Hamilton, who was being held up during his dice with Daniel Ricciardo.
There were plenty of auditions for the seat alongside Vettel in Austria, especially after Ferrari boss, Sergio Marchionne branded Raikkonen a "laggard" and questioned his commitment.
Typically, Raikkonen told Autosport, "obviously I want to do well, but unfortunately it has not been very straightforward."
Carlos Sainz Jr made it clear that he currently is looking for another drive, to which Christian Horner slapped him down, publicly, while Fernando Alonso is desperate to be in half-competent machinery for '18, but Marchionne firmly shut that door over the weekend.
Romain Grosjean also impressed for Haas, an excellent seventh in qualifying and sixth in the race, while Charles Leclerc continued to prove he is one for the future with another F2 Feature win on Saturday.
Raikkonen's career is slowly moving towards the end, it would be fitting for one of the most naturally gifted of them all, to go rather than be pushed out of Ferrari – for a second time.
More Verstappen misery
Max Verstappen has not scored a point since his fifth-place finish in Monaco. Since Russia, he has scored just 10 points, those he collected in the principality.
In Spain he was taken out in the Turn 1 melee, before he was robbed of two certain podiums, and a likely victory in Azerbaijan by Renault engine failures.
He has now posted five DNF's out of the last seven Grand Prix. Nine races in, he has just 45 points to his name, while he saw Ricciardo rack up his fifth consecutive podium, to take his points tally to a healthy 107.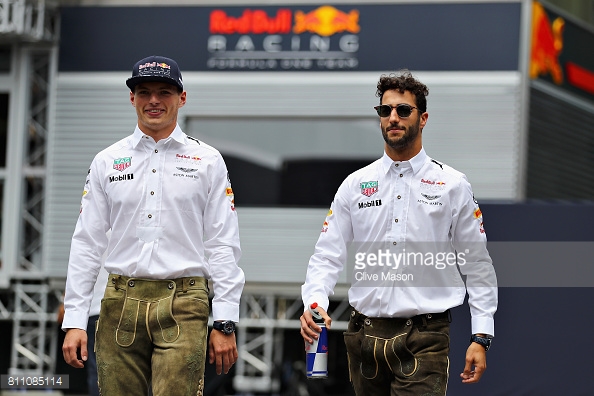 Taken out through no fault of his own in Austria, Verstappen, according to Horner is on the verge of "a big result" and it needs to come soon.
But the results only tell one side of the story.
Austria was the first time since Russia that Ricciardo had out-qualified Verstappen, and the Dutchman has the edge on Saturday's, at 5-4.
Ricciardo is getting the results that Verstappen knows he is of capable of getting.
It should have been the Dutch national anthem that greeted the winner in Baku, but again he was foiled. One podium all season, in China, is a scant reward for Verstappen's good start to the season, to be consistently ahead of Ricciardo, and in good positions when something goes wrong. It will change, but when is the question.
Williams make the development mistake
The new 2017 technical regulations enable the teams to have a full development war throughout the season, bringing upgrades whenever they are ready.
However, for Williams, the upgrade package in Austria simply didn't work.
At a track where it locked out the front-row in 2014, and is more power dependant than most, Felipe Massa and Stroll would have been expected to easily clear Q1, and get into Q3, maybe mixing it among the Red Bull's.
But no, the car was difficult to drive in practice, and they both dropped out in Q1.
Only some good strategy, which included starting Massa on soft tyres for a long first stint, before a late charge on ultra-softs brought the reward of two points for ninth place, with Stroll bagging his third consecutive points finish, in 10th.
Williams want to regain fourth in the constructors' having been beaten to it in '16 by Force India, and will need to ensure that all developments brought to the car don't result in such qualifying performances.
The FW40 still struggles on high-downforce, low-speed tracks, a trait of Williams since '14, and need to capitalise on tracks which suit their package more, before F1 reaches places like Hungary, Singapore and Japan.
It won't be the last team to bring upgrades which don't work as intended this season, but the aim to quickly get on top of any problems. If said team doesn't, it could lose millions in the final standings, if it's immediate rivals, do.
He did not jump the start
By now, you have probably seen the footage of Bottas's W08 right-front tyre moving while the lights were still on.
This is tolerated under FIA regulations – a tiny, defined amount is allowed, and Bottas was in this zone.
He just perfectly nailed the start. Every driver in their career will have such a start, and this was Bottas's.
It may take 0.1 seconds from the clutch being dropped to everything moving, which takes Bottas's 0.201s reaction time to 0.1 seconds.
There is nothing in the rules that says you can't anticipate the lights going out and dropping the clutch. Bottas's anticipation was just on the money and Vettel's protests about it being inhuman are probably just disbelief that the third member of the title challenging club nailed it, while he couldn't.