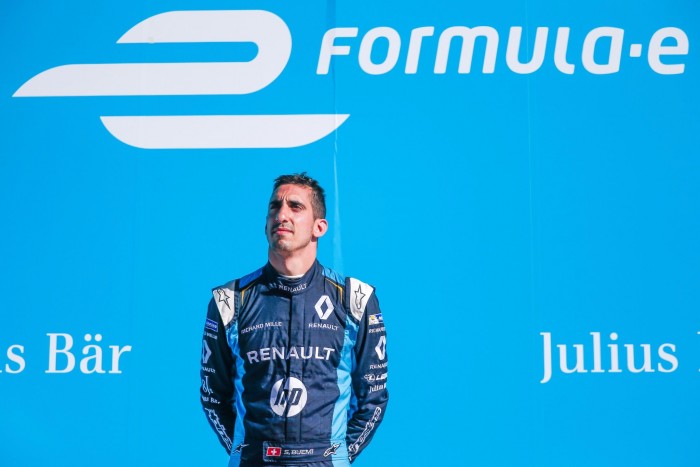 Sebastien Buemi has been disqualified from the Montreal ePrix for an underweight car, handing Formula E title rival, Lucas di Grassi an 18 point advantage going into Sunday's finale.
Buemi had finished fourth during the race, from 12th on the grid after a 10 place grid penalty for having to change the battery in his second car after a heavy FP2 crash on Saturday.
In post-race scrutineering, his Renault E.Dams car was found to be under the minimum weight of 880kg and so the stewards, as the car was outside the technical regulations, had no choice but the disqualify the Swiss racer.
In a statement, the stewards said: "The team manager (Sebastien Frere) agreed that there were no errors in the weighing procedure.
Noting that Buemi's car had been destroyed in FP2, it continued: "The team used a new monocoque, battery pack and gearbox as well as many other new parts.
"There was reportedly insufficient time to weigh the car after the rebuild and before the race, even though the weighing platform schedule had been increased by 30 minutes by the technical delegate.
"The team reportedly added 4kg additional ballast to compensate for any weight variation in the car."
Advantage di Grassi
After Buemi had crashed in FP2, and was demoted 10 places on the grid, di Grassi made the best of the opportunity presented to him by taking pole and winning the race.
In a, at the time, six point swing, di Grassi reduced Buemi's 10 point lead by earning the three points for pole before taking the 25 for the win.
The decision means that di Grassi now holds an 18 point advantage going into Sunday's second race in Montreal, the season finale.
There are a total of 29 points on offer for a driver, with the win (25), pole (three) and (fastest lap) giving Buemi some hope of retaining his crown, but a slim one at that.
The decision to disqualify Buemi moves the rest of the field up one position, with Daniel Abt now fourth and Tom Dillman being promoted into the points positions for the Venturi team.