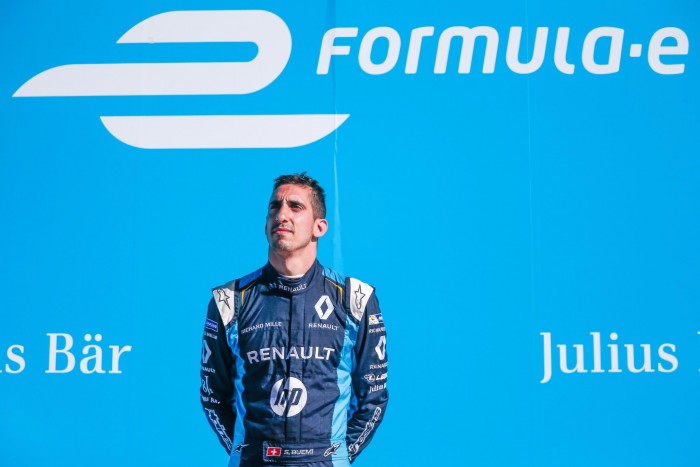 Our story begins in Berlin on June 10th for round seven of the 2016/17 Formula E championship.
Renault E.Dams driver Sebastien Buemi has dominated the season so far, taking five wins out of six, with Abt Schaeffler Audi Sport's Lucas di Grassi picking up a win in Mexico.
After taking another win in the last round, in Paris, Buemi has 132 points, 43 clear of di Grassi in second.
The events of the ePrix in Berlin around Tempelhof Airport started a chain of events that would ultimately see Buemi dethroned as di Grassi would go on to become the third champion of FE.
Berlin disqualification
In Saturday's race in Berlin, Buemi was disqualified from a fifth place finish on the road after post-race scruntineering uncovered low tyre pressures.
The rules mandate that all four Michelin tyres must be over 1.60 bar of pressure, but the scrutineers found them all to be lower than the required amount, costing Buemi 10 points.
Moreover, in Race 1, di Grassi took 21 points from a second place finish and pole, to reduce Buemi's lead to 22 points in championship.
In the second race, Buemi comfortably won, with di Grassi third to extend his lead by 10 points, to go into the New York round with a 32 point lead in the standings.
But Buemi wasn't in New York for the double-header, and that brings us onto the next chapter.
Clash with WEC
There is a gentleman's agreement between Alesandro Agag FE boss, and the WEC's boss, Gerard Neveu not to have calendar clashes in the two series.
However, it is so, that that in the WEC, there is a four week grace period after the Le Mans 24 Hours, where there will not a be a race.
This complicates scheduling, with the clash between the Nurburgring round of the WEC and FE's double-header in New York promised to be a one-off.
Buemi was unable to release himself from his Toyota obligations in Germany, and instead of racing in Brooklyn, was at the 'Ring.
Obviously scoring no-points with 58 on offer for di Grassi was a big blow, and an opportunity for the Audi driver to set up a tense finale in Montreal.
Over the course of the weekend, di Grassi did not score a pole, fastest lap or even a podium finish, hauling 12 points for a fourth place finish in Race 1 and a further 10 for fifth in the second.
This reduced Buemi's lead to just 10 points, as FE headed to Montreal, for the season finale double-header.
This was almost as good as it could have got for Buemi. Despite not racing, he still had a championship lead going into the finale, but...
Buemi causes his own problems
It started in FP2 on Saturday morning.
Exiting the fast left-right chicane, the final corner, Buemi misjudged the angle, and destroyed the front-right of the car against the barriers. - (Click on the link for the video)
Immediately, he got out and inspected the damage, realising how serious the problem was.
The car was effectively written off, and Renault were faced with changing the battery, triggering a 10 place grid drop and building a fresh car up.
And that's where it all went wrong for Buemi, who after the Paris ePrix, looked unstoppable and would comfortably claim his second crown in as many years.
Disqualification
Before Race 1, Buemi's lead was already down to single-digits, as di Grassi had took three points for pole, reducing the deficit to seven.
After Race 1, di Grassi had an 18 point lead.
The Brazilian won the race, by 0.350s from a charging Jean-Eric Vergne, with Buemi coming home in fourth place after a recovery drive from as low as P16.
Immediately after the race, he showed just how much pressure he was under, and what winning meant to him, as he unleashed a furious tirade against an innocent Antonio Felix da Costa, his guilty of hitting Buemi in Turn 1 team-mate Robin Frijns and di Grassi's partner, Daniel Abt.
His mood wasn't helped a few hours after the chequered flag, as his car was found to be under the minimum weight of 880kg.
As he was outside the technical regulations, he was disqualified, allowing di Grassi to open up the 18 point chasm, from which he would never recover.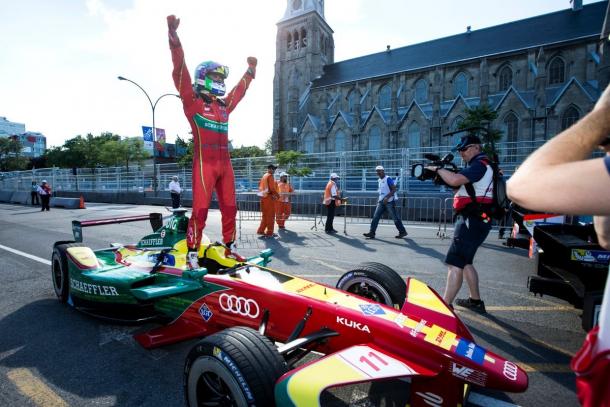 In the second race, a disappointing qualifying saw Buemi down in P13, di Grassi P5.
Further first lap contact in the midfield melee, saw the Renault's right-rear wheel arch receive damage, for which its driver received the black and orange flag, to come into the pits, to fix his car.
However, the offending part actually fell off the car, but Buemi was still required to make a visit to the pits, which dropped him to P20, and last.
Although he stormed back to 11th, it was nowhere near enough, as di Grassi was seventh, took six points and won the championship by 24 points.
Making your own luck
For a driver, who had dominated the opening part of the season, to only score 25 points in the final six rounds (four of which he contested) was a remarkable turnaround.
But di Grassi was fortunate as well.
In Mexico, his rear-wing was damaged on the opening lap, forcing a pit-stop to try and fix it.
The mechanics were able to replace it with a new one, before the safety car come around to lap the stricken Brazilian.
With some careful energy saving driving, and helped out by Jerome D'Ambrosio, di Grassi was able to take the win and 25 points.
One thing that Motorsport has taught drivers over the years, is that it is not how you start, but how you finish that matters.