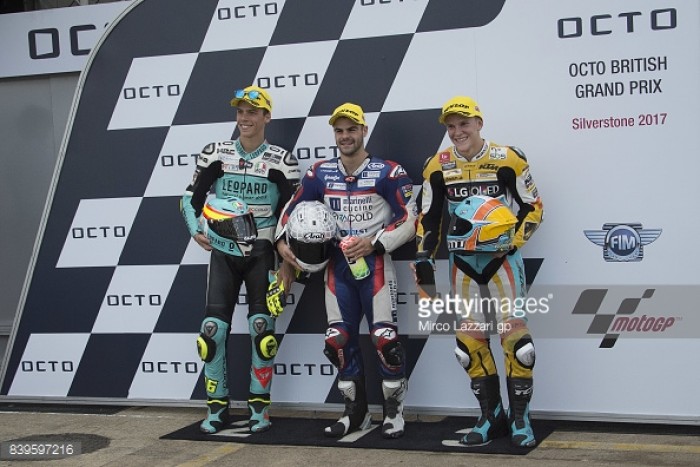 As we know in England the sunshine doesn't like to stick around for long and so when the Moto3 class returned to the track at Silverstone for the final Free Practice session on day two of the British GP, it was not surprising to see them greeted with a damp track.
A;l the 250cc riders only have the one bike and it takes some time, although not much when you see some teams going at it, to convert the bike from a wet to dry setup. For this reason, and because some simply weren't keen on risking things in the conditions, some riders refrained from going out on track when the session began.
Martin sat out of Free Practice
One rider who sat out of the session in particular was Jorge Martin (Del Conca Gresini Moto3). The brave Spaniard returned from injury at the last round at the Red Bull Ring and heroically made it on to the podium, but he found after the opening day of practice that the injuries he sustained in his leg were too painful and so decided to sit out.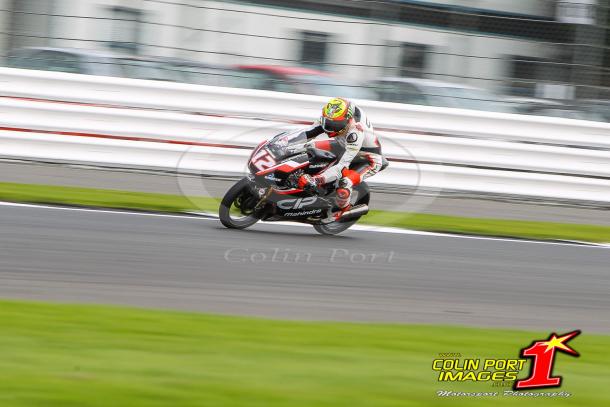 Replacement rider first to crash during FP3
Jaume Maisa who is standing in for injured Darryn Binder for the Platinum Bay Real Estate team was the first crash of the day. He fell at turn one where there is a negative camber and the front tucked on his KTM causing him to slide out into the run-off area. Fortunately he appeared unhurt and was able to continue on with his Moto3 debut appearance.
Conditions were tricky and before long the damp track caught another victim this time it was Albert Arenas (Aspar Mahindra Moto3) who tumbled out of action at turn 11 of the track; ensuring he kept his limbs tucked in to avoid further injury. He suffered a highside when he accelerated out of the turn and the rear spun round and threw him off sending him over the bike, but fortunately he walked away.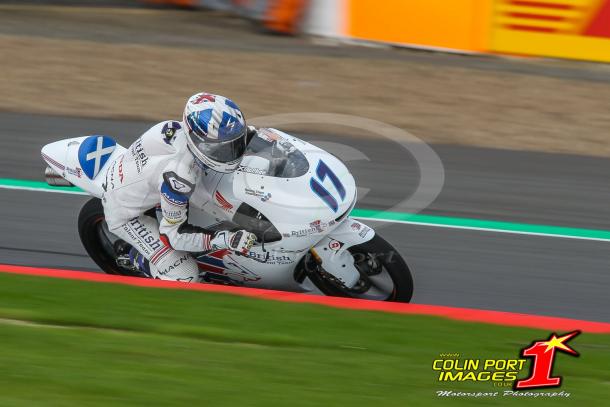 Guevara looking strong in the conditions
Romano Fenati (Marinelli Rivacold Snipers) topped the timesheets after the initial laps, but when he returned to the pits, he found Juanfran Guevara (RBA BOE Racing Team) had stolen his crown with a set of flying laps that were over a second quicker from the Spaniard. Guevara looked incredibly smooth in the damp conditions and continued to reduce his lap time on each consecutive lap with a clear track ahead of him.
Fenati soon returned to track and was able to take back the top spot when he lapped almost a second quicker than Guevara had finished up before he returned to the pits. The competition was definitely on between the two of them. But then championship leader, Joan Mir (Leopard Racing) came and put his leather boot in and went top within the final 10 minutes then worked on reducing his own time.
Fenati ends Free Practice on top
The trio continued to push and all managed to lunge to the top of the timesheets once more in the final few minutes of the session coming to an end but it was Fenati who ended Free Practice on top with a time of 2:20.880.
Lorenzo Dalla Porta (Aspar Mahindra Moto3) was second quickest with a lap time that was 2.671 seconds off that of Fenati; no wonder the Italian was pulling a wheelie for most of the lap as he returned to the pits. There was a half second gap between him and third place, Jakub Kornfeil (Peugeot MC Saxoprint) in third. Mir was pushed down to fifth and Scottish rider, John McPhee (British Talent Team) was fifth at the end of the final practice session.
Guevara ended up sixth quickest and then on his Moto3 debut, wildcard rider Tom Booth-Amos (City Lifting/RS Lifting) was seventh quickest in the wet. Rookie Nakarin Atiratphuvapat (Honda Team Asia) separated he and his teammate, Jake Archer (City Lifting/RS Racing) in ninth, and Marco Bezzecchi (CIP) completed the top 10.
There was a huge difference in the lap times throughout the timesheet. Combining Free Practice times however, it was quickest man from day one, Aron Canet (Estrella Galicia 0,0) who remained fastest with his time of 2:13.320.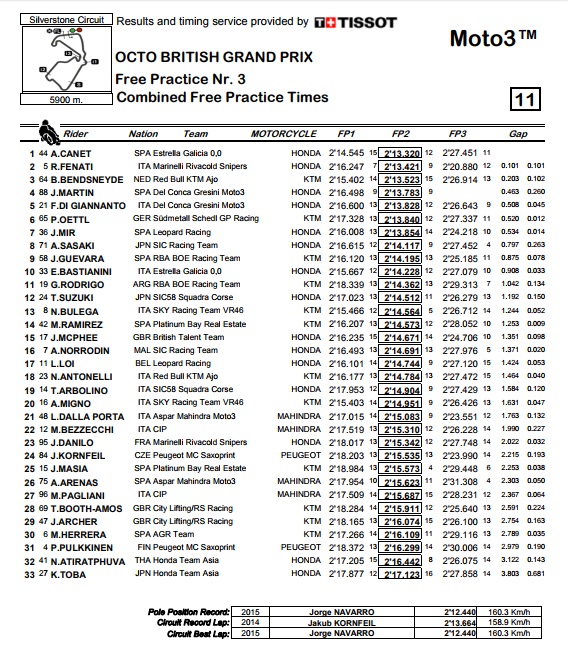 Qualifying gets underway
The slate was wiped clean with regards to the timesheets for the Moto3 class when it came to Qualifying and after a frantic flurry of laps, Bo Bendsneyder (Red Bull KTM Ajo) went top. Race control later cancelled his lap due to overuse of the track and so Nicolo Bulega (Sky Racing Team VR46) became the man to beat with his time of 2:13.584.
Bulega unbeatable throughout
Over 27 minutes remained but no one was successful in topping the Italian's time. They appeared to work in large groups, which would prove beneficial or detrimental for some as those behind would have extra power from the slipstream of those in front, whereas the others had to work harder for a worse result.
Martin was back in action after sitting out FP3, he had a near miss however as, as he ran over the bumps at turn one his elbows went out in reaction to him almost sliding out. Mir also had to act quick to compensate for a mistake as he ran on at turn 13.
Near miss on track causing fleet of riders to act fast
Canet and Bendsneyder also avoided a collision at turn here. Canet made a mistake as he missed the apex and was forced to sit up and use the run-off area. Bendsneyder was right behind him and had to do the same, as did Marcos Ramirez (RBA BOE Racing Team) to avoid a crash. The three ran on and then were followed by another large group of riders whose eyes must have been caught.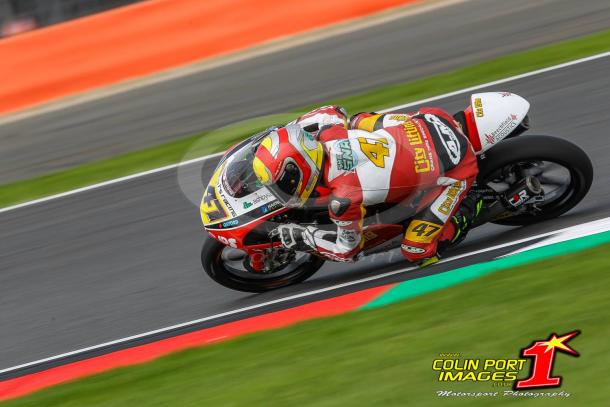 Final attack takes place
It was time for the last attack with the final lap after the flag went out and a whole mob of riders crossed the line forcing the timing equipment to work extra hard. McPhee claimed pole first, then Rodrigo then Mir bunt then the last man across the line, Fenati went even quicker and stole pole position.
Behind the mob, in a desperate attempt to secure a great grid position, British wildcard, Booth-Amos came off at turn eight after sliding out and was narrowly avoided ending his last attempt and day early.
Fenati takes pole ahead of the British Moto3 round
Fenati will lead the pack away from pole position and championship leader Mir and Rodrigo will join hm on the front row. Scottish rider, McPhee in front of his home fans will lead row two alongside Niccolo Antonelli (Red Bull KTM Ajo) and Andrea Migno (Sky Racing Team VR46). Bendsneyder has to settle for seventh on the grid alongside Bulega and Martin in ninth, and Guevara, rookie Kaito Toba (Honda Team Asia) and Di Giannantonio will make up row four. The two British wildcards Archer and Booth-Amos will start from 30th and 32nd respectively.