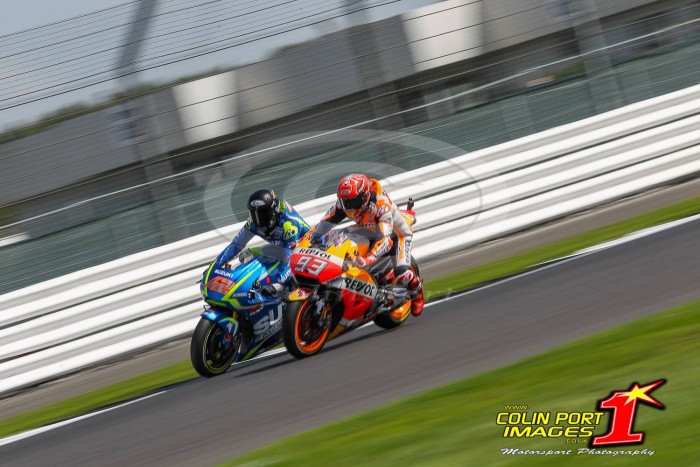 For some of the European riders in the MotoGP class, they were feeling the chill at Silverstone as when they returned for day two of the meeting ahead of the British GP, they were met with cool, damp conditions which for some riders meant they were reluctant to go out immediately during the important FP3.
Riders reluctant to go out on track
Aleix Espargaro (Aprilia Racing Team Gresini) refrained from putting on his leathers when the session got underway choosing to wait for the track to dry further. The likes of Alvaro Bautista (Pull & Bear Aspar Team) who is starting his 250th grand prix this weekend, Alex Rins (Team Suzuki Ectsar) who is donning black leathers, gloves and boots as tribute to the Barcelona terror victims, and Bradley Smith (Red Bull KTM Factory Racing) went out did one lap and returned to the pits. Others just sat and watched on from the pits.
Some riders stayed out, mainly to collect data in the mixed conditions, but as Free Practice times are combined, the ones that were out were not having any impact on the top 10 spots as of yet as they were still at least nine seconds off their previous times in the sunshine.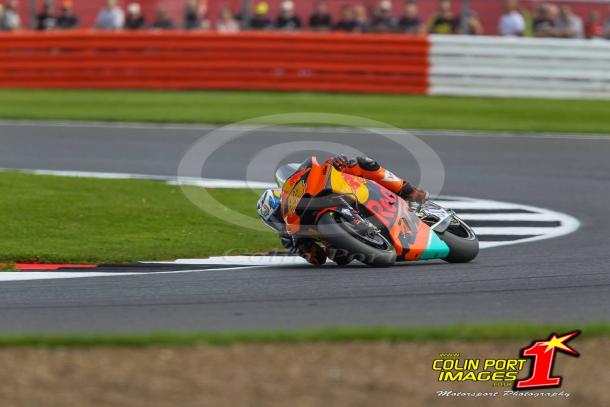 Riders began to come close to previous times
A few laps on track from Marc Marquez (Repsol Honda) who had two heavy crashes the day before, saw him begin to beat the times set by the riders further down the timesheets from the day before.
Within the final five minutes, the riders donned new sets of tyres and took to the track in their final attempt to guarantee a spot in the top 10. Aleix Espargaro, who currently sat in fourth remained adamant that he wasn't going out, which would save him tyres and so he sat and watched as the others attempted to improve on their sunny lap times.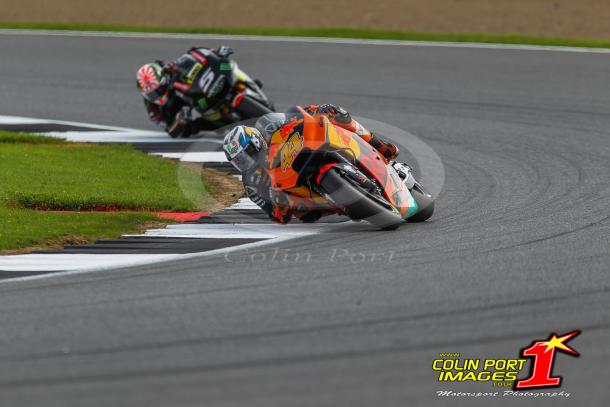 Rookie Zarco completes personal best
The track was not warm/dry enough for any improvements, and so it remained Smith being the only rider who was able to improve on his time from day one. Then, with just over a minute to go rookie, Johann Zarco (Monster Yamaha Tech 3) set a personal best time and jumped up to seventh. Shortly after, his rookie teammate, Jonas Folger (Monster Yamaha Tech 3) also improved but didn't do enough to get into the top 10.
Comparing lap times Zarco, Smith and Scott Redding (Octo Pramac Racing) who had a near miss accelerating out of turn 17 narrowly avoiding a high-side, were the only riders to improve on their times from day one.
Zarco was quickest during the third Free Practice session with a time of 2:01.734, ahead of Maverick Vinales (Movistar Yamaha), Folger, Andrea Dovizioso (Ducati Team) and Danilo Petrucci (Octo Pramac Racing). Quickest from day one, Cal Crutchlow (LCR Honda) was sixth quickest ahead of Marquez, Pol Espargaro (Red Bull KTM Factory Racing), Dani Pedrosa (Repsol Honda) and Redding.
Crutchlow quickest on combined times
But, when combining the times with those from day one, Crutchlow remained quickest with his time of 2:00.897. He topped the list of 10 riders that automatically go through to Qualifying 2 including Rossi, Vinales, Aleix Espargaro, Marquez, Jorge Lorenzo (Ducati Team), Zarco, Pol Espargaro, Dovizioso and Redding.
Iannone just misses out on the top 10
Just outside the top 10 was Andrea Iannone (Team Suzuki Ecstar) and his rookie teammate Rins, but Pedrosa was the other factory rider outside the top 10 who was top 10 during Free Practice 3 who would be most likely to progress after Qualifying 1 should things go well enough for him.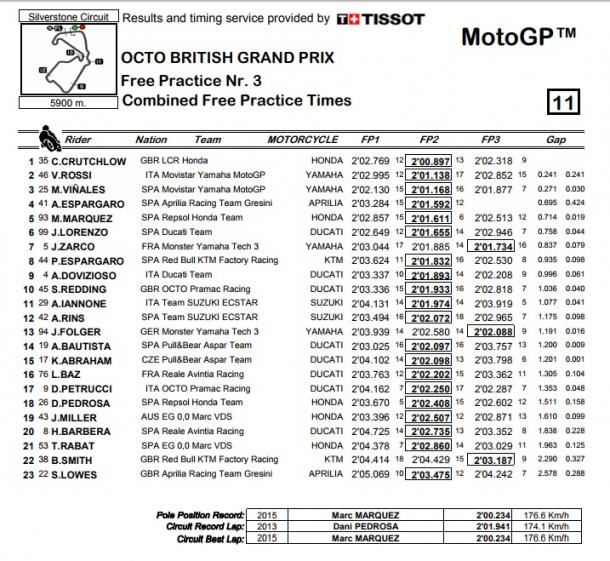 Lorenzo experiences difficulties during final Free Practice
The final Free Practice session turned out to be frustrated for Lorenzo as he broke down on his Ducati and had to get back to the pits as quick as he could only to find his second bike wasn't ready. He wasted four minutes and with just over 11 minutes to go when he broke down but when he returned to the track he was flying and made an attack for the top spot.
In the final few minutes a preview of Qualifying took place as Marquez, Crutchlow and Dovizioso attacked for the top spot although it is usually insignificant but it was Lorenzo who took the crown with a time of 2:01.060.
Smith crashes out
Unfortunately for Smith he had an off with only a few minutes to go. He was able to get up to his feet and continue but it meant he was a bike down for Qualifying that followed a short time later.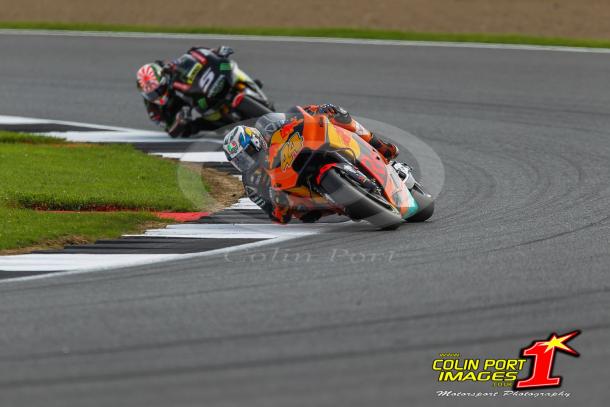 Tough competition for the top two spots
When the first Qualifying session got away it was Loris Baz (Reale Avintia Racing), Iannone and Rins initially fighting for the top spot. Sam Lowes (Aprilia Racing Team Gresini) soon threw himself into the mix and later Karel Abraham (Pull & Bear Aspar Team), Folger and Pedrosa made an attack.
Petrucci crashes out as Pedrosa and Folger progress to Qualifying 2
The session was not without incident as Petrucci had an off at turn 2 within five minutes of the session getting underway. The front tucked on his Desmosedici and he slid out and soon enough he found himself at the bottom of the timesheets. Baz also had a wobble at turn 14 but recovered well.
A final attack for the top two spots took place with Pedrosa, Bautista, Iannone and Folger all pushing hard. A mistake from Iannone at turn four, where he ran straight on, took him out of the mix and eventually it was Pedrosa and Folger who topped the timesheets and were able to progress through to Qualifying 2.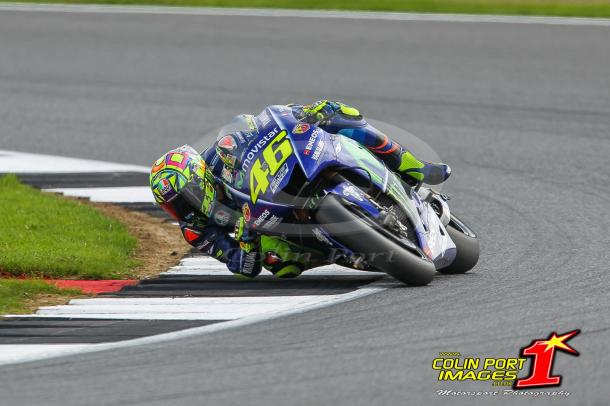 Attack for pole begins immediately
Straight away when Qualifying 2 began, Folger, Crutchlow and Marquez made an attack for pole position. Vinales soon shot up to second but just as Marquez was displaying three red sectors, he and many others slipped back into the pits.
It was intense as Marquez made several saves on his elbow and Dovizioso missed a turn. Pol Espargaro also crashed out at turn 16 as he was trying to chase and take advantage of Marquez's style ahead of him on track. He was unhurt and able to continue.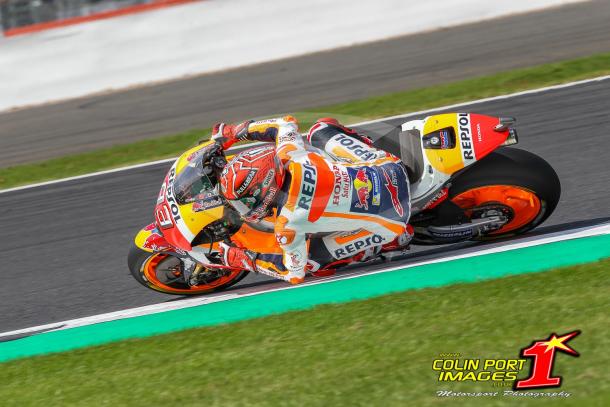 Final attack begins as Marquez claims pole
The final attack began in the closing stages with the main contenders consisting of Marquez, Crutchlow, Dovizioso and Rossi. But then, Marquez laid down the gauntlet with the only lap time under 2:00 minutes and claimed pole with a time of 1:59.941. It was game over but it did not stop the attempts from flying in.
Joining Marquez on the front row for the British GP, Rossi (still on the hunt for his 10th championship title) claimed second at the end of the session and British rider, Crutchlow who claimed pole last year in a wet British Qualifying completes the front row in third on the grid.
Vinales leads row two ahead of Lorenzo and Dovizioso and Pedrosa leads row three ahead of rookie, Zarco and Aleix Espargaro. Rookie, Folger, Pol Espargaro and Redding make up row four as a result of Qualifying 2.
Qualifying 1 determined that Rins will lead row five in 13th ahead of Bautista and Iannone after having just missed out on the top two spots. Hector Barbera (Real Avintia Racing), Miller and Petrucci make up row six. Smith, Abraham and Baz mak up row seven, and Tito Rabat (Estrella Galicia 0,0 Marc VDS) and Lowes will start from the back of the grid.