Lewis Hamilton edged one step closer to his fifth world title with a dominant display to sweep up his fourth race win at Suzuka.
The Championship leader lead from start-to-finish to achieve his 71st career victory and his 50th race win for Mercedes.
Hamilton now boasts a 67 point lead over title-rival Sebastian Vettel, who endured a dramatic afternoon which saw him collide with Max Verstappen before salvaging sixth place.
And that championship advantage means that Hamilton can clinch the title in two weeks' time at the United States GP, as long as he out-scores the Ferrari driver by eight points.
The race - as it happened
As the first few laps go, it was as dramatic as a Christmas Eve on Eastenders.
Starting from eighth position following his disastrous qualifying, Vettel made a sublime start and found his way up to fourth, with every chance of challenging at the front.
However, the German began tailing Verstappen through sector two and despite the Red Bull driver already receiving a five-second penalty for a first-lap collision with Kimi Raikkonen, Vettel decided to make a last-gasp lunge into Spoon Curve.
The result - catastrophic. Verstappen was never going to move over, and with too much momentum Vettel ploughed into Verstappen's sidepod, sending the Ferrari spinning and down into 19th.
Further down the field, five-second penalties and collisions were aplenty in the opening laps. Lance Stroll and Fernando Alonso were reprimanded for their lap one incident down at the final chicane, whilst a late defensive manoeuvre from Kevin Magnussen cost him his rear-left tyre as Charles Leclerc couldn't avoid contact.
The resulting debris required a safety car for lap four, however, the restart for Hamilton couldn't have been any smoother as he got away perfectly.
Fighting their way up the pecking order was Vettel's Ferrari and Daniel Ricciardo's Red Bull. The Aussie had an excellent race, clambering his way up to fourth after benefitting from a pit-stop strategy that seen him jump ahead of Raikkonen.
Meanwhile just ahead of Ricciardo, his team-mate Verstappen had been breathing down the neck of Valtteri Bottas, but the Finn had just enough in his tank to fend off the Red Bull driver and secure a delightful one-two for the Silver Arrows.
At the front, it was all plain-sailing for Hamilton. The occasional reliability concern arose for Hamilton in regards to the drivability of the W09, but the Brit comfortably coasted home to celebrate his ninth win of the season - six coming in the last seven races.
Looking down the field, Sergio Perez secured 'the best of the rest' position as the Mexican finished in P7, after taking advantage of Romain Grosjean's troubles on the medium tyre.
Esteban Ocon ensured a double points finish for Force India by finishing ninth, and Carlos Sainz rounded up the points in what was Renault's first points in Suzuka since 2011.
Toro Rosso, who had promised so much on Saturday, saw their potential double points finish disintegrate as they failed to produce a competitive race-pace and eventually finished 11th and 13th.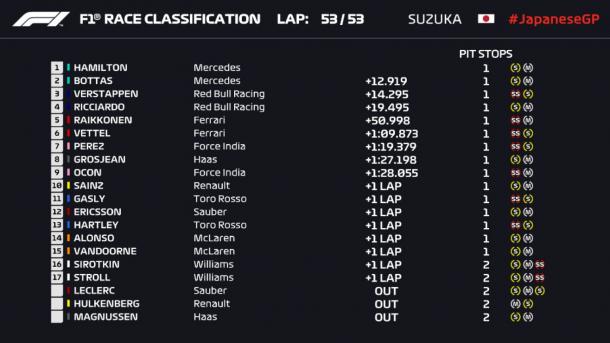 Vettel implosion
Where has it all go wrong for Vettel? Since his Silverstone victory, the German has seen a decline in results and performance, mixed in with the reoccurring theme of the odd mistake.
His spin-off in qualifying was so uncharacteristic of the four-time world champion, but his Verstappen incident was all the more glaring and shows signs of a man who is struggling to overturn the title momentum back in his favour.
Despite the incident, Vettel drove a respectable recovery drive and attained eight points - damage limitation.
If the Ferrari driver is to salvage whatever chance he has left of claiming his fifth world championship, himself and Ferrari need to address their current woes and ultimately be bold and brave - something that they were most definitely not across the weekend.
One consolation that Vettel can perhaps reprieve is that by taking the race's fastest lap, he denied Lewis Hamilton from taking his sixth career grand slam. Had he achieved that, the Brit would have surpassed Alberto Ascari and Michael Schumacher in the all-time list.
So with the Formula One parade heading to Austin in two weeks time, Vettel has it all to do if he is to deny Hamilton once again and reaffirm his losing grip on the title.
Hamilton just keeps getting better
Six wins in his last seven. Dominated the weekend. Commanded the entire race. Just when you think that the Championship leader was at his peak, he somehow manages to discover another gear. Just how many gears does he have left?
Many people questioned Mercedes' Sochi decision to gift Hamilton the race win. Bottas had looked the more worthy race victor. However, nobody could have any complaints today, as the Brit coasted away from his team-mate, and looked a level above over the weekend.
A captivating performance, and a Grand Prix that should be remembered for Hamilton's pure excellence.