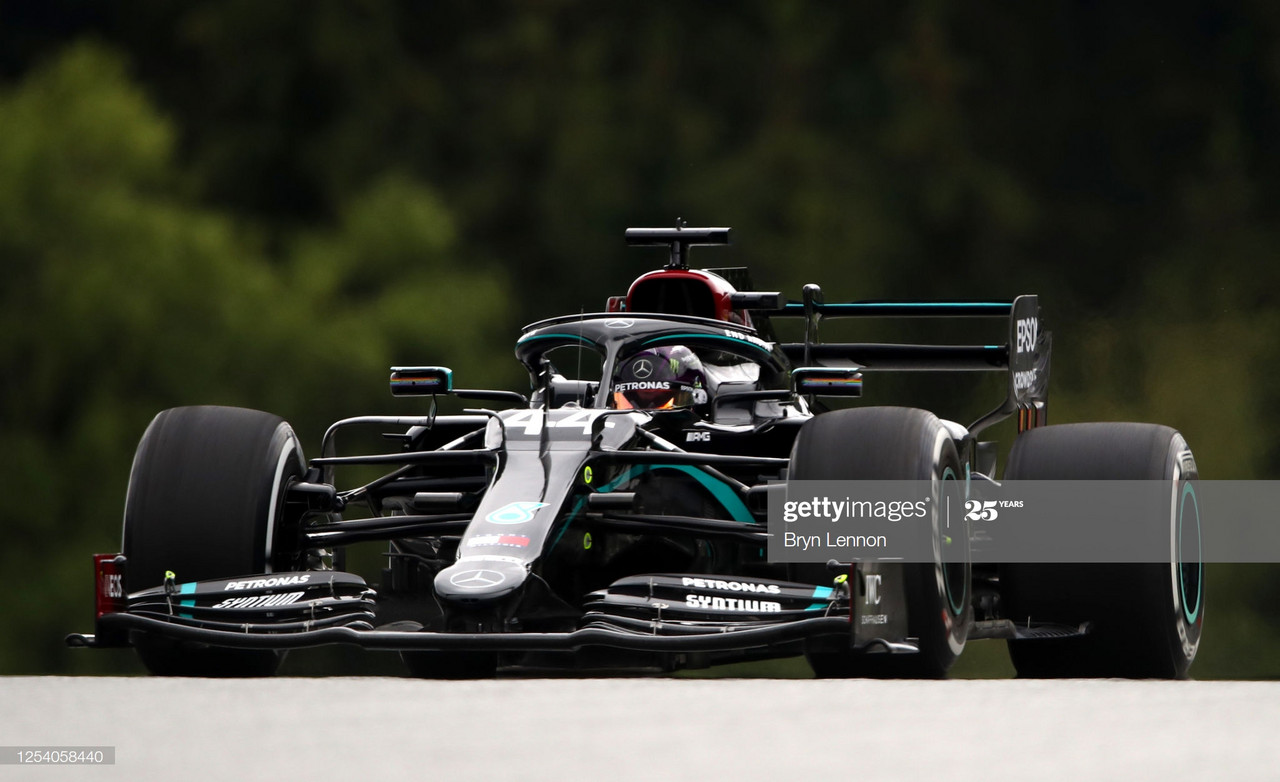 Following a strong first practice that once again saw another Mercedes 1-2, it was no surprise to see the no longer 'Silver' Arrows leading the way as FP2 drew to a close in Austria.
Mercedes quickest once again
Lewis Hamilton finished the session with a solid 1:04:304 lap time, around five-tenths quicker than his result in first practice. Mid-way through the session he was forced to have a lap time deleted following a breach of track limits - a rule the FIA are keen to be strict on as we begin the new season. This had little effect on the 35-year-old's performance though, and in fact his times were so strong that Toto Wolff was able to end his session early, knowing they had achieved more than enough for a practice session.
Valtteri Bottas, as usual, was not far behind the Brit with only a 0.356 second gap between the drivers. With rumoured questions on his contract for the following season, the Finn has a lot to prove. Although just one day into the season, it is clear he has the pace.
Could Racing Point be this season's dark horse?
Ever since the revealing of their car for the 2020 season, queries had been raised by teams and fans about the so-called 'pink Mercedes'. With the car so similar to Mercedes' championship winner, many predicted a new pace from the Racing Point team, and, although early days, this is certainly proving to be the case.
Sergio Perez was able to finish the second session in an impressive third place, not far behind his car's older brothers. This was an improvement on his FP1 position, suggesting perhaps they had not revealed all their pace early-on. Lance Stroll also secured a top 10 top, finishing the session in seventh. It seems that Lawrence Stroll's team will prove a significant threat to last year's 'best of the rest' team McLaren. This is certainly a battle to keep an eye on.
Caught in a spin
During the one and a half hour session, at least five drivers spun the car whilst on hot laps of the Red Bull Ring, in particular on turns 1 and 5. Daniil Kvyat , Alex Albon and rookie Nicholas Latifi all spun off the track at Turn 1, causing the Sky Sports commentators to question the conditions on track. Turn 5 was the location for spins from both Max Verstappen and Kimi Raikkonen, the latter's rally experience enabling him to clear the gravel without too much difficulty. It will be interesting to see if we witness any repeats of these spins in qualifying and, more importantly, Sunday's race.
Slow start for a fragmented Ferrari
Both drivers and team have made no secret of suggesting that Ferrari's pace will be off this season, and FP2 goes some way to supporting this, particularly through Charles Leclerc's 9th place finish. Vettel ended the session in 4th, but, with an awkward atmosphere in the team garage following driver contracts, many have suggested he would now be driving mainly for himself and not The Prancing Horse.
Elsewhere in the paddock, Williams saw the two practices as a time for testing the car and drivers rather than securing race pace, and Haas got Grosjean out early to make up for a disastrous FP1 in which he only recorded 6 laps due to failed brakes.
FP3 will provide a final opportunity for the drivers to practice in the 2020 cars, before they head out onto the 2.68 mile track at 2pm for qualification.
F1 is back; and the Austrian hills truly are alive... with the sound of engines.