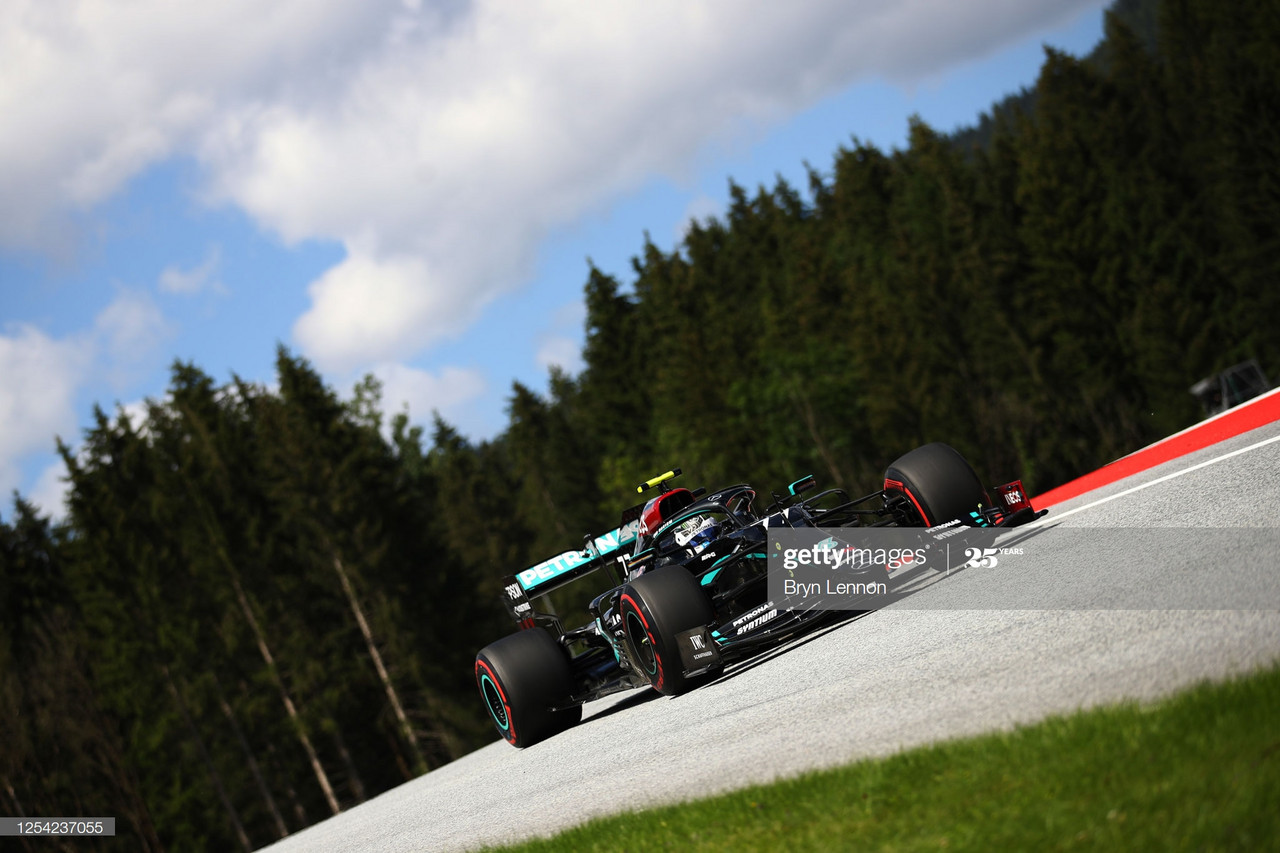 Despite an off-track excursion and a spin on the grass on his final run in Q3, Mercedes' Valterri Bottas set a 1.02.939 and a circuit record to pip teammate Lewis Hamilton to pole.
Hamilton had looked a dominant force all weekend topping a Mercedes 1-2 in all three practice sessions but when it came down to qualifying fell short by only 0.012 seconds.
Mercedes as Dominant as Ever
As of today's qualifying session Red Bull, in particularly Max Verstappen, seem to be the only possible threat to Mercedes being a comfortable P3 but still 0.538 seconds behind pole man Bottas.
Arguably the second happiest man on the grid after this qualifying session has to be Lando Norris and the McLaren team after putting a wonder lap to place the car in P4 and only 0.149 seconds off of Verstappen.
Ferrari Fall to Midfield Battle
Alex Albon and Sergio Perez setting identical times with the former finishing ahead due to setting the lap earlier is a boost to both with Albons performances becoming better and closer to Verstappen and Racing Point for proving themselves as a now staple Q3 team.
Still no mention of Ferrari despite getting out of the top six after a woeful day for the Maranello based team and the Tifosi. P7 is the best Ferrari could do with Charles Leclerc being 0.984 seconds off of pole and 0.920 seconds off of his own pole lap of last year. A troubling day to say the least.
Carlos Sainz, Lance Stroll and Daniel Ricciardo round off the top 10 with solid performances.
Sebastian Vettel finished qualifying in P11 in the first time he has not made it through to Q3 for Ferrari based on pure pace alone again troubling Mattia Binotto and his team.
With the likes of Mclaren, Racing Point and Renault all taking a step forward in the midfield, the rest are struggling on the outside of the top 10.
Pierre Gasly and Daniil Kvyat putting in good performances just leaving Alpha Tauri outside the top 10 in P12 and P13.
Esteban Ocon beating Romain Grosjean to P14 to not be last out of Q2 making the last six places to be taken up by Haas, Williams and Alfa Romeo.
Kevin Magnussen just beating George Russell to P15 after a very positive performance for Russell and the Williams team just falling short to make it out of Q1 to do something they did not manage in 2019.
Both Alfa Romeo drivers Antonio Giovinazzi and Kimi Raikkonen struggled massively only beating the rookie Nicolas Latifi after a crash in FP3 hindered the build-up for his opening qualifying performance.
After a great day for Mercedes, it will be a great lineup after a reshuffle over the winter that promises to be a very intriguing first race of the season. Will the Mercedes fight? Can anyone battle them on race pace? These and many more questions will be answered in tomorrows first race of the season.