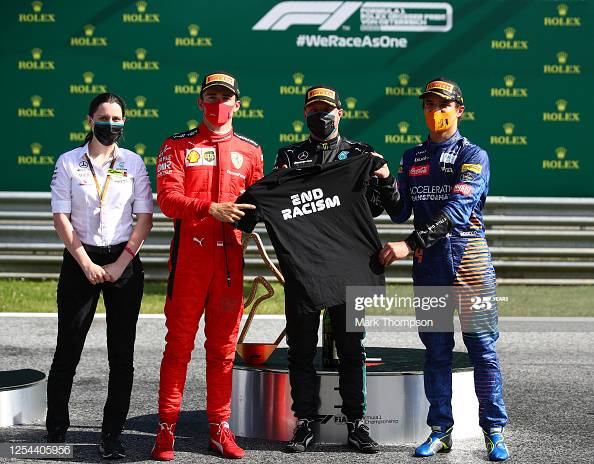 Formula 1 is back! Four months after the season was due to start, the cars finally roared into life, not on the streets of Australia as planned but in the hills of Austria and the Red Bull Ring.
And what a race it was, packed full of drama, collisions, surprises and THREE Safety Cars. Despite the fact that only 11 out of the 20 drivers managed to cross the finish line, we still got a good indication that this season, no matter how long it ends up being, will be very entertaining to watch.
For now, it's time to get into rating every driver's performance over the weekend:
Mercedes
Valtteri Bottas - 1st
Just like last year, Bottas has come out of the traps flying, claiming the first pole position and win of the 2020 season. His victory was quite imperious, leading from the start and holding off a strong challenge from teammate Lewis Hamilton, despite suffering from mechanical issues.
The Finn kept his cool in the face of all the chaos behind him and if he can keep repeat this performance next week, he could become a real contender for the title this year.
10/10
Lewis Hamilton - 4th
He may have finished a respectable fourth, this wasn't a good weekend for the reigning world champion. A last minute penalty saw him start P5 and while he quickly closed in on Bottas, he couldn't find a way past the Finn.
Then, in a repeat of Brazil last year, he collided with Alex Albon, spinning the Red Bull and earning a five-second time penalty which dropped him out of the podium places.
All that said, we cannot forget to mention that off the track Hamilton has been leading the sport's campaign against racism, an issue far greater than any Grand Prix or championship.
5/10
McLaren
Lando Norris - 3rd
After what seems like an eternity, McLaren appear to be amongst the front-runners once again. Norris started P3 but after losing out to the faster Mercedes and Red Bulls, it looked like a podium was off the cards.
But the 20-year-old Brit remained close behind the leaders, keeping his teammate Carlos Sainz Jr. and Racing Point's Sergio Perez at bay, and was ready to pounce after Hamilton and Albon's collision. He set the fastest lap of the race on the final lap to secure the bonus point and the first podium of his career.
A bright future awaits this fantastic young talent.
10/10
Carlos Sainz Jr. - 5th
During the off-season it was announced that Sainz would be joining Ferrari in 2021. Given the Scuderia's lack of pace over the weekend, he may yet regret that decision.
The Spaniard is one of the best racers on the grid and proved his credentials yet again, pulling off some sensational overtakes on the way to a fantastic P5 finish. He couldn't quite match his teammate but this is a very promising start for the Woking based team.
8/10
Ferrari
Charles Leclerc - 2nd
Don't let the second placed finish fool you. Ferrari are well off the pace this year. Nevertheless Leclerc was able to find some speed and given he started P7 he did well.
A switch to fresh tyres after the second safety car saw the Monegasque shoot up the order, and pull off a truly spectacular overtake on Perez.
If he can get a car deserving of his talents, Leclerc will definitely be a contender for the title.
9/10
Sebastian Vettel - 10th
The big news over the break was that Ferrari were not renewing Vettel's contract, leaving the four-time world champion without a drive for next year. His future remains unclear and this weekend didn't help the German's cause.
Starting way down in P11, Vettel was largely anonymous throughout the race, his only moment of note coming just after the first Safety Car restart, where he spun trying to overtake Sainz.
2/10
Racing Point
Sergio Perez - 6th
Racing Point will race as Aston Martin next season and it looks as if they will have a great car to match that famous name. Perez was in scintillating form in Austria, dueling well with the McLarens and once again proving his qualities as the grid's most underrated driver.
Unfortunately the Mexican was caught speeding in the pit lane and the resulting penalty dropped him out of podium contention. Still, expect Perez to be running near the front for the rest of the year.
8/10
Lance Stroll - DNF
Because his dad, Lawrence Stroll, owns Racing Point, many consider Lance Stroll to be a bad driver, only racing in F1 because of his father's wealth. But his pace this weekend showed that the Canadian has a lot of promise.
Qualifying inside the top 10 was impressive and in the early stages of the race he held off Vettel and Daniel Ricciardo in his Renault to stay in the points, before engine trouble forced him to retire after just 21 laps.
5/10
AlphaTauri
Pierre Gasly - 7th
The Red Bull B-Team may have a new name and new livery this season, but performance-wise they remain the same. Amongst all the excitement around him, Gasly had a rather uneventful race, benefitting from all the retirements to pick up a few points.
This will suit the Frenchman to a tee, who is looking to re-establish himself following a disappointing 2019.
6/10
Daniil Kvyat - DNF
Just like his teammate, Kvyat had kept himself out of trouble (for a change) and looked set for a point or two, until a dramatic tyre puncture saw him crash out with two laps to go.
5/10
Renault
Esteban Ocon - 8th
It's good to see Ocon back on the grid after a year out. The talented young Frenchman is popular with the fans and will be spending two years at Renault, attempting to prove his worth to one of F1's big teams.
Unfortunately, Renault's car appears to have gone backwards from last year and P8 was all Ocon could muster.
6/10
Daniel Ricciardo - DNF
After Sainz was confirmed to be joining Ferrari, McLaren wasted no time in securing the services of Ricciardo. The smiley Australian is one of the best personalties in the sport, with the skills on the track to match.
Renault's uncompetitiveness is holding him back, as evidenced by a sudden gearbox failure that saw him retire early on.
4/10
Alfa Romeo
Antonio Giovinazzi - 9th
The Ferrari powered cars, all seem to have dropped in quality this year. Giovinazzi had an OK first season in 2019 and steered clear of all the chaos to snatch an unlikely points finish.
7/10
Kimi Raikkonen - DNF
Like his teammate, the veteran Raikkonen was running well, despite starting second-to-last. Just as the second safety car was ending however, his wheel inexplicably and spectacularly fell off, triggering yet another safety car almost instantly.
4/10
Williams
Nicholas Latifi - 11th
The only rookie on the grid, Latifi started dead-last and his inexperience plus the slowness of his Williams, meant that he stayed there for large parts of the Grand Prix.
With everyone retiring in front of him, Latifi came so close to earning a heroic point on his debut but it was not to be. Given how poor Williams look, it may be the closest the Canadian gets to the points.
6/10
George Russell - DNF
The king of the Virtual Grand Prixs during the break, the Brit was unable to replicate his form from the video game into the real world over the weekend.
He qualified ahead of the Alfa Romeos at least, but beyond that it was pretty tragic and mechanical issues forced him out of the race. His retirement did at least trigger the second safety car, which put in motion the brilliant chaos of the last 20 laps.
3/10
Red Bull
Alex Albon - DNF
Albon could well have won the whole race. He was extremely quick, with the two Mercedes in front limping home. But in a cruel twist of fate, he made contact with Hamilton while pulling off a tremendous overtake around the outside of the six-time world champion.
He dropped to the back of the pack before retiring just a few laps from the end. The Thai driver will be frustrated no doubt, but his talent is evident and everyone should be taking him seriously in the title race.
7/10
Max Verstappen - DNF
Red Bull will have another shot at glory at the home race next week but they'll want to forget about this Grand Prix pretty quickly.
Verstappen will be aiming for the title this year and could well have won the opening race after starting second. But a shocking and frustrating mechanical problem meant that he became the first retiree of 2020.
It wasn't his fault however, so expect the Dutchman to be winning races in no time.
5/10
Haas
Romain Grosjean - DNF
It was a comedy of errors for Grosjean in Austria. He spun off on his own accord early on, received a warning for exceeding track limits too many times and retired after 51 laps due to brake failure. Disaster.
2/10
Kevin Magnussen - DNF
Haas have spoken of their commitment to the sport but drastic improvements are needed if the American team want to remain in F1.
Magnussen also suffered brake failure, spinning off after Ocon overtook him to bring out the first safety car.
2/10​​​​​​