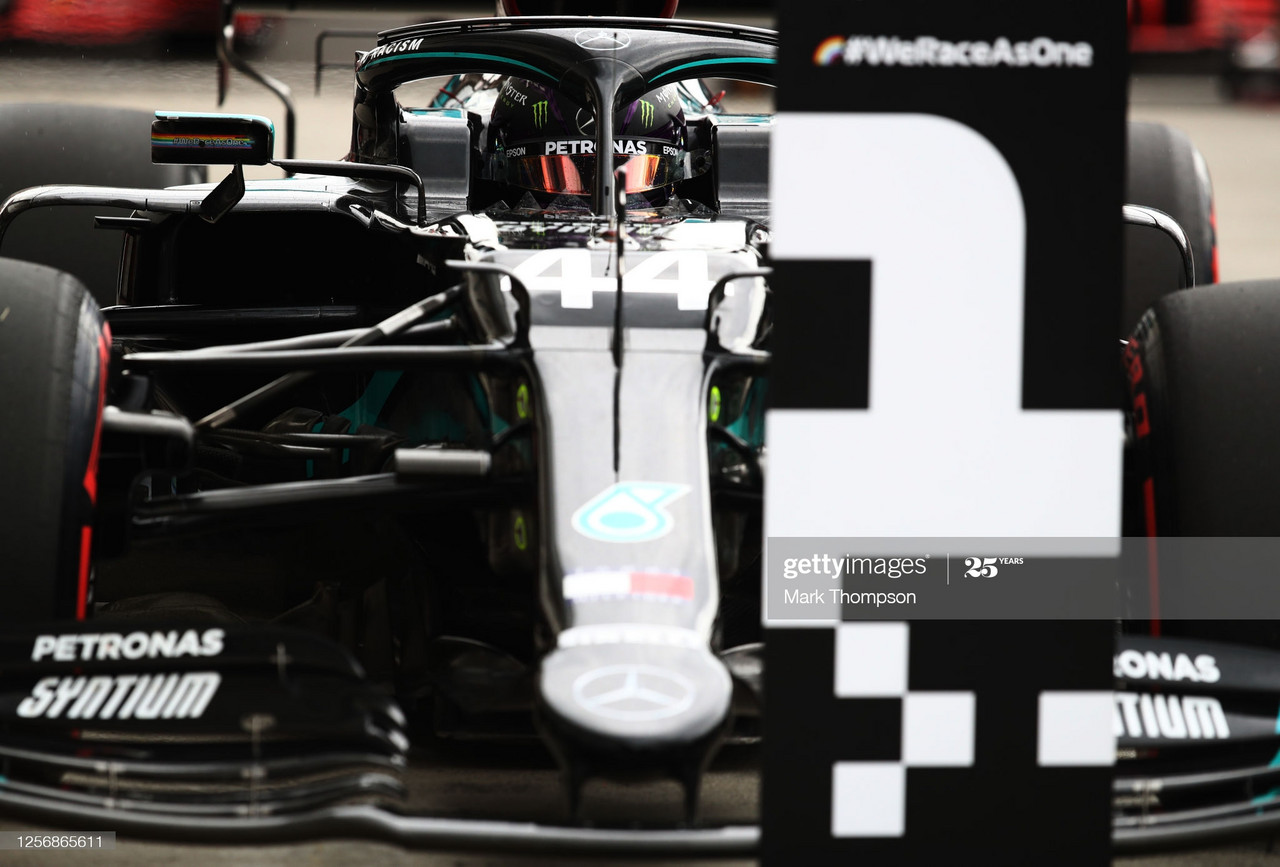 In a qualifying session that saw a blistering performance from Williams' George Russell as well as some clear pace problems for the Red Bull cars, the six-time world champ Hamilton achieved his 90th pole position in Formula 1.
Due to forecast rain showers over the track, most drivers queued up at the pit exit as the green light neared, eager to get a quick lap under their belts. This weekend the FIA are keen to keep an eye on possible track limit breaches on corners 4, 11 and 12, and were quick to delete one of Antonio Giovinazzi's lap times early on in the session. Mild rain part the way into the session meant that many cars returned to the pit. It was George Russell who was first to venture back out and test track conditions shortly after.
The track evolution in Q1 proved to be spectacular, as Russell pelted out a brilliant, smooth lap that propelled him into 3rd for a short period of time. His speed, along with the efforts of his teammate Nicholas Latifi, meant that Williams were able to get two cars in the top 15 and, consequently, into Q2 for the first time since 2018.
Meanwhile, the sudden speed resulting from improved conditions on track meant that many midfield teams' previous times were suddenly at risk, and all the cars raced to get back on the circuit. Despite suggestion that the Hungaroring could be a fast track for Red Bull, it was clear at this stage that they were struggling on pace and stability, with radio complaints coming from both drivers.
Elswehere, Q1 proved a massive success for the Racing Point team, with Sergio Perez and Lance Stroll finishing P1 and P2 respectively.
Out in Q1: Magnussen, Kvyat, Grosjean, Giovinazzi and Raikkonen.
This session began with the well-performing youngster Russell heading straight out on track. At the end of the first five minutes, British team McLaren had achieved the two quickest times, but were soon replaced by the lightning-quick Mercedes cars. Esteban Ocon proved promising in the Renault too, although later struggled to beat the times of his midfield rivals.
Once again, Red Bull continued to have issues throughout the session, with both drivers flagging problems to their team. 24-year-old Alex Albon appeared extremely frustrated with both his car and team, and at the end, after failing to reach the top 10, he expressed anger towards his garage for releasing him into traffic. As people continue to debate if he can maintain his Red Bull seat for 2021, this was a huge disappointment for the Thai driver.
On this occasion the two Racing Point cars did not excel out front, but instead took some risks with tyres that just about kept them in contention with P7 and P9. Hamilton and Bottas posted the quickest times, ahead of a slightly-improved Max Verstappen and the Monegasque Charles Leclerc.
Out in Q2: Ricciardo, Russell, Albon, Ocon and Latifi.
The third and final session saw Hamilton start as he meant to go on, with an early quick lap that saw him accomplish a track record at 1:13:613. Meanwhile, during the period where it mattered most, Racing Point's Perez had a lap time deleted due to infringing track limits, but he was later able to redeem himself with a quick lap that saw him finish a spectacular P4.
Perez's teammate Lance Stroll secured P3 with a lap time of 1:14:377, an extremely impressive performance for the young Canadian. The dramatic turn-around in Racing Point's performance can best be demonstrated by the fact that in the last two years at the Hungaroring they did not start higher than 16th on the grid. Tomorrow they start in 3rd and 4th.
Q3 saw a significant improvement on previous weekends for Ferrari, who finished the session with Sebastian Vettel and Leclerc in 5th and 6th respectively. Vettel was perilously close to finishing in his worst position at the 2.7 mile track since 2008, but just scraped into the top 5.
It was Lewis Hamilton, once again, who proved the star of the show, ending the session with his 90th pole position in his F1 career. In tomorrow's race the British World Champion will be aiming to equal Michael Schumacher's record of most wins at one track with a possible 8th win here in Hungary. It's going to be an exciting one.