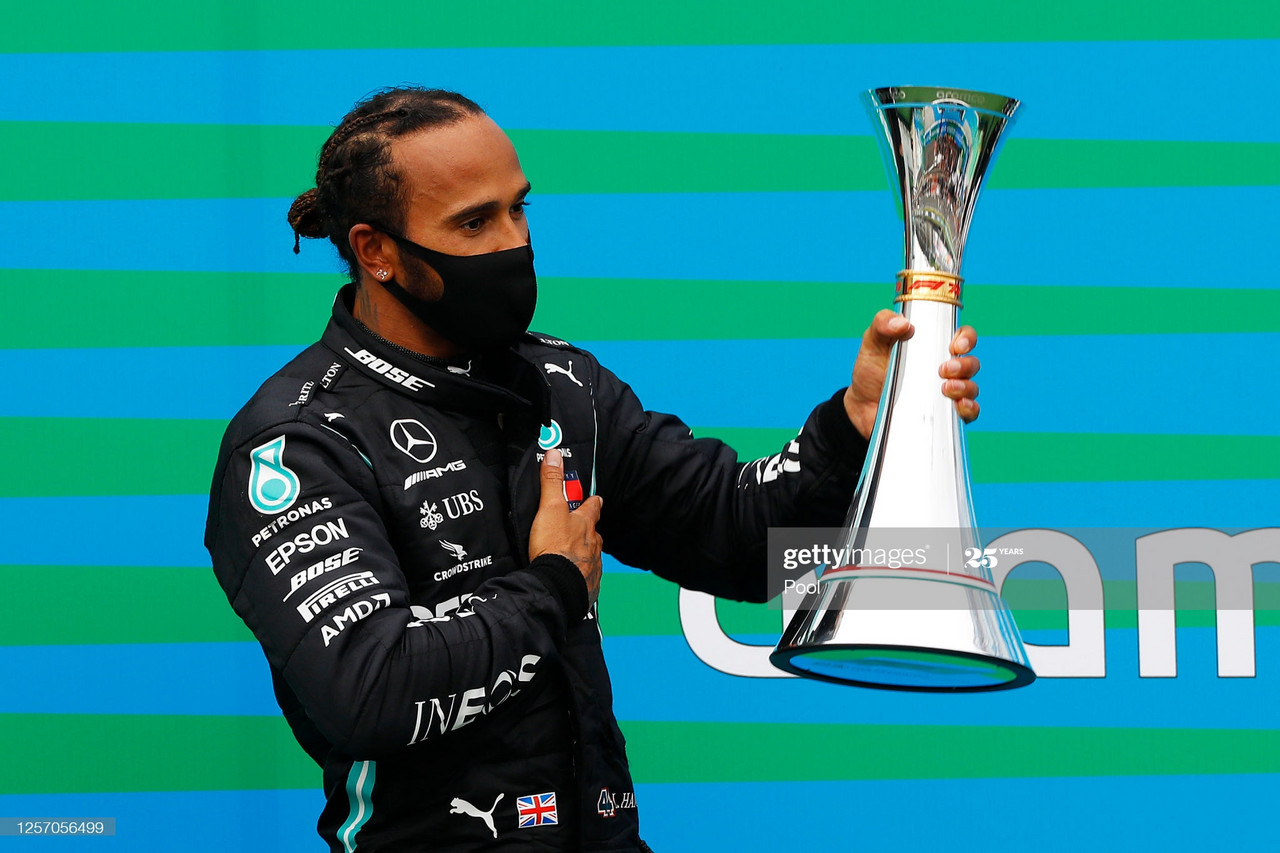 The Formula One circus rolled out of Austria and into Hungary for the third round of the 2020 season.
It was set up to be an unpredictable affair, thanks to plenty of rain during the week. Come Sunday, the race began on a damp track but no more rain came, leading to a chaotic start but after that it was a fairly processional affair.
Nevertheless, it's time to rate all 20 drivers on their performance over the weekend:
Mercedes
Lewis Hamilton - 1st
Based on the last two races we ought to just give the 2020 title to Hamilton. The Brit truly is at the peak of his career, taking the 90th pole position of his career, before leading from start to finish and lapping all but the top five. Oh and he also picked up the fastest lap bonus point by setting several new lap records in the closing laps.
This was his eighth win at the Hungaroring, equaling the record of the most wins at a single circuit, set by Michael Schumacher at Magny Cours, France. Just sensational.
10/10
Valtteri Bottas - 3rd
Bottas was only a tenth off Hamilton in qualifying, but he screwed up his start, jumping the lights before falling down the order. He did manage to avoid a penalty however, thanks to a technicality.
After working his way back up to to third, the Finn just had to get past Max Verstappen to secure a Mercedes one-two. Unfortunately, despite stopping for fresher tyres, he couldn't get past the Red Bull, leaving the only man capable of stopping Hamilton, five points adrift of the reigning world champion.
7/10
Red Bull
Max Verstappen - 2nd
It looked like Verstappen's race would be over before it had even begun, after the Dutchman slid into the barriers as he drove to line-up on the grid.
His mechanics did a remarkable job to get his car going again with just seconds to spare and made great progress in the early wet laps to secure second, which he held onto despite pressure from Bottas.
9/10
Alex Albon - 5th
Albon was not afraid to criticise his team's shortcomings after he qualified a lowly P13. His race went a lot better and included a fantastic battle with the two Ferraris and a late pass on Sebastian Vettel saw him finish a decent fifth.
There have been rumours that Red Bull aren't satisfied with the Thai driver's performances and they could look to replace him. But when you have Verstappen as your teammate it's always going to be difficult and if Red Bull are smart they'll give Albon more time.
8/10
McLaren
Carlos Sainz Jr. - 9th
After outstanding races in Austria, McLaren seemed to take two steps back in Hungary struggling to find any real pace. As a result, Sainz's race was rather uneventful for the most part.
The Spanaird found himself stuck behind the struggling Charles Leclerc in the final phase of the Grand Prix, but managed to battle pass the Ferrari in the end and just sneaked ahead of Haas' Kevin Magnussen to finish where he started.
5/10
Lando Norris - 13th
After starting eighth, Norris' race went downhill pretty quickly after a nightmare start saw him drop down the order and then get stuck in a heap of traffic when he pitted for dry tyres.
A spicy duel with Leclerc and a last lap overtake of Renault's Esteban Ocon was the highlight of disappointing weekend for the young Brit.
4/10
Racing Point
Lance Stroll - 4th
Amid controversy over the legality of their car, both Racing Points lined up on the second row of the grid, in an amazing qualifying.
The young Stroll proved during the race that he's not in F1 just because of his Dad's money, with a superb drive at the front of pack, where he never looked fazed or in trouble. Could a podium be on the cards for the Canadian in the near-future? Don't bet against it.
8/10
Sergio Perez - 7th
Things weren't quite as good for Perez, who dropped a couple of places at the start and never really recovered.
The latest gossip says that Vettel could be on his way to 'Pink Mercedes' next year, which would mean that one of their excellent drivers would be forced out of the team, and quite possibly the sport altogether. While the Mexican has a long-term contract with the team, he will have to perform above and beyond expectations in the upcoming races, to quell the rumours.
6/10
Ferrari
Sebastian Vettel - 6th
After scoring just one point from the opening two races, Vettel needed a significant change of fortune in Hungary. Initially he didn't get with a terrible pit-stop, dropping him well down the order. But he made steady progress and recovered to finish a commendable sixth.
7/10
Charles Leclerc - 11th
After an OK start, Ferrari gambled with Leclerc, putting him on the soft tyre instead of the medium. This backfired quite badly, with Leclerc struggling to find any sort of pace.
He was praying for more rain in order to salvage his race but it never came. He bravely held of Sainz for many laps but towards the end was forced to yield and he subsequently finished outside the points.
That podium in Austria seems like a real fluke now.
4/10
Renault
Daniel Ricciardo - 8th
Renault had a very dull Grand Prix in all. Ricciardo started P11 and finished eighth. He didn't do anything special and he didn't do anything wrong. And that's honestly all there is to say.
6/10
Esteban Ocon - 14th
Started P14. Finished P14. There really isn't much more to say on Ocon's performance.
5/10
AlphaTauri
Daniil Kvyat - 12th
As the drivers set off on the warm up lap, Kvyat radioed his team, asking if he could pit for dry tyres. He didn't, which is a shame because that strategy worked a treat for both Haas cars.
One wonders where Kvyat could have finished had he got his way. Alas we'll never know.
6/10
Pierre Gasly - DNF
The only retiree from the race, Gasly remarkably started P10 amid engine and power unit concerns. He was running well before his engine blew up on lap 16.
3/10
Alfa Romeo
Kimi Raikkonen - 15th
Raikkonen qualified dead last and was then awarded a five-second penalty for starting in the wrong grid box.
He recovered somewhat but the Iceman remains point-less in 2020.
4/10
Antonio Giovinazzi - 17th
Started P19 and only finished ahead of the two Williams and Gasly. A poor performance.
2/10
Haas
Kevin Magnussen - 10th
At last, a good result! The American team pulled off a masterstroke, pitting both cars before the race started for dry tyres. That meant that they blitzed past nearly the entire grid during the first round of pit stops and at one stage ran third and fourth.
Because of how slow the car is, both drivers started to fall backwards but Magnussen held on for a solitary point, thanks in part to Leclerc holding up Sainz for so many laps.
9/10
Romain Grosjean - 16th
Unfortunately, Grosjean wasn't able to match his teammate. Getting caught in traffic didn't help and the Frenchman can consider himself unlucky to finish all the way down in P16.
5/10
Williams
George Russell - 18th
Russell did brilliantly to start P12, but come race day he had no chance. He dropped back quite dramatically and was never seen or heard from again.
2/10
Nicholas Latifi -19th
P15 was a great starting place and in the opening laps he even cracked the top 10. But as he left his pit box, he made contact with Sainz, got a puncture and spun around at the first corner. He fell a lap behind instantly and fell back further still after sliding off on lap 43.
Williams announced this week, that they have retained both drivers for 2021. Let's hope they can build them a decent car.
1/10