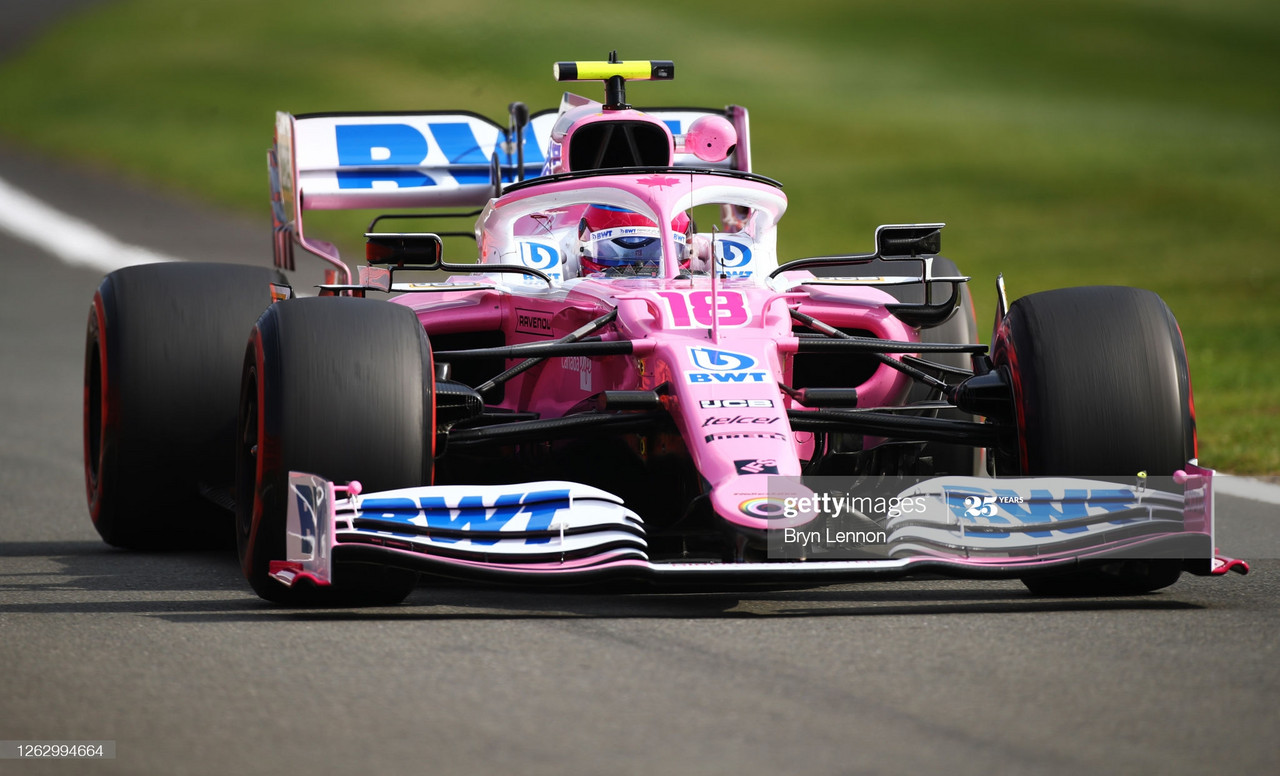 Lance Stroll finished Free Practice two at the top of the timings, just ahead of Alex Albon and Valtteri Bottas. Despite finishing the session in second Albon finished the session in the barriers just outside of Stowe.
This session was dominated by qualifying and race runs, providing some quick times from all drivers, with the likes of Alfa Romeo really picking up the pace from their timings in FP1.
Tyre Wear
Tyre wear persisted to be a real issue for the drivers on track. The track temperature was close to 50 degrees, along with the air temperature being at 35 degrees. Large numbers of the drivers struggled on their worn tyres, with the tyre temperature window not being ideal. This caused the likes of Alex Albon, Charles Leclerc and Nicholas Latifi to spin at the more high speed Corners.
Issues Continue For Ferrari
Sebastian Vettel did make it out in FP2, following not taking part in FP1 due to an inter cooler issue with the turbo. However despite being able to get on track, the German was stuck at the bottom of the grid, as it seemed as if he struggled to get the best out of the car, as the issue persisted.
His teammate had a more promising session, however it was not without fault.Leclerc spun early on in the session, however did manage to recover well and finish the session in a strong 4th place, ahead of Lewis Hamilton.
Albon Red Flag
With 45 minutes remaining in the session, Alexander Albon bought out the second red flag of the weekend. As he entered Stowe, the car over steered and upon correction, the car careered off of the track and into the walls on the far side of the corner.
The impact took both the front and back left of the car. Albon, who was second place at the time,got out the car safely and was taken to the medical centre.
British GP FP2 Results
Lance Stroll - 1.27.274
Alex Albon -0.090
Valtteri Bottas -0.157
Charles Leclerc -0.296
Lewis Hamilton -0.307
Carlos Sainz -0.546
Nico Hulkenberg -0.636
Pierre Gasly -0.723
Daniel Ricciardo - 0.838
Kimi Raikkonen -0.885
Lando Norris -0.895
Esteban Ocon -0.945
Antonio Giovinazzi -0.982
Max Verstappen -1.116
Daniil Kvyat -1.152
Romain Grosjean -1.290
George Russell -1.497
Sebastian Vettel -1.586
Kevin Magnussen -1.624
Nicholas Latifi -2.684