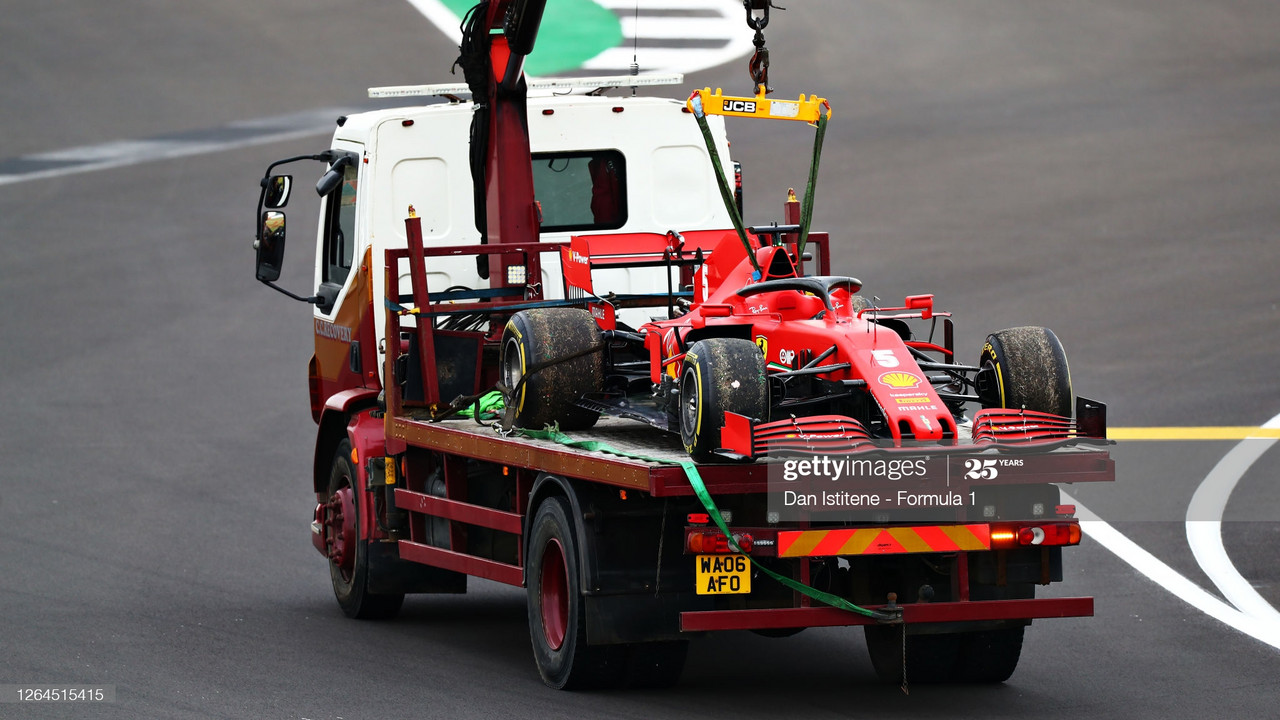 The second session of the 70th Anniversary Grand Prix was red-flagged in the final few minutes, shortly after Ferrari driver Vettel suffered a catastrophic engine failure that saw oil spill onto the track. The damages, it seems, will leave the Prancing Horses with a lot of work to do before FP3 tomorrow morning. Antonio Giovinazzi suffered a similar - be-it less serious - fate, breaking down suddenly with a few minutes to go. The session had been yellow-flagged after Vettel's off, but was red-flagged when Giovinazzi stopped in a run-off zone.
Top drives from the Top 5
When the session was stopped, Lewis Hamilton topped the leaderboard with a lap time of 1:25.606, just a tenth of a second ahead of teammate Bottas. Mercedes' session was so relaxed that Toto Wolff and other team members were seen riding around track-side on scooters. Their cars' standout pace is expected to continue into tomorrow's practice session and qualifying.
The greatest triumph of the session, though, came from Renault's Daniel Ricciardo who finished FP2 in third place, seven tenths behind Bottas and just ahead of Max Verstappen and Lance Stroll in P4 and P5. The Australian is coming into this weekend off a hugely successful 4th place finish last Sunday; a race where he showed off that pace and skill that had earned him big successes at Red Bull in the past.
Unlucky turn in fortunes for some
Despite a reasonable result in FP1, Ferrari's luck changed in this second practice, with Vettel breaking down and ending the session in 14th and Leclerc finishing P7. So far it seems that the team restructure has not had its desired impact on results.
From the current men in red to a former one, Kimi Räikkönen once again struggled to achieve much in his Alfa Romeo. The 40-year-old experienced a number of wobbles during the 90 minute session, leaving the track on some corners, and ultimately finished P17.
Red Bull's Alex Albon once again failed to keep up with his teammate, this time with an even bigger gap than in FP1, and the Thai-British driver ended the day in 11th. He will need a good practice session tomorrow morning to rebuild his confidence for Quali. The two Alfa Tauri cars finished just behind Albon, with Kvyat pipping Gasly by a tenth of a second.
As expected, the two McLarens finished the session in the midfield in 8th and 9th, whilst the currently-controversial Racing Point cars ended FP2 not far ahead in P5 and P6. Williams' George Russell once again outperformed his teammate Latifi, and continues to show some good pace on the Friday.
We can expect a similar order tomorrow in FP3 and Qualifying, although we must wait to see if Ricciardo can maintain the performance that currently sits him in P3.