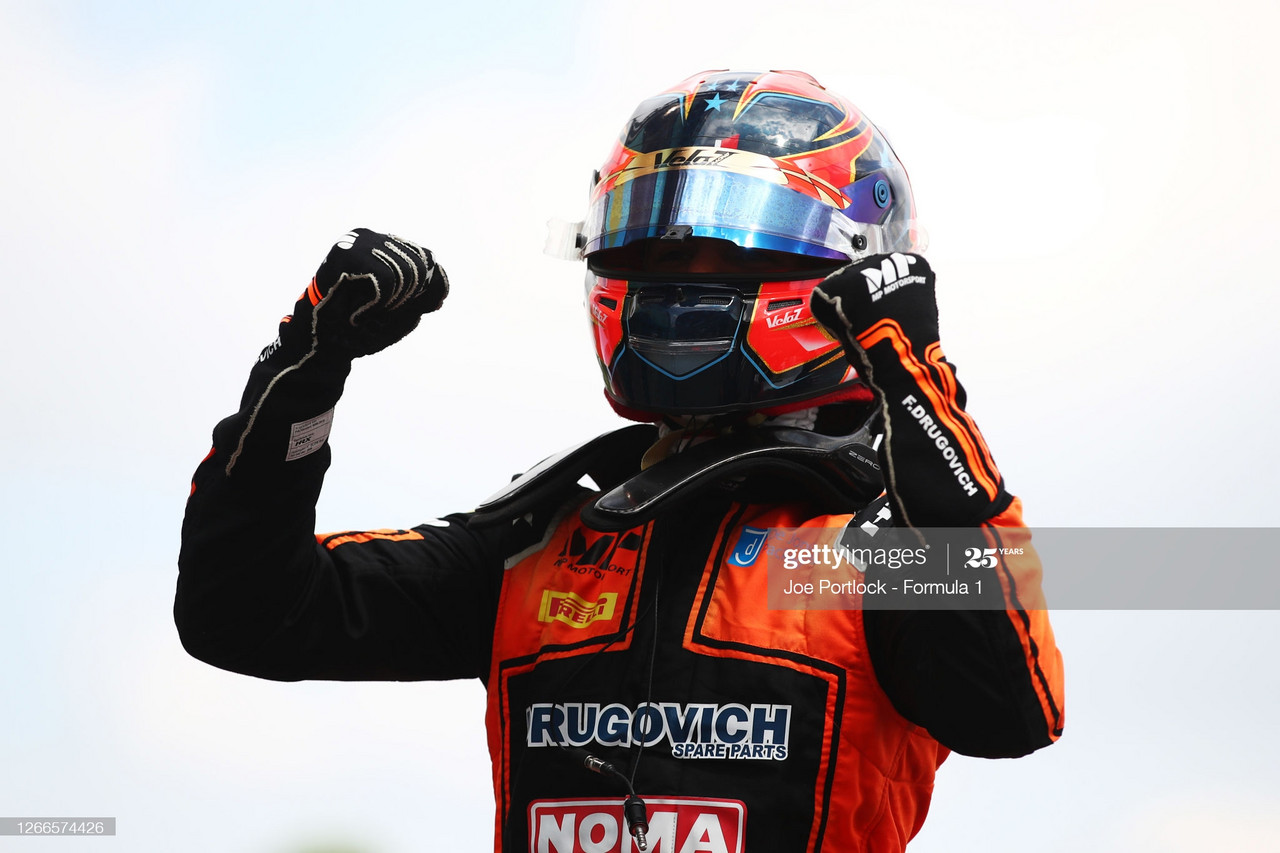 Felipe Drugovich made it a back to back weekend for MP Motorsport, as the Brazilian took a commanding win ahead of Italian veteran Luca Ghiotto and the Prema of Mick Schumacher. Drugovich managed to create an early lead, which he managed to maintain for the entirety of the race, stretching out a ten second gap over the Hitech in second place.
The Brazilian was 'furious' after yesterday, feeling that his team should of favored him, instead of his teammate, comments that he reiterated on his cool down lap. He made a reference to yesterday saying that 'it should of been yesterday instead'. However the Dutch outfit won't be complaining about two wins in two races, and how Drugovich sealed his second win of the season.
Virtuosi Struggles
The UNI-Virtuosi cars of Callum Ilott and Guanyu Zhou continued to struggle in Barcelona, following a decent showing in the Feature race yesterday. Ilott had good pace at the start of the Sprint race, however with ten laps to go it started slipping away from the Ferrari Academy driver, who slipped from 3rd down to 8th.
In the yellow variation of the car, Zhou was showing a good deal of pace, much like teammate Ilott, however he suffered a similar fate. After defending from Feature race winner Nobuharu Matsushita, the Chinese driver locked up into turn one, consequently puncturing his front left tyre.
Tyre Degradation issues
Much like the Feature race yesterday, all drivers struggled with heavy tyre deg in the sprint race, especially Brits Dan Ticktum and Jack Aitken, who were the first two drivers to buckle and pit for the softer compound of tyres. Consequently this confined the two drivers to the back of the grid later on in the race, after spending a large portion of it in the midfield of the pack.
After 40 minutes of racing, marbles from the tyres were strewn over the whole track, with it being extremely noticeably in turn one, with a defined line, illustrated by the marbles.