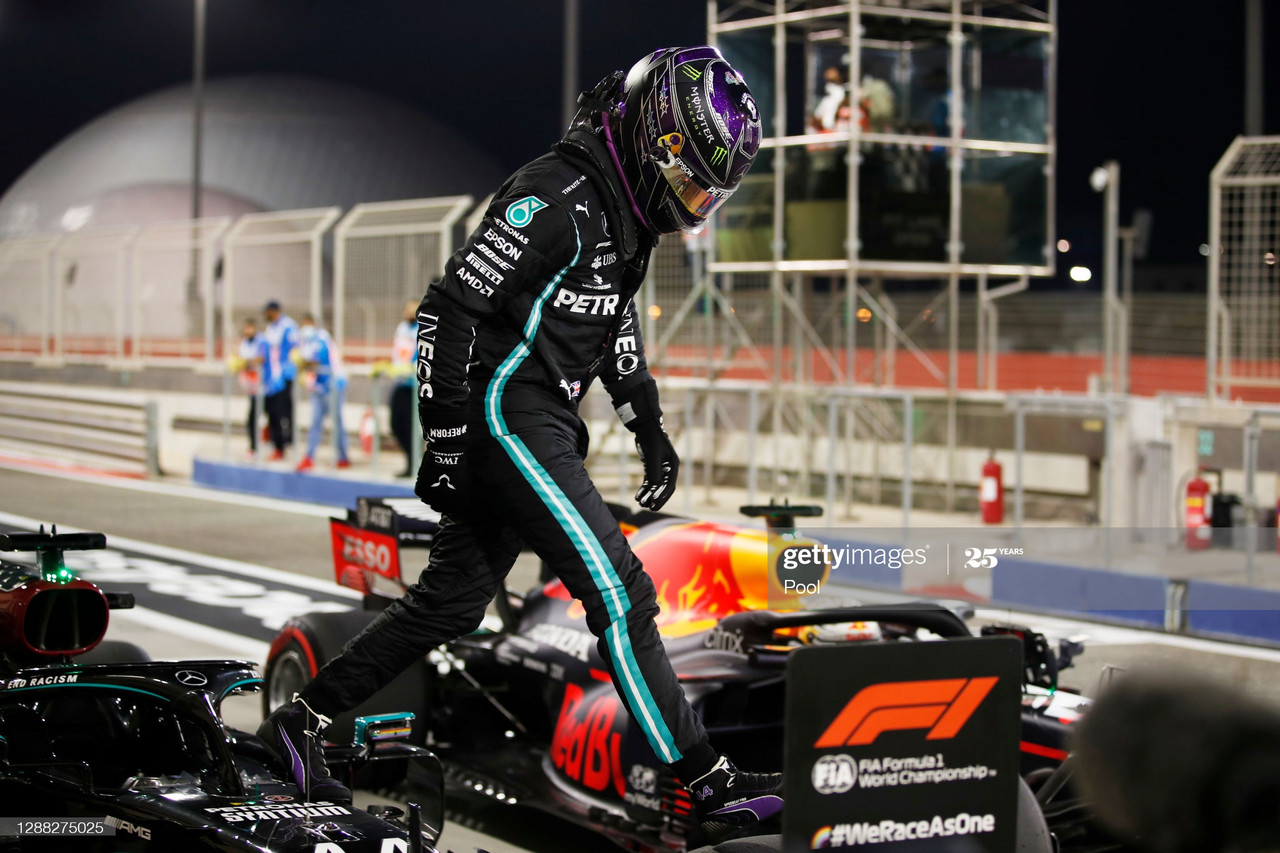 The Circuit - Bahrain
This weekend the drivers are set to race in the desert as they take on the Bahrain circuit. This track hosted the first ever Middle Eastern Grand Prix in 2004. It consists of 12 corners and provides great overtaking opportunities with a long straight where DRS is enabled. The weather does not seem to trouble the drivers this time. Qualifying ran smoothly despite the red flag in Q2 due to Carlos Sainz coming to a halt in turn one. The only crash so far this weekend was that of Red Bull's Alex Albon in turn 15. Team Principal Christian Horner said that the car had a "significant amount" of damage and the mechanics were forced to change the chassis.
Tomorrow's grid
Lewis Hamilton (Mercedes)
Valtteri Bottas (Mercedes)
Max Vertsappen (Red Bull)
Alex Albon (Red Bull)
Sergio Perez (Racing Point)
Daniel Ricciardo (Renault)
Esteban Ocon (Renault)
Pierre Gasly (Alpha Tauri)
Lando Norris (McLaren)
Daniil Kvyat (Alpha Tauri)
Sebastian Vettel (Ferrari)
Charles Leclerc (Ferrari)
Lance Stroll (Racing Point)
George Russell (Williams)
Carlos Sainz (McLaren)
Antonio Giovinazzi (Alfa Romeo)
Kimi Raikkonen (Alfa Romeo)
Kevin Magnussen (Haas)
Romain Grosjean (Haas)
Nicholas Latifi (Williams)
So what went down during the session?
It has been expected to have Hamilton, Bottas and Verstappen top three on the grid for tomorrow. The three have been performing well during practice and finished the last two practice sessions on top.
Lewis Hamilton keeps adding to the list of records he broken this season as not only he got his 98th pole but he also managed to set a new track record. He initially started off Q3 with a time of 1.27.677 but sent a flying lap for the last time round setting a time of 1.27.264. His teammate Valtteri Bottas was only three tenths of a second far from him. Last season both Mercedes managed to get a 1-2 podium at Bahrain after Ferrari could not make the most of their pole positions.
Ferrari have not been having the best of weekends having finished under the top ten in all practice sessions and qualifying. What one can hope for is the repetition of last weekend as Sebastian Vettel managed to go up seven places from 11th in the start of the race. Both Ferraris started off from below the top ten but managed to get a podium for Vettel and fourth place for Charles Leclerc.
Leclerc's teammate at Ferrari for next year, Carlos Sainz did not finish his qualifying on a good note either. Q2 had to be stopped due to a red flag caused by Sainz after his McLaren spun and stopped in turn one. From the team radio, it seemed that he had no drag and the "rears [were] locked". This was unfortunate for Ricciardo and Kvyat who were on flying laps before the incident and were forced to stop. Sainz could not finish his qualifying session but his teammate Lando Norris made sure that the team gets a place with the top ten on the grid.
Q3 presented drivers such as Verstappen and Ricciardo with some changes to the way their tyres were working. Max Verstappen found a problem with his tyres during the last qualifying session and was performing slower compared to Q2. He explained to his team over the radio that they were overheating a bit and that he had "a weird grip". Due to this he could not challenge Mercedes to a higher position on the grid. He will start alongside his teammate Alex Albon who managed to get a good qualifying result despite crashing his Red Bull into the wall yesterday. Renault's Daniel Ricciardo had to make do with 6th as his soft compound tyres were also performing slower than in Q2.
Ricciardo and Esteban Ocon put Sergio Perez in a Renault sandwich as he starts from 5th. Racing Point could not repeat the magic they performed in Turkey as Lance Stroll was eliminated in Q2 but Perez managed to keep his team's hopes up.
Meanwhile, Romain Grosjean was "not surprised" that his Haas got eliminated in Q1 alongside his teammate Kevin Magnussen. Antonio Giovinazzi and Kimi Raikkonen also could not do much with their Alfa Romeo after enjoying a place with the top ten on the grid in Turkey.
So it was a quiet session for the FIA stewards today but in tomorrow's race one can look forward to several surprises from teams. Despite the poor qualifying that Alpha Tauri had when compared to their practice sessions, they have still been performing well throughout the weekend. The DRS zone will present drivers with a lot of overtaking opportunities and if you add good pace to that one might end up getting another surprise podium and maybe George Russell can finally get his first point in Formula 1 from 14th.