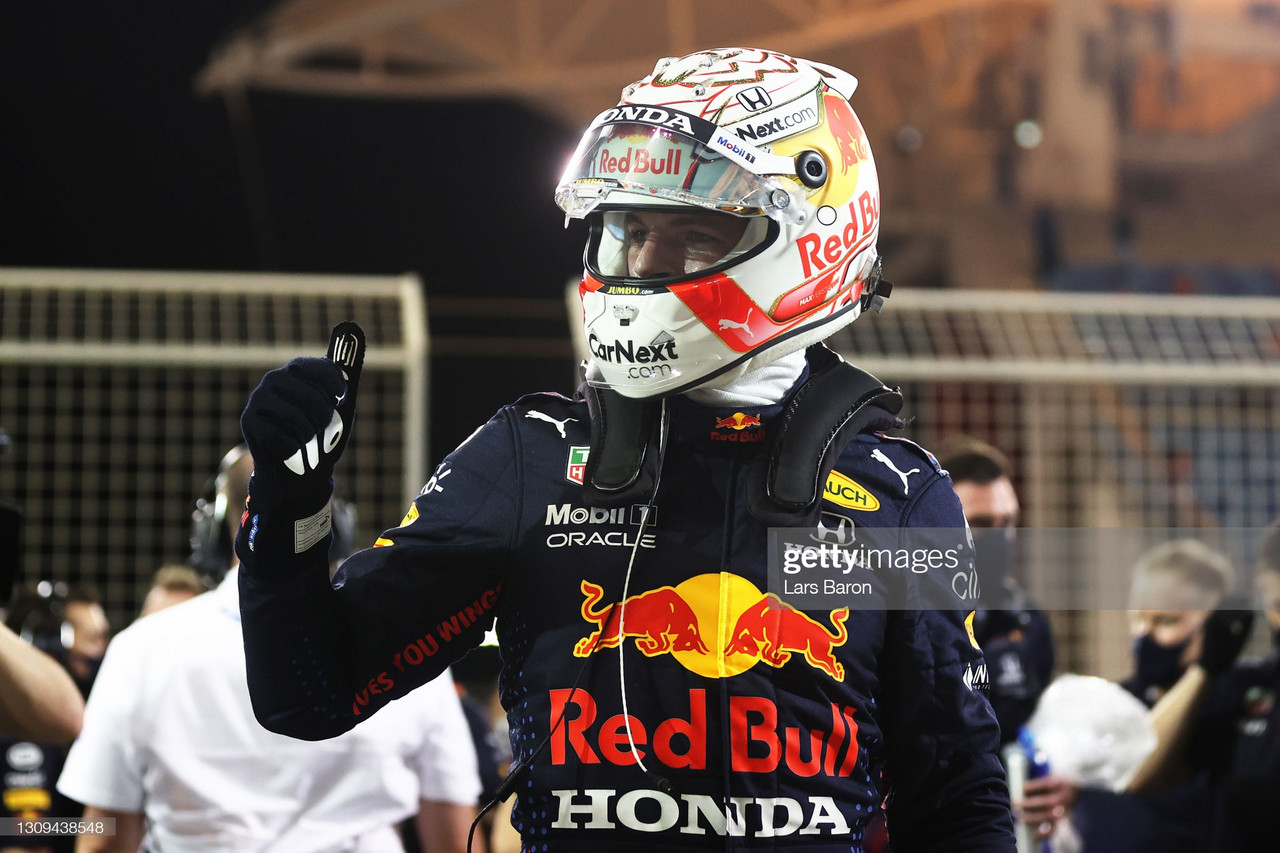 Max Verstappen managed to secure the top spot going into tomorrow's race in Bahrain, making it four consecutive sessions where he finished top of the table. The Dutchman was closely followed by the two Mercedes of Sir Lewis Hamilton and Valtteri Bottas.
How it happened
It started off well for Verstappen, recording a time of 1.30.499 in his first run and securing first place immediately. Worries arose around the Red Bull garage as the Dutchman could have damaged the car's floor as he went onto the curb at turn two. Luckily nothing serious happened and managed to record his first pole at the Bahrain GP, and also the first pole for Red Bull at Bahrain since 2013. Of course, Verstappen is experienced with the unexpected claiming that "there are no guarantees - we need to keep pushing very hard..."
Meanwhile, teammate Sergio Perez struggled to record a fast lap in Q2, after he had his time deleted due to track limits. He went out on his second run with medium compound tires which failed to help him qualify for Q3.
Once again, Mercedes showed that they are still a dominant side on the grid, especially after having questions raised during their poor testing earlier this month. In second, Sir Lewis Hamilton was only three-tenths of a second slower, as he said, "We did a good job from testing to come here and be closer to the Red Bulls, to be that close is testament to the team."
Meanwhile his teammate Valtteri Bottas will be on his tail in third place after certain issues hindered him during the practice session this morning as he explained, "This morning wasn't easy, a lot of issues. In Q3 I only had one set of new tires, and it was difficult to compete. It wasn't too bad, not where we wanted to be but starting third, anything is still possible."
Ferrari seemed to have better qualifying pace than last year, as they struggled to make it to Q3 on a number of occasions. During Q2, both Charles Leclerc and his new teammate Carlos Sainz went on a final flying lap on the soft compound tires. Sainz topped that session with a time of 1.30.009 with Leclerc just below him with only a millisecond between them. A promising start to the Italian side which hopes to also have a better race pace.
During Q1, Sainz encountered a problem with the Ferrari as it stopped at the exit of turn two, causing a yellow flag which got in the way of former Ferrari driver Sebastian Vettel.
Driving for Aston Martin, Vettel had a devastating first qualifying with his new team, as the two yellow flags in Q1 got in his way and cost him the chance to participate further in qualifying. The second yellow flag was caused by rookie Nikita Mazepin, who spun in his Haas twice during the session: during his first lap at turn 13 and during his last lap at turn one.
Mazepin's last spin also got in the way of Alpine's Esteban Ocon who also didn't make it through to Q2. The lap times during the spin are being investigated by the FIA stewards due to the inconveniences caused to Vettel and Ocon.
It will be a tough race for Leclerc who will have Pierre Gasly starting right behind him in the Alpha Tauri. The Honda-powered car proved to have a great qualifying pace thanks to Yuki Tsunoda, who during his first Q1, finished in second place, just a tenth of a second slower than Verstappen. Being the first-ever driver born in the 21st century to start a Grand Prix, the Japanese driver finished Q2 in 13th as the medium tires failed to get him a quicker time.
Despite expecting more from McLaren considering the smooth testing that they had, Daniel Ricciardo still believes that it was "definitely a good evening" He went onto say "I certainly wasn't on the pace yesterday but it's just going to take time, the more laps I do to get those final few percent. I'm just happy, it's a good start." Lando Norris will start just behind him in seventh place.
Fernando Alonso made a return to Formula One in style. During the practice session in the morning, the Alpine seemed to go through some trouble as it wasn't rotating at a low speed but then was losing way to much grip at medium and high speeds. The Spaniard responded well to everyone's doubts and managed to finish the car in ninth.
George Russell had a satisfying afternoon for Williams, who seemed to have improved a bit from last season. Qualifying for Q2, he will start from 15th on the grid tomorrow with Alfa Romeo's Kimi Raikkonen right in front of him. His teammate Antonio Giovinazzi will be starting from position 12.
The Track Conditions
For this session, the track limits were set at turn four, with only Red Bull's Sergio Perez and McLaren's Daniel Ricciardo exceeding them throughout the whole session.
The track was colder hence most cars went out with the soft compound tires but the windy conditions made it harder for them to have grip, forcing some cars to put on the medium compound. As per Ferrari's Carlos Sainz's team radio, the wind seemed to increase during Q2, and throughout the session, several cars suffered from spins or going off track.
The Grid for Tomorrow
Max Verstappen - Red Bull
Lewis Hamilton - Mercedes
Valtteri Bottas - Mercedes
Charles Leclerc - Ferrari
Pierre Gasly - Alpha Tauri
Daniel Ricciardo - McLaren
Lando Norris - McLaren
Carlos Sainz - Ferrari
Fernando Alonso - Alpine
Lance Stroll - Aston Martin
Sergio Perez - Red Bull
Antonio Giovinazzi - Alfa Romeo
Yuki Tsunoda - Alpha Tauri
Kimi Raikkonen - Alfa Romeo
George Russell - Williams
Esteban Ocon - Alpine
Nicholas Latifi - Williams
Sebastian Vettel - Aston Martin
Mick Schumacher - Haas
Nikita Mazepin - Haas