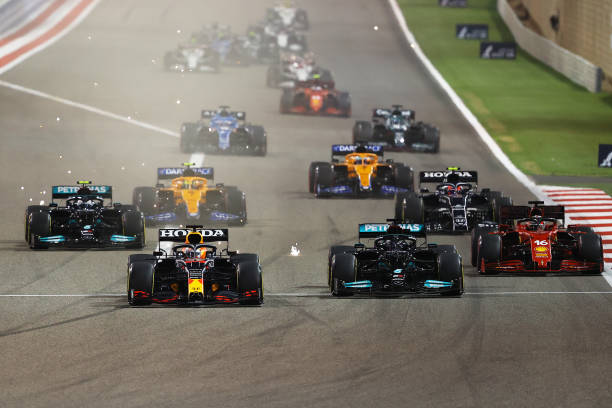 New teams and new drivers, along with a race-long battle for victory, led to a season opener to remember. After considering both qualifying and the race, here are the driver rankings for the Bahrain GP.
Nikita Mazepin - 1
Qualifying - P20
Race - DNF
A poor debut for the Haas rookie.
Throughout the weekend Mazepin was off the pace, suffering two spins in qualifying on his way to the slowest time, giving very little hope for the race.
The goal for his first F1 race weekend would surely have been to get laps on the board and experience under his belt.
This was not helped by a crash on the exit of the second corner on the first lap.
A weekend to forget for the debutant.
Fernando Alonso - 7
Qualifying - P9
Race - DNF
Qualifying was strong for returning two-time champion, Fernando Alonso.
The Spanish driver was convincing ahead of teammate Esteban Ocon and into Q3.
However, he would not have the race he would've wanted on his return.
For large parts of the race, Alonso found himself battling for 8th/9th/10th with Carlos Sainz and Lance Stroll.
All this was in vain though, as on lap 34 he was forced to retire through a brake-duct issue.
A strong first weekend back for Fernando.
Nicholas Latifi - 4
Qualifying - P17
Race - DNF (Classified P18)
An uneventful weekend for Nicholas Latifi in the Williams.
He was behind team-mate George Russell in qualifying in a quiet session.
He followed this up by having a quiet race, where he retired with five laps of the race remaining.
Pierre Gasly - 7
Qualifying - P5
Race - DNF (Classified P17)
A strong qualifying and an unlucky race for Pierre Gasly.
The AlphaTauri driver put his car an excellent P5 after a strong qualifying session.
Starting on the mediums, hopes were high for the Frenchman. However, this hope was undone on Lap 5.
A collision with Daniel Ricciardo's left-rear wheel led to Gasly losing his front wing and having to crawl back to the pits.
From here, Gasly spent his race at the back of the field, opting to retire with four laps to go.
Mick Schumacher - 5
Qualifying - P19
Race - P16
The Schumacher name returned to F1 and finished the race as the last running car.
Schumacher was convincingly ahead of team-mate Mazepin in qualifying, with an advantage of eight-tenths of a second.
In the race, A spin on Lap 5 after the safety car restart was far from ideal. After this Schumacher had a quiet race in an uncompetitive car.
Useful laps and experience for Haas' second rookie.
Sebastian Vettel - 3
Qualifying - P18
Race - P15
A weekend to forget for the four-time world champion.
Caught out by yellow flags in qualifying, Vettel's P18 was made worse by a five-place grid penalty, for not respecting said flags, which dropped him to last on the grid.
A strong start saw Vettel up to P14, however, on a one-stop strategy, Seb began to fall back, with his race being made worse after a collision with Ocon, costing Vettel a 10-second penalty.
George Russell - 7
Qualifying - P15
Race - P14
Another strong showing from 'Mr. Saturday'.
Russell secured an unlikely Q2 for the Williams side, keeping up his unbeaten Williams qualifying record, which now sits at 38-0 against his two previous team-mates.
Russell spent time on the verge of the points but would ultimately slip back to P14 in the race, which in the Williams, isn't a bad result.
Esteban Ocon - 4
Qualifying - P16
Race - P13
Ocon struggled in qualifying for the same reasons as Vettel, as he encountered yellow flags from Mazepin and Sainz.
For the Alpine racer, the race was not much better.
Ocon spent the race out of the points, battling with Vettel and the two Alfa Romeo's.
His race went from bad to worse as Vettel collided with him going into turn one, which would cost Ocon a position.
A poor weekend from start to finish.
Antonio Giovinazzi - 6
Qualifying - P12
Race - P12
A solid, yet uneventful, weekend for the Italian.
Giovinazzi had a strong qualifying, outpacing team-mate Kimi Raikkonen to place himself in 12th.
In the race, he struggled for pace at times, with his team-mate asking for him to be moved aside.
He was running 14th before the Ocon and Vettel collision, which gave him two places, ending up P12 behind Kimi.
Kimi Raikkonen - 6
Qualifying - P14
Race - P11
As the 'Iceman' enters his 20th season in F1, he can take positives from his performance in Bahrain.
He will be disappointed with P14, behind Giovinazzi in qualifying. However, Raikkonen made up for it with a strong race pace, which saw him pass his team-mate in the pit stops.
A solid weekend for both Alfa Romeo's, in what looks to be a solid car.
Lance Stroll - 6
Qualifying - P10
Race - P10
A so-so weekend for Lance Stroll as Aston Martin struggled.
Aston Martin had a tough weekend with complaints about how the new aerodynamic changes have affected their car negatively.
In the midst of that, Stroll got into Q3, which is a good effort from the Canadian.
In the race, Stroll made up places on the start to fight himself in eighth, a position he would fight over with Fernando Alonso and Carlos Sainz.
However, Stroll would slip back to tenth, being overtaken by Sainz and AlphaTauri's Yuki Tsunoda.
Still, a decent weekend for Stroll.
Yuki Tsunoda - 7
Qualifying - P13
Race - P9
An impressive drive into the points capped off a strong weekend for the F1 rookie.
Tsunoda was unlucky to exit qualifying in Q2, with AlphaTauri, perhaps over-ambitiously putting him into the medium tyres in Q2 which hindered his progress.
However, on Sunday Tsunoda showed why he is so highly rated.
After a poor start, Tsunoda found himself in P17. Many would forgive the Japanese-driver for struggling from there on out on his first weekend, but this was not the case.
A storming drive to P9 meant he became the first rookie since Stoffel Vandoorne in 2016 to pick up points on debut.
Impressive from the first F1 driver to be born in the 21st century.
Carlos Sainz - 7
Qualifying - P8
Race - P8
Carlos Sainz will be happy with his Ferrari debut.
The Span​ish driver had a strong weekend in what looks to be a much improved Ferrari.
Slightly off team-mate Charles Leclerc's pace in qualifying, Sainz had a difficult start which saw him slip back to P10.
However, after this he showed strong race-pace, as he battled back to take P8, securing four points on his debut for the Scuderia.
Daniel Ricciardo - 7
Qualifying - P6
Race - P7
A strong first weekend at McLaren for the Aussie.
Ricciardo qualified sixth for McLaren and will be happy to have beaten team-mate, Lando Norris, in the qualifying sessions.
Ricciardo struggled slightly for pace in the race, losing out in a tense wheel-to-wheel battle with Norris for P6 on lap one.
From there Ricciardo looked solid, overtaking Charles Leclerc before losing the position, whilst having to pass Lance Stroll following his first pit stop.
​​​​​​A good start at McLaren.
Charles Leclerc - 8
Qualifying - P4
Race - P6
A mighty performance from Leclerc as Ferrari show improvements
Charles Leclerc, once again, showed just why he is so highly rated.
Whilst Ferrari has improved on its 2020 challenger, no one was expecting to see a Ferrari on the second row of the grid, and that's exactly what Leclerc did.
One of the stars of qualifying, Leclerc slipped back in the race, hunted down by Lando Norris and a resurgent Sergio Perez, eventually finishing a respectable P6.
If Leclerc continues this level of a performance, he can look forward to a fruitful year at Ferrari.
Sergio Perez - 8
Qualifying - P11
Race - P5
A roller-coaster first weekend at Red Bull for Checo.
The roller-coaster began with a Q2 exit on Saturday, as he failed to get into Q3 on the medium tyres.
Following this, on the formation lap on Sunday, his car ground to halt, seemingly ending the Mexican's race before it had even begun.
However, Perez was miraculously able to get his car going again for a pit-lane start.
From here, Perez was the definition of 'It's not where you start, it's where you finish.
Checo stormed through the field, on an unconventional three-stop strategy, to take P5 with just a handful of laps remaining.
Voted 'driver of the day' as well, a successful first race for the Mexican, only let down by his qualifying performance.
Lando Norris - 8
Qualifying - P7
Race - P4
A strong race performance from Norris was impressive in Bahrain.
Norris was disappointed to start P7 on the grid, being out-qualified by new team-mate Daniel Ricciardo after it seemed Lando had been the stronger of the two drivers over the weekend.
However, Lando turned this disappointment into a strong race.
He came out on top of his on-track battle with Ricciardo and would later pass Leclerc as he stormed to an impressive fourth-placed finish.
An impressive performance from the young Brit.
Valtteri Bottas - 6
Qualifying - P4
Race - P4
A tough first weekend of the year for Bottas, despite the podium finish.
Bottas came into Bahrain seemingly as the stronger of the two Mercedes drivers in the new W12, however, he left scratching his head.
Bottas was only able to manage one meaningful Q3 run, as a result, he started third.
In the race, Bottas slipped back slightly from the leading duo of Max Verstappen and Lewis Hamilton, before a slow second pit stop effectively ended his race.
A late pit stop for fastest lap was only a consolation for the Finn, who showed signs of frustration with his team's strategy post-race.
Max Verstappen - 9
So so close, yet so far for Max Verstappen.
He dominated the weekend, heading Practice 1,2, and 3, as well as Q2 and Q3 before taking pole in the much-fancied Red Bull car.
Verstappen held his lead into turn one, only losing it in the first round of pit stops.
From then on out, the battle for the lead was a strategic battle between Lewis Hamilton and Mercedes, versus Verstappen and Red Bull.
After the final round of stops, Max fought hard to catch Hamilton and caught him with just four laps remaining.
On lap 53, Max attempted a pass around the outside of Hamilton at turn four, seemingly completing the move before going off the track.
Verstappen would not get another clear opportunity to overtake and will be disappointed to finish in second.
Despite this, a very strong weekend for Verstappen, with the race win the only thing keeping him from a perfect 10.
Lewis Hamilton
What a performance from Sir Lewis Hamilton.
Coming out of testing, it seemed as though Mercedes were on the back-foot compared to Red Bull, and Hamilton was struggling to get to grips with the W12.
Mercedes spent the weekend playing second fiddle to the superior Red Bull, however, they snatched victory with a clever strategy and superb driving from the seven-time world champion.
Missing out on pole by nearly four-tenths was a blow for Hamilton, and is what keeps him from a perfect 10.
On his last stint, on older tyres Hamilton drove his heart out to defend from Verstappen, who seemed certain to pass the Mercedes if given the chance.
With this victory, Hamilton and Mercedes can breathe a sigh of relief, and spend the next three weeks before the next race at Imola trying to catch up to Red Bull.
What a title fight we have on our hands, will it be a record-breaking eight titles for Hamilton or a maiden crown for Verstappen?