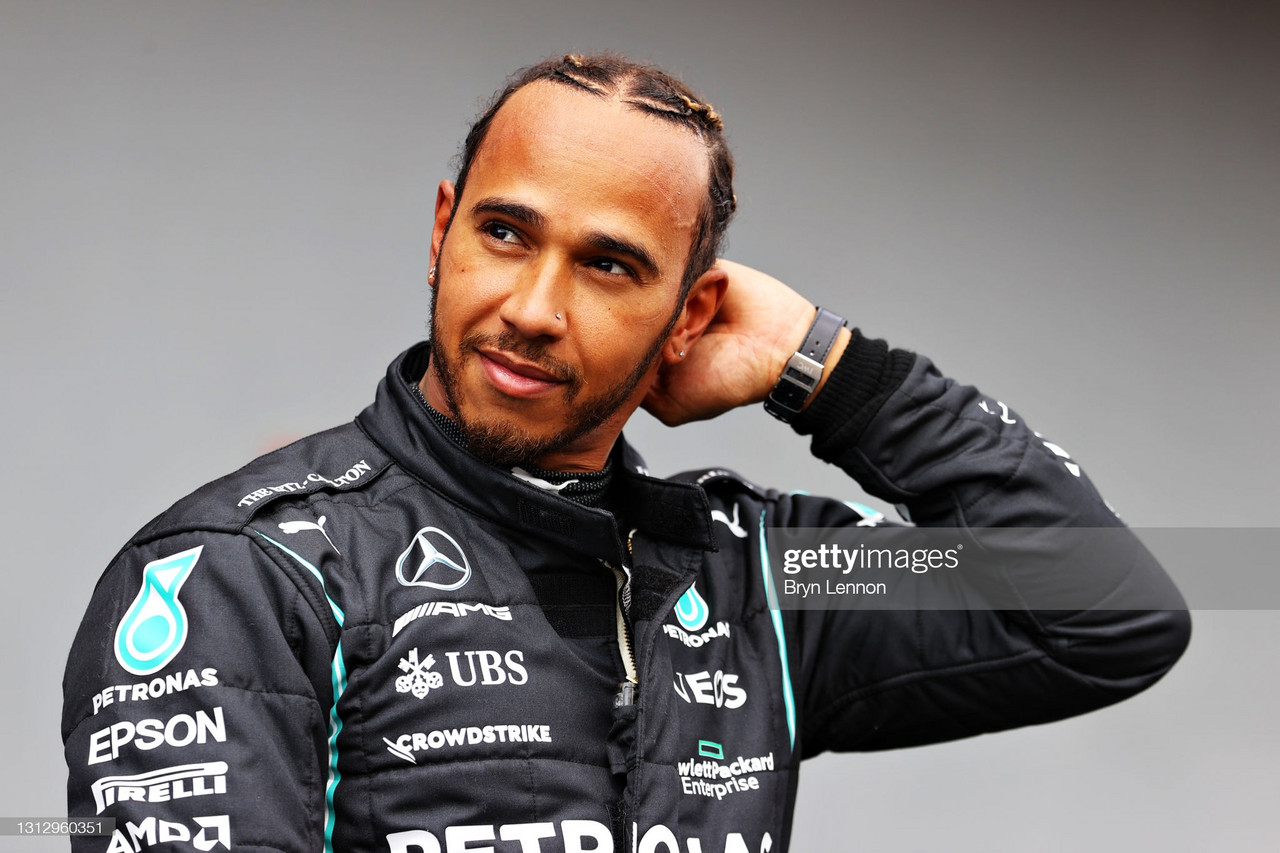 Close towards the top
Sir Lewis Hamilton saved the day for Mercedes as he starts on pole tomorrow thanks to a time of 1.14.411. While unexpectedly achieving his 99th career pole, his teammate Valtteri Bottas started the qualifying session flying as he finished first in Q1 but could only manage an eighth-place finish in Q3.
Lando Norris almost started by Hamilton's side, if it wasn't for track limits. He had a great afternoon session, as he finished Q1 in third and then went on to finish Q2 in second place. During his first lap in Q2, he pushed his McLaren to record a time of 1.14.718 on the soft compound tires, as he went fastest in the first and second sectors. Tomorrow he will start behind his teammate Daniel Ricciardo, in seventh place as he violated track limits after recording a time that saw him 0.043 seconds slower than Hamilton.
Instead, Sergio Perez will be starting on the first row of the grid tomorrow for the first time in his career. He started off Q1 by having his time deleted as he exceeded track limits at the Piratella Corner. He finished off Q2 in first place as he was two-tenths faster than Norris. Following that, he then went on another flying final lap to outqualify his teammate at Red Bull, Max Verstappen, who will be starting off in third place on Sunday.
The Dutchman will have Ferrari's Charles Leclerc on his tail, who managed to reach the Italian's teams goal of starting on the second row on the grid. Meanwhile his new teammate Carlos Sainz did not have the best of qualifying sessions as he finished in 11th.
Trouble for Tsunoda
Another driver who didn't have a great qualifying session was rookie Yuki Tsunoda, who didn't have the chance to set a time for himself as he spun off at Variante Alta. The Japanese driver caused a red flag during Q1, due to an antilock which lost caused him to lose control of the car and spun out of the track, crashing his Alpha Tauri to hit the nearby wall on the exit of the corner. Meanwhile, his teammate Pierre Gasly came through for the team as he will be starting fifth on the grid after spending the afternoon struggling with track limits violations.
Also having his time deleted at the Variante Alta corner was Lance Stroll who finished 10th in all qualifying sessions this afternoon. During Q3 he struggled with oversteer, as his car went off the track in the later stages, and couldn't manage to record a better time. Meanwhile, his teammate at Aston Martin, Sebastian Vettel goes 16 races without making it into Q3 as he will be starting in 13th tomorrow.
Williams appear strong, as Haas faulter
On the other hand, it was a positive afternoon for Williams as both drivers managed to make it into Q2. Canadian Nicholas Latifi qualified to Q2 for the first time since Hungary 2020. He had his first lap time deleted during the first session due to track limits at Turn 15 which saw him qualify for Q2 in 12th place, while he will be starting off in 14th tomorrow. Meanwhile, George Russell secured 12th place after having a strong showing in Italy.
Meanwhile, Alpine's Fernando Alonso was out-qualified for the first time since Malaysia 2017, by Esteban Ocon who will be starting off in 9th tomorrow.
Also struggling during qualifying was Haas. Luckily, no spins for Nikita Mazepin this afternoon but oversteer saw him go off onto the gravel and so will start in 19th tomorrow.Mazepin frustrated Alfa Romeo's Antonio Giovinazzi at the end of the Q1 session, as the Russian found a slipstream and overtook Giovinazzi.
The Grid
Sir Lewis Hamilton (Mercedes)
Sergio Perez (Red Bull)
Max Verstappen (Red Bull)
Charles Leclerc (Ferrari)
Pierre Gasly (Alpha Tauri)
Daniel Ricciardo (McLaren)
Lando Norris (McLaren)
Valtteri Bottas (Mercedes)
Esteban Ocon (Alpine)
Lance Stroll (Aston Martin)
Carlos Sainz (Ferrari)
George Russell (Williams)
Sebastian Vettel (Aston Martin)
Nicholas Latifi (Williams)
Fernando Alonso (Alpine)
Kimi Riakkonen (Alfa Romeo)
Antonio Giovinazzi (Alfa Romeo)
Mick Schumacher (Haas)
Nikita Mazepin (Haas)
Yuki Tsunoda (Alpha Tauri)