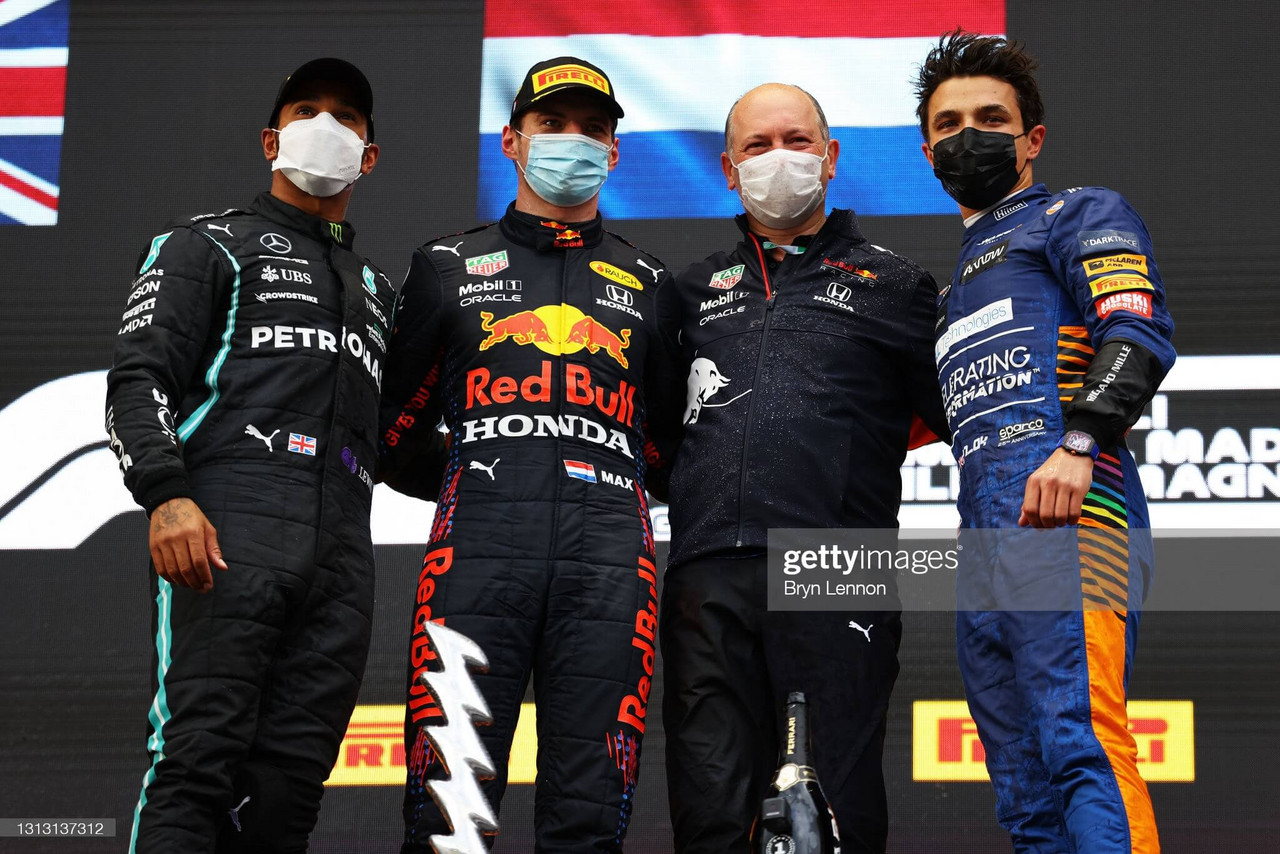 Rain at the start led to one of the most topsy-turvy races in memory as the treacherous conditions caught out the vast majority of drivers at one time or another.
There was an early safety car and later a red flag, after a massive crash involving Mercedes' Valtteri Bottas and Williams's George Russell, rivals for a seat at the world champions in 2022.
Even Max Verstappen almost lost his win, when he half-spun at the restart following the red flag, but he managed to collect the car and streak off into the distance as Lewis Hamilton fought to regain lost ground.
It appeared as if Hamilton had gifted his main rival a huge advantage in what promises to be a tight championship fight when he lost control trying to lap Russell and slid into the barriers at half-distance.
But the crash between Russell and Bottas a lap later gave him a second opportunity and he made the most of it, fighting back from eighth at the restart to finish second.
After a race in which he could have scored no points, Hamilton limited the damage and actually retained the championship lead by a point earned for taking the fastest lap, despite Verstappen's best efforts to take it away from him.
And Lando Norris took a superb third place after a strong weekend in the McLaren.
Charles Leclerc took fourth ahead of Ferrari team-mate Carlos Sainz, with McLaren's Daniel Ricciardo sixth, ahead of Aston Martin's Lance Stroll, Alpha Tauri's Pierre Gasly, Alfa Romeo's Kimi Raikkonen, and the Alpine's of Esteban Ocon and Fernando Alonso.
Verstappen vs Hamilton
Few seasons, if any, have begun quite as dramatically as F1 2021.
If the Bahrain season-opener had been gripping due to the Hamilton-Verstappen head-to-head fight for victory, Imola was simply astonishing and unpredictable from start to finish
Rain showers in the 45 minutes before the race start threw a curveball into proceedings, particularly as some of the 3.1-mile track was wet and treacherous, and other parts dry. Drivers struggled on their laps to the grid, with two-time world champion Fernando Alonso hitting the barriers and requiring repairs.
Verstappen started behind Hamilton and Sergio Perez but was quickly ahead of the sister Red Bull at the lights and challenged the Mercedes on the long run to the Turn Two chicane.
With Verstappen ahead on the inside line for the left-hander, the two title rivals made wild contact at the apex with Hamilton taking to the curbs. Stewards soon ruled that no investigation was warranted.
Verstappen opened a lead of around five seconds but, as the track dried and the Red Bull's intermediate tires started to slide, Hamilton closed back in and Red Bull brought the race leader into the pits for dry tires.
Hamilton stayed out an extra lap and started to push but any hope of overcutting his Dutch rival was ended when he was stationary in the Mercedes pit box for four seconds, with Verstappen easily regaining the lead.
But Hamilton soon had bigger worries than that when, lapping Russell he got onto the wet line at Tosa and dropped the Mercedes into the gravel, touching the barriers.
While the race was suspended for the Russell-Bottas crash, Hamilton was seen crouching down in the pit lane and appeared hugely frustrated with himself.
"There was only one dry line, and I guess I was in too much of a hurry to get by everyone," said Hamilton. "I came to the inside and I could see it was wet and I was trying to stop, but the thing wouldn't stop and it sent me off.
"A bit unfortunate but I'm really, really grateful we were able to get going again and to get some points for the team was really important today."
There was action up and down the field in a race that was gripping from start to finish, but none of the incidents have long-term implications as big as the one between Russell and Bottas.
Hamilton's teammate had not been having a good day, failing to make ground from his poor eighth place grid position. It will not have felt good being chased by a Williams driven by the man who overshadowed him when they were Mercedes teammates for one race in Bahrain last year when Hamilton was absent because of coronavirus.
Russell went for the outside approaching Tamburello on lap 32, Bottas covered the inside, but the left-hand kink of the track brought the Mercedes slightly back to the right.
Russell went for the gap but lost control, spinning and taking the Mercedes with him.
The accident was huge, leaving debris strewn all over the track, and the race director had no option but to stop the race.
Russell was furious with Bottas, walking over to remonstrate with him. Bottas responded by showing him a middle finger, after which Russell banged on his helmet.
The stewards will investigate the incident after the race.
Hamilton's recovery was typically clinical and ruthless and Verstappen was imperious, but the award goes to Norris. He missed out on third on the grid with a small error in qualifying but made amends with a superb drive, passing Leclerc at the restart for second and holding off Hamilton until just three laps from the end.
Portugal in two weeks' time. Hamilton took a brilliant victory there last year and appetites for a great scrap between the world champion and the young pretender are well and truly whetted.
'First time I've made a mistake in a long time' - Lewis Hamilton
Max Verstappen: "It was very challenging out there, especially in the beginning. It was very hard to stay on track.
"With tires degrading in the wet, to choose the right moment to go to slicks is never easy. I had a little moment with my restart but everything else went well today."
Lewis Hamilton: "On my side, it wasn't the greatest of days. It's the first time I've made a mistake in a long time, but I'm grateful I could bring the car home.
"There was only one dry line and I guess I was in too much of a hurry to get by everyone. I came on to the inside and I could see it was wet but it just wouldn't stop and sent me off. Solid work from Max - and also to Lando, what an awesome job. It's so good to see McLaren back up there."
Lando Norris: "It was a long race - a tough one. I didn't start so well. I tried hanging on to second but Lewis was a bit too quick. It is nice to be fighting these guys. It's nice to be here on merit. Hopefully, we can be again in the future. I am happy with the third. I am not disappointed."
Top 10 finishers
1. Max Verstappen, Red Bull
2. Lewis Hamilton, Mercedes
3. Lando Norris, McLaren
4. Charles Leclerc, Ferrari
5. Carlos Sainz, Ferrari
6. Daniel Ricciardo, McLaren
7. Lance Stroll, Aston Martin
8. Pierre Gasly, AlphaTauri
9. Kimi Raikkonen, Alfa Romeo
10. Esteban Ocon, Alpine