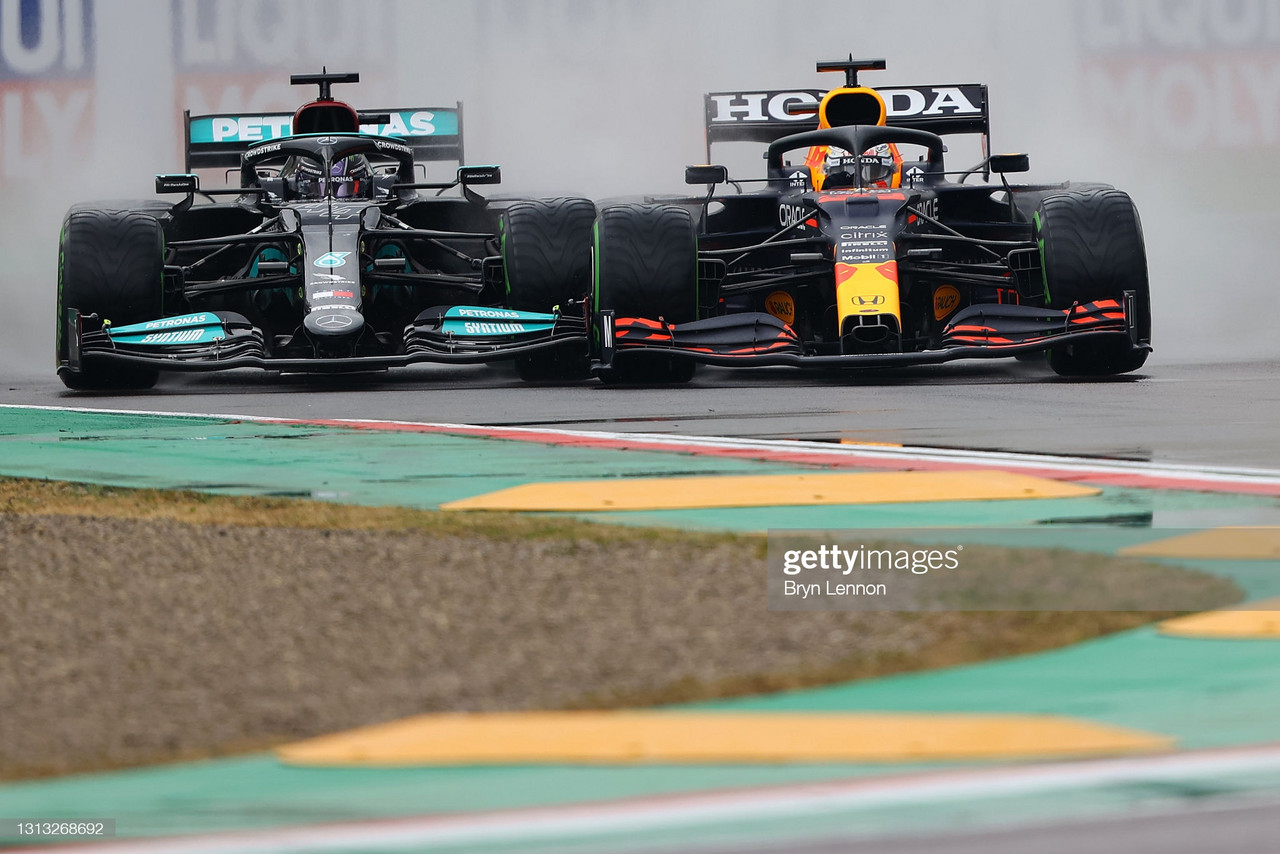 1. Rampant Red Bull's
It was so close yet so far for Red Bull, and more specifically Max Verstappen in Bahrain, this would not be the case at Imola this weekend.
Red Bull further confirmed their championship aspirations and demonstrated their strong RB16B car once again with a fantastic weekend in Italy, where traditionally the team has struggled as of late.
Red Bull left it until FP3 to confirm their pace, with Max Verstappen finishing over four and a half tenths close of McLaren's Lando Norris at the end of practice. While they weren't able to snatch pole, small mistakes from both Max Verstappen and Sergio Perez being the difference between a third consecutive Red Bull pole across 2020 and 2021, as Lewis Hamilton secured pole number 99 in F1.
However, despite this Red Bull was well placed for Sunday's race. Sergio Perez started a career-best P2 for the team with Max Verstappen in P3, both well ahead of the second Mercedes of Valtteri Bottas who lined up P8.
Come race-day a strong start from Verstappen saw him jump Perez and go wheel-to-wheel with Hamilton into the first braking zone of the track, where Verstappen would snatch the inside line and take a lead that he wouldn't let slip.
From this point, Verstappen raced brilliantly. He pulled a gap of roughly five seconds to Hamilton in drying conditions due to the pre-race rain and stayed just ahead of the Brit until lap 32, where Hamilton slipped off the road, leaving Verstappen to drive off into the distance.
Additionally, he held his lead after the restart following lap 32's red flag, eventually winning by 22 seconds from a recovering Hamilton.
Sergio Perez had a tough race, he received a 10-second penalty for overtaking under the safety car after slipping off the track. However, after the restart Perez would once again find himself in fourth, where he had spent the majority of his race, before a spin at the Villeneuve chicane sent him down to 14th, eventually recovering to 12th.
2. Resurgent Ferrari
Ferrari had a fantastic weekend at Imola.
Charles Leclerc once again showed his class all weekend long, despite his FP2 crash he overall had a strong weekend, with his good pace being enough for an excellent P4 qualifying position, just as it was in Bahrain three weeks ago.
Carlos Sainz was disappointed to only be P11 going into his first Italian race as a Ferrari driver but more than made up for it in the race.
The race was nearly over before it had begun for Leclerc, with a spin on the formation lap at Acqua Minerale threatening his grid position of fourth, however, he was able to recover to take his spot on the grid and avoid a pitlane start.
A strong start from Leclerc resulted in P3 as he jumped Sergio Perez on a hectic first lap, whilst Sainz showed his wet-weather prowess once again as he made up places and joined a battle for sixth with Lance Stroll, Pierre Gasly, Lando Norris, and Valtteri Bottas.
From this point, the midfield stretched out and it became apparent that a battle between McLaren and Ferrari was on the cards.
Lando Norris hunted down Charles Leclerc for P3 with Sergio Perez taking his penalty, whilst Sainz snatched fifth from his replacement at McLaren, Daniel Ricciardo, on lap 27.
The battle recommenced after the restart, with Norris jumping Leclerc off the start-line to storm into P2, leaving Leclerc in P3.
It remained this way until a recovering Lewis Hamilton stormed through and past both cars, leaving Norris in P3 and Leclerc in P4, just missing out on his first podium of 2021.
With Sainz coming home in P5 despite two trips into the gravel during the duration of the race, Ferrari secured a good haul of points that will be sure to help them in their fight for third in the constructors with McLaren, as they continue to recover from a tough 2020 season.
An excellent weekend for Lando
Another strong weekend for 21-year old Brit.
Lando had excellent pace all weekend despite McLaren's tough Friday where his fellow McLaren driver Daniel Ricciardo admitted they were "a little off the pace".
However, Saturday onwards was different for the Woking side, Norris was P2 in FP3 and looked to have confirmed his and the teams pace on his last run in Q3, where he set a time that put him second on the grid at the time and would've been good enough for third overall.
Alas, it was not to be for Norris as a track-limits violation caused his time to be deleted, placing him seventh on the grid for Sunday's race.
As the race began, Lando narrowly avoided contact with Ricciardo, but couldn't avoid being hit up the rear by Lance Stroll as he struggled slightly on the first lap, finding himself in P9. However, from their Norris showed strong pace and racecraft to get himself up to sixth, behind Ricciardo in fifth.
Norris demonstrated better pace than his teammate and was let past after pleas to do so from the Brit, from there he raced after Sergio Perez and Charles Leclerc. By the time of the red flag and the subsequent restart, Norris found himself in P3 and upon restarting, on the soft tires, was able to pick off Leclerc for P2.
From this point onwards, Norris was never fully clear of Leclerc but was able to hold the two-time race-winner off, before having to concede second place to Hamilton.
Norris was still able to score a second F1 podium however with P3, an excellent result after an excellent weekend for Lando.
Bottas' nightmare weekend
If Valtteri Bottas' Mercedes seat wasn't already under pressure it is now.
Bottas had a rough weekend, despite the fact that he topped both FP1 and FP2. Come qualifying Bottas, who was the pole-sitter at last year's race at Imola, wasn't able to put a strong lap together and found himself P8 by the end of the session, nearly half a second back from team-mate Hamilton on the pole.
From here onwards, Bottas' dismal Saturday turned into an even worse Sunday. He lost places off the start and found himself in P10, hardly a place for a Mercedes car. Bottas struggled to cut through the traffic and spent a large part of his race stuck behind Lance Stroll's Aston Martin in a battle from eighth.
However, Bottas' race dramatically changed on lap 32, along the main straight, George Russell who was performing superbly in the Williams, was bearing down on Bottas in the battle for P9, due to the natural kink in the circuit, Bottas moved slightly to the right, which forced the quicker Russell out wide, onto the wet grass, and straight back into the side of the Bottas, instantly eliminating both cars and forcing a red flag.
Both Russell and Bottas shared explicit radio messages and placed the blame solely on one another, with Russell going over to exchange words with Valtteri, only to receive a middle finger from the Finn, with Russell asking whether Bottas was "trying to kill us both", before later suggesting "Perhaps if I was another driver, he wouldn't have done that." - a direct reference to the rumors that Russell could be in line for Bottas' Mercedes seat as early as 2022.
Many have put the crash down to a racing incident but for Bottas it doesn't really matter, the fact that he looked set to be overtaken by a Williams, whilst in a Mercedes reflects badly on Bottas and isn't what he needs in what looks set to be a make-or-break season for the Finn.
A weekend to forget for Bottas.
Seb's struggles
Another weekend to forget for Sebastian Vettel in an Aston Martin.
Following a disastrous debut weekend in Bahrain, where he qualified P18, started from the pitlane, hit Esteban Ocon, and finished 15th.
Imola wasn't much better.
Vettel was off the pace of team-mate Lance Stroll all weekend, beaten by Stroll in FP1, FP2, FP3, Q2, and the race, beating Stroll in only Q1 as both cars advanced.
Aston Martin are struggling this year with the new regulations, leading to possible rumors of a legal battle with the FIA to try and level the playing field, and Vettel seems to be taking the brunt of the problems.
Pre-race at Imola saw huge drama for Aston Martin, a right-rear brake problem on Lance Stroll's car led to a fire which was resolved on the grid as the team frantically fixed the brakes on his AMR21. Vettel was not as lucky as the problems caused him to start from the pitlane, for the second time in as many races.
However, the German's problems were only just beginning.
As he pulled to the end of the pitlane to start the race, Vettel reported a brake-by-wire issue, which fortunately would resolve itself for the race.
The problems weren't done for Vettel though as he was issued with a 10-second stop-and-go penalty for not having the tires on the car by the five-minute warning. A penalty that wasn't communicated to the team until the race had been going on for 20 minutes, a move Vettel called 'not very professional'.
Vettel's nightmare of a weekend culminated with retirement on lap 62 with a gearbox issue.
A tough weekend for Vettel.
Featured photo credit: (Photo by Bryn Lennon/Getty Images)