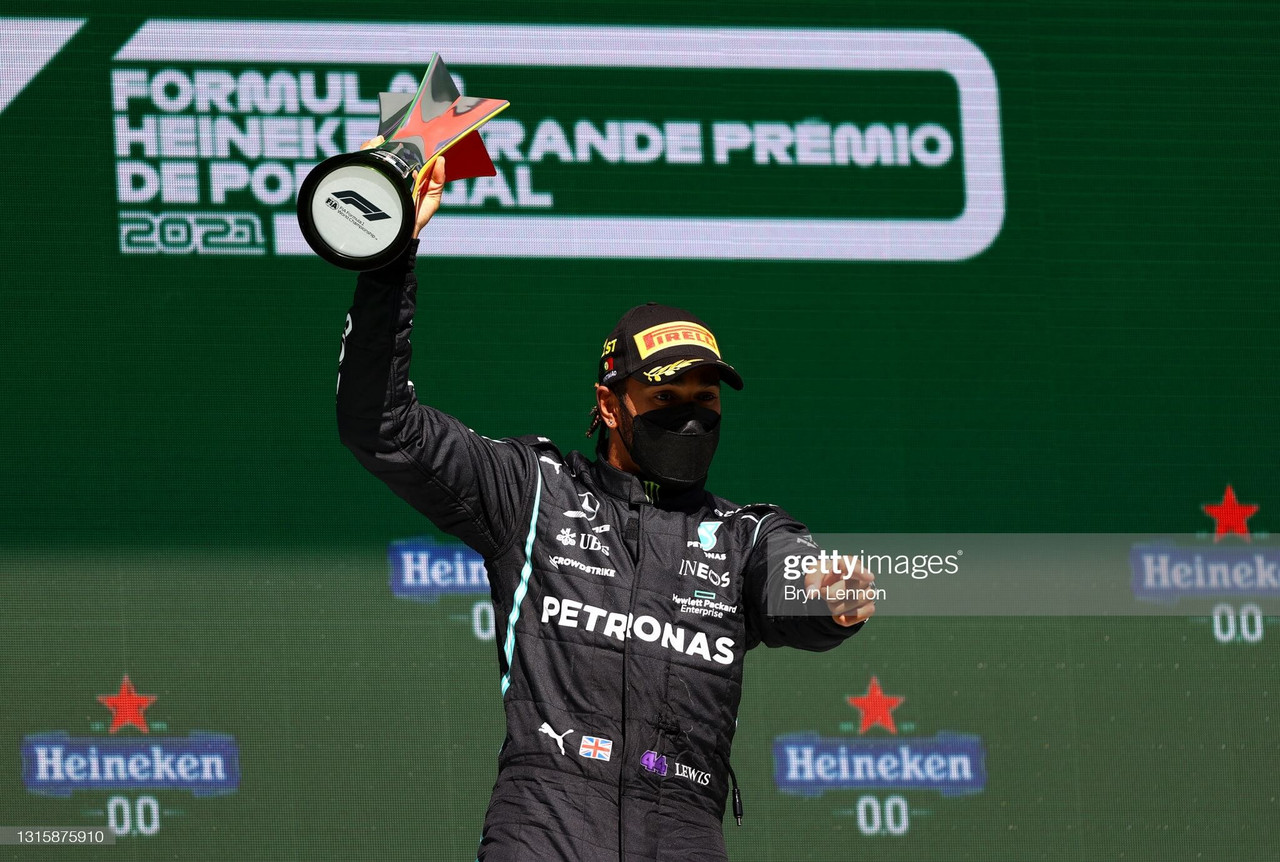 Lewis Hamilton delivered a flawless drive in his Mercedes to win the Portuguese Grand Prix on Sunday from his arch title rival Max Verstappen.
The seven-time champion fell to third as Verstappen's Red Bull overtook him at a restart after an early safety car.
But he passed Verstappen four laps later and then hunted down and did the same to his Mercedes team-mate before moving on to control the race.
The win gives Hamilton an eight-point championship lead over Verstappen.
It was a statement race for Hamilton, who has moved on to 97 career Grand Prix victories, and a clear demonstration of his unquenched desire to secure a world record eighth world title this year.
But he missed out on the point for fastest lap after both Verstappen and Valtterie Bottas pitted for fresh tyres to chase it in the closing laps.
The Dutchman, bidding to minimise the damage in his fight with Hamilton for the title, thought he had taken it - although his time was deleted for going beyond track limits, and so the point went to Bottas instead.
No answer to Hamilton's dominance
Hamilton lost out to Bottas in the fight for pole position on Saturday by just 0.007 seconds and the two Mercedes, with Verstappen behind, moved away in formation at the start.
But a safety car was triggered on lap two when Kimi Raikkonen drove into the back of Alfa Romeo team-mate Antonio Giovinazzi on the pit straight and tore off his front wing.
At the restart, Bottas waited until he was halfway around the final corner before accelerating away and Verstappen anticipated the situation perfectly, sweeping past Hamilton in a superlative move around the outside of Turn One.
Verstappen stayed right behind Bottas but could not pass him and was soon under pressure from Hamilton, determined to repay the compliment.
At the end of lap 10, Verstappen had a slide on the exit of Turn 14, the effective final corner, and Hamilton grabbed his chance, closing on the Red Bull and repassing Verstappen.
The Dutchman defended to the inside, but Hamilton squeezed alongside him there anyway over the dusty part of the track to claim the corner.
Next, it was Bottas' turn to fall prey to Hamilton, who tracked his team-mate closely for nine laps before pulling off a lovely outside pass at Turn One.
The race was now Hamilton's to lose, and he was always in control, as the focus turned to the fight for second between Bottas and Verstappen.
The decisive moments came around the pit stops.
Red Bull brought Verstappen in first on lap 35, with Bottas following him in a lap later.
The Mercedes retained the lead, but Verstappen was close behind the Finn as he came out of the pits, and Bottas' fate was sealed when he had huge slide on the exit of Turn Three.
Verstappen closed right up and passed into the hairpin at Turn Five. Bottas dropped three seconds back from the Red Bull before coming back for a few laps, but then fell away again as the top three positions were sealed.
Australia's Daniel Ricciardo recovered from a nightmare qualifying session on Saturday, to finish ninth and secure two world-championship points.
Ricciardo started the race in 16th after being knocked-out of the first qualifying session, and performed some nice overtakes at the start of the race to move through the field.
He stayed out for over 40 laps before pitting his McLaren but a slight mistake when he overshot his mark cost him time and track position on his exit from pit lane.
His McLaren teammate, Lando Norris, finished fifth and held onto third place in the Drivers' Championship.
Post-race Ricciardo told Sky Sports UK he was happy with the result after the disappointment of qualifying 16th.
"With a qualifying like that it is hard to shake it off," Ricciardo said.
"When you don't execute what you believe you are capable of, it eats away at you."
After his third race with the team Ricciardo said he is starting to feel more comfortable in his new car.
"Today there was moments of speed and moments of still not quite there but I took a lot from today's race," Ricciardo said.
"And with setup there are things on the car I can try to work in my favour. Barcelona should be good."
Alonso's recovery drive
Sergio Perez took fourth for Red Bull, ahead of McLaren's Norris and Ferrari's Charles Leclerc, who moved up from his disappointing eighth place on the grid partly thanks to his ability to start on the medium tyre because he was fast enough to make it through second qualifying on it.
That put him in a stronger strategic position than team-mate Carlos Sainz, who started fifth on the softs, and after their pit stops, Leclerc closed up to Sainz, who was ordered to let his team-mate by.
Sainz, who had switched from softs to mediums, then fell back into the clutches of the Alpines of first Esteban Ocon, who qualified a superb sixth, and then Fernando Alonso, who had a disappointing qualifying performance in 13th but drove an excellent race with a long first stint on the medium tyre.
Alonso passed Ricciardo's McLaren shortly after they had stopped within a lap of each other, and then dispatched Sainz before closing in on Ocon in the final laps, finishing just a second behind after starting seven places behind him.
Ricciardo also passed Sainz in the closing laps to take ninth, a decent result after qualifying 16th as the Ferrari dropped back to take the final point.
Through the first two weekends of the season, Red Bull had, by paddock consensus, the fastest car - despite failing to win the Bahrain opener. But Mercedes hit back at their rejuvenated rivals at Portimao.
Hamilton, Bottas and Verstappen were all evenly-matched through the opening medium-tyre stages, but Verstappen found himself a "sitting duck" on the straight as Hamilton came storming past.
He was then frustrated in third and unable to overtake Bottas towards the end of that stint.
And it was only a sweetly-timed pit-stop from Red Bull that gave Verstappen the chance to overtake Bottas, as he darted down the inside of the Mercedes, struggling for grip, at Turn 5.
But even after that, Bottas was hunting down Verstappen before his efforts were halted by a car sensor issue.
Hamilton, meanwhile, surged into the distance.
"This is beginning to look like the Mercedes of old, but with an improved Red Bull keeping them more than honest," said Sky F1's Martin Brundle.
Intrigue in the closing stages surrounded the question of who would end up with a potentially crucial point for the fastest lap.
Verstappen thought he'd clinched it only for his effort to be ruled out due to track limits with Bottas eventually taking the honours.
The Red Bulls are emerging as serious challengers to Mercedes' supremacy but the world champions have evidently worked hard to redress any imbalance in performance between the two teams.
And after three legs of the season it is Hamilton in his quest for a record eighth world crown that has won twice, adding this to his opening success in Bahrain, with Verstappen the winner in Imola.
Sitting third in the drivers' standings is Lando Norris for resurgent McLaren after the Briton took fifth on Sunday.
He came in ahead of the Ferrari of Leclerc, with the Alpines of Ocon and Alonso, Ricciardo (McLaren) and the AlphaTauri of Pierre Gasly completing the top 10.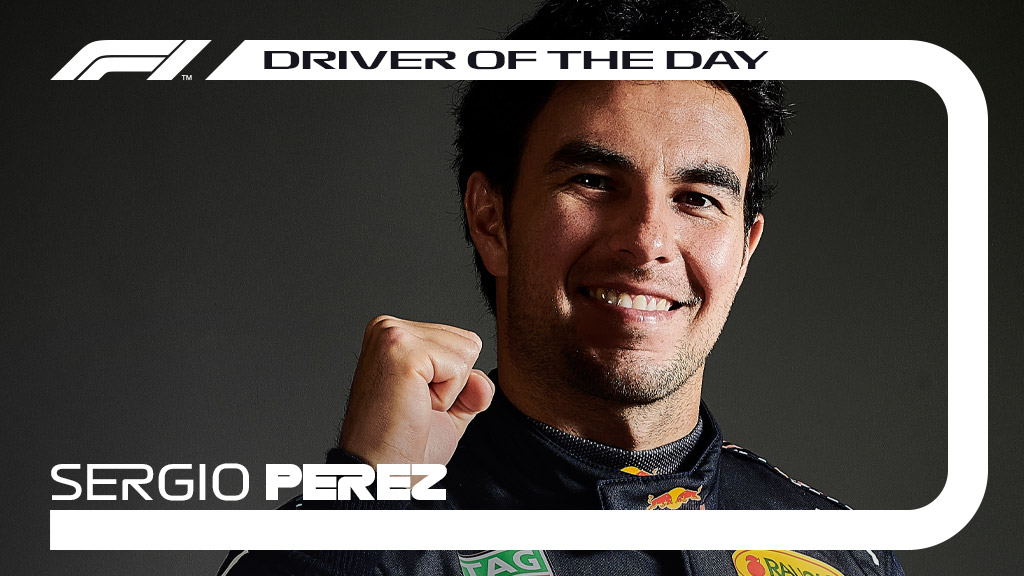 He may have just missed out on a podium, but a battling drive to P4 in only his third race for Red Bull meant Perez secured his best result yet for his new team - and got your plaudits as Driver of the Day, after a rollercoaster of a race for the Mexican over 66 laps in Portimao. Here's the top 5 from fan votes...
1 Sergio Perez
2 Lewis Hamilton
3 Max Verstappen
4 Daniel Ricciardo
5 Fernando Alonso
Round 3 of the 2021 Formula 1 world championship.
2021 F1 PORTUGUESE GRAND PRIX - RACE RESULTS

POS

DRIVER

NAT.

TEAM

TIME

1

Lewis Hamilton

GBR

Mercedes AMG Petronas Formula One Team

66 laps

2

Max Verstappen

NED

Red Bull Racing

+ 29.148s

3

Valtteri Bottas

FIN

Mercedes AMG Petronas Formula One Team

+ 33.530s

4

Sergio Perez

MEX

Red Bull Racing

+ 39.735s

5

Lando Norris

GBR

McLaren F1 Team

+ 51.369s

6

Charles Leclerc

MON

Scuderia Ferrari Mission Winnow

+ 55.781s

7

Esteban Ocon

FRA

Alpine F1 Team

+ 63.749s

8

Fernando Alonso

ESP

Alpine F1 Team

+ 64.808s

9

Daniel Ricciardo

AUS

McLaren F1 Team

+ 75.369s

10

Pierre Gasly

FRA

Scuderia AlphaTauri Honda

+ 76.463s

11

Carlos Sainz

ESP

Scuderia Ferrari Mission Winnow

+ 78.955s

12

Antonio Giovinazzi

ITA

Alfa Romeo Racing Orlen

+ 1 laps

13

Sebastian Vettel

GER

Aston Martin Cognizant Formula One Team

+ 1 laps

14

Lance Stroll

CAN

Aston Martin Cognizant Formula One Team

+ 1 laps

15

Yuki Tsunoda

JPN

Scuderia AlphaTauri Honda

+ 1 laps

16

George Russell

GBR

Williams Racing

+ 2 laps

17

Mick Schumacher

GER

Uralkali Haas F1 Team

+ 2 laps

18

Nicholas Latifi

CAN

Williams Racing

+ 2 laps

19

Nikita Mazepin

RUS

Uralkali Haas F1 Team

+ 2 laps

DNF

Kimi Raikkonen

FIN

Alfa Romeo Racing Orlen

1 laps
What's next?
Hold onto your hats, because we're racing again next weekend, with Formula 1 crossing the Iberian peninsula en route for the Circuit de Barcelona-Catalunya, and the 2021 Spanish Grand Prix on May 7-9. No one but Hamilton has won at the Spanish track since 2017 – but will any of his rivals be able to knock the seven-time champion – and current championship leader – off his perch