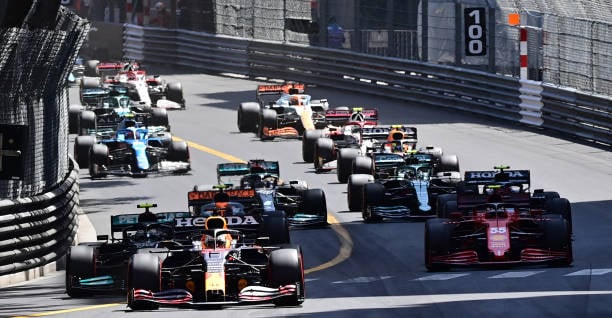 1. Heartbreak for Leclerc
You've got to feel for Charles Leclerc.
The Monegasque driver, competing in his third home race in Formula one will consider this his worst visit to his home track yet.
Leclerc had a roller-coaster of a weekend, gearbox issues forced to him to miss the majority of FP1, whilst he went fastest in FP2, and came home third in FP3, as the Ferrari showed excellent pace.
Ferrari continued their strong pace into qualifying, with Leclerc topping the standings after the first meaningful flying laps with a 1:10:346. However, as the clock ticked down and contenders for pole such as Valtteri Bottas, Max Verstappen and Carlos Sainz were storming around the tight streets, looking to snatch pole position, Leclerc lost his Ferrari out of the swimming pool chicane at turn 16, bringing the red flag out.
This created a weird atmosphere, Leclerc had secured his eighth F1 pole, his first at his home race, but had crashed heavily in the same session.
The paddock rumbled with speculation as to whether or not Leclerc would get a grid penalty as rumours as to the state of his gearbox spread like wildfire. However, both on Saturday evening and Sunday morning, Ferrari confirmed this would not be the case.
There was another twist in the story for Leclerc though, as, on his way to the grid, he reported what he suspected was a gearbox issue, that would later be revealed as a drive-shaft issue on the rear left of the car, which Ferrari described as "Impossible" to fix before the race.
A tough DNS for Leclerc, here's to hoping his Monaco luck changes come 2022.
2. Tough luck continues for Bottas
When will Valtteri Bottas catch a break?
For the first time in 2021, Valtteri Bottas looked to have the measure of teammate Lewis Hamilton.
Bottas was ahead of Hamilton in FP3 and qualifying, where he qualified third - effectively starting second with Charles Leclerc absent.
This put Bottas in the perfect position to hunt for his second Monaco podium in as many races, as well as potentially his first victory at the circuit, and of the 2021 season.
Bottas lined up with only Max Verstappen in front of him and got the better start of the two before Verstappen slammed the door shut on the run down to Sainte Devote.
From here Bottas remained roughly three seconds behind Verstappen, too far back to challenge but not far enough that Verstappen could run away to victory.
This all changed on lap 30.
Bottas came into the pits for a change to the hard tires, however, only three wheels could be removed from the car, as the right front refused to budge.
The Mercedes pit crew tried frantically to get the wheel off but it was game over, as the wheel gun had machined the nut into the car's axle, meaning it stood no chance of being removed - the wheel is in fact still attached to the car and will have to be removed at the factory this week.
You have to feel for Bottas, who had to take a moment by himself before returning to his team, even choosing the head straight to the FIA base for the usual post-race formalities before returning to his team.
It seems that after five races Bottas is already out of the title picture, he currently sits in fourth, behind Verstappen, Hamilton, and McLaren's Lando Norris, 58 points off of the lead of the driver's standings.
3. Marvellous Max in Monaco
Max Verstappen and Red Bull took the lead of both championships after a strong weekend.
In many ways for Verstappen and Red Bull, Monaco was somewhat of a must-win race, as he came into the weekend trailing Hamilton 3-1 in victories for the season after four races.
After a strong Thursday practice for the Max, securing P3 and P4 in the respective free practice sessions - despite some understeer issues, there was confidence amongst the media and paddock that Red Bull would be ahead of Mercedes this weekend.
That confidence was confirmed on Saturday morning as Verstappen topped the FP3 timing sheets and looked one of the favourites for qualifying.
After his first Q3 flying lap, Verstappen was 0.23 seconds down, in second place, to Leclerc, and due to the Ferrari-induced red flag, the deficit to pole of the Dutch driver would stay this way. Unfortunate for Max as he had found himself 0.15 seconds upon the time needed for pole at the time of the red flag - with Verstappen's frustrations evident over the team radio.
However, with Leclerc's pre-race issues, Max inherited 'pole' and started the Monaco Grand Prix in the best place, with a clear track ahead of him.
An aggressive move to cover off the fast-starting Bottas was crucial for Verstappen, who never really looked back on his way to a first Monaco podium and victory - making up for 2019 where he came agonisingly close to snatching victory from Lewis Hamilton.
With Max now leading the drivers' standings for the first time in his career, and Red Bull on top for the first time in the Turbo-hybrid era, the 2021 championship battles have been reignited.
4. Monaco nightmare for Hamilton
Seventh place for the seven-time World Champion as he suffered a nightmare weekend.
The weekend never really got going for Hamilton, not placing higher than third in any of the practice sessions before a nightmare qualifying session.
On his first Q3 run, Hamilton set a 1.11.095, good enough for only seventh on the provisional grid, he aborted his second run after a scruffy middle sector saw him make slight contact with the wall, and before he could start his final lap, the red flags came out.
Hamilton and Mercedes didn't seem to have much of an answer for their lack of pace, as Hamilton trailed team-mate Bottas by nearly half a second.
As the race began, Hamilton was stuck in sixth place behind AlphaTauri's Pierre Gasly, as the Brit saved his tires to maximize his second stint. However, Mercedes, who had previous discussed the power of the over-cut at Monaco, decided to pit Hamilton on lap 29, before his rivals, to attempt and undercut.
This turned out to be a poor decision.
Hamilton was unable to get past Gasly in the pits before being jumped by Aston Martin's Sebastian Vettel, who jumped from seventh to fifth after some good strategic work by the team, securing his first points of the season.
Hamilton's misery was further compounded when Sergio Perez in the Red Bull stopped on lap 36, jumping from eighth to fourth - leaving Hamilton to question "How did this happen?" whilst berating his Mercedes team over the radio.
A late stop for the fastest lap was just damaged limitations for Hamilton who trailed home seventh, surrendering the championship lead to Verstappen, who has 105 points to Hamilton's 101.
A rough weekend for Hamilton, who isn't overly optimistic going into the next round in Baku.
The title fight is well and truly on.
5. Carlos and Lando reunite
One of the most popular driver pairings in recent F1 history was reunited in Monte Carlo as former McLaren team-mates, Carlos Sainz and Lando Norris, took to the podium.
Sainz capped off a strong weekend, which saw him finish P2 in all practice sessions - and qualifies P4, feeling as though he could've had pole if not for the red flag, with a second-placed finish, his first podium in Ferrari colours.
As for Norris, he spent the weekend around the middle of the top ten, comfortably outpacing team-mate Daniel Ricciardo all weekend on his way to a P5 grid spot as Norris was finally able to put in a solid final Q3 lap, his only real weakness of the season so far.
From here Norris capitalised on retirements ahead of him, as well as defending well from the charging Perez in the latter stages of the race to secure an excellent P3, moving him up to third in the driver's standings and keeping McLaren ahead of Ferrari in the constructor's championship.
What a battle between McLaren and Ferrari we've got on our hands this season.
Featured image credit: (Photo by ANDREJ ISAKOVIC / AFP) (Photo by ANDREJ ISAKOVIC/AFP via Getty Images)