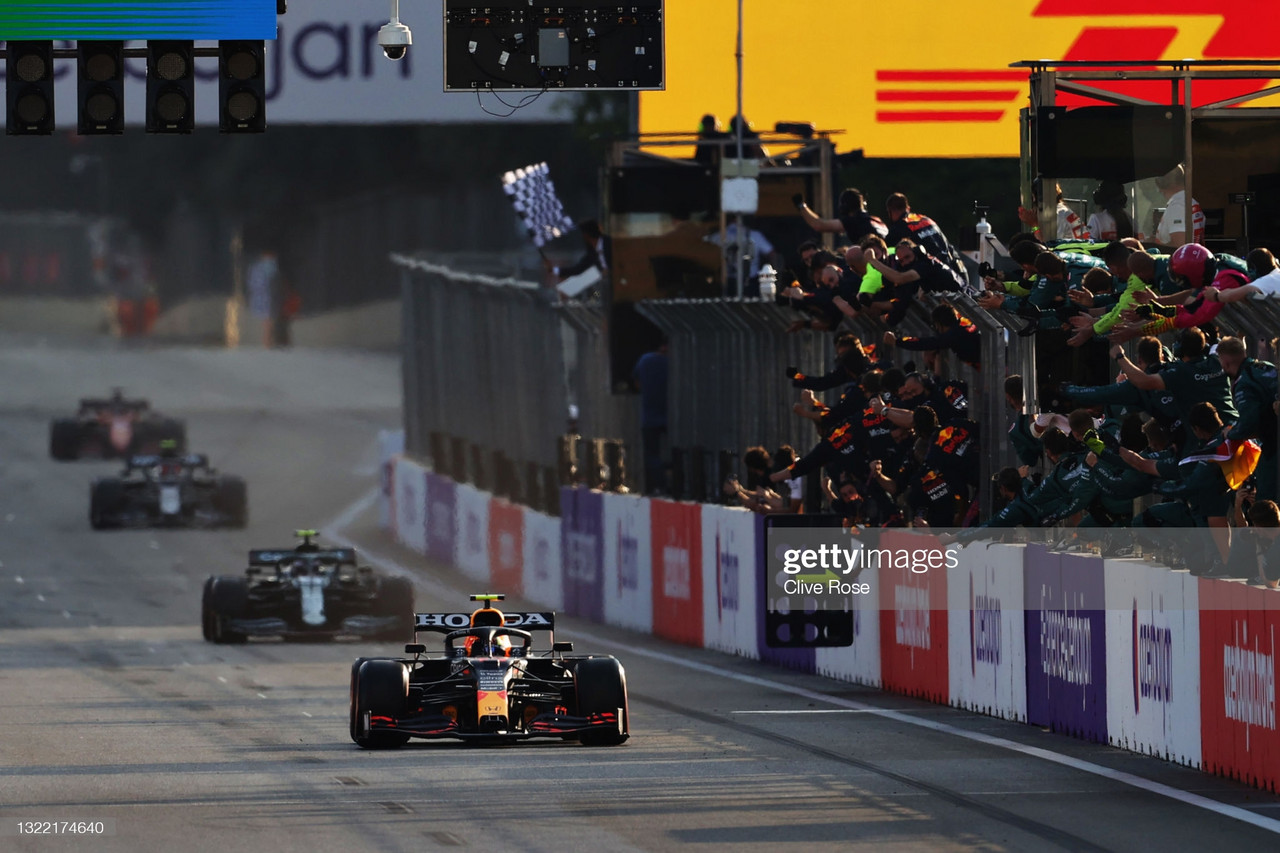 1. Pirelli's Questionable Changes
The race saw Aston Martin's Lance Stroll and Red Bull's Max Verstappen, who was also leading the race and on the verge of a win, crash due to a tire failure. This raised questions in the pit lane amongst the teams about Pirelli's choice of compounds for the race.
Due to rule changes, Pirelli claims that the tires were made heavier, to increase downforce, but many drivers have been complaining about them and they will surely raise their concerns even more after this weekend.
Canadian Stroll, who was in fourth and had a great race, was running on 30 lap old hard tires. Pirelli tires are made to last at least 40 laps, and in fact, we saw Perez last over 50 laps with his tires in Portugal. A failure and puncture situated in the left rear forced Stroll into a devastating crash which damaged most of the Aston Martin but luckily saw Stroll come out safe.
Later on, at the beginning of lap 46, race leader Verstappen also had a failure in the same tire which cost him the race win. Thanks to the radios between the FIA and the teams that fans are being given a listen to, we could hear Red Bull suggesting to the FIA to take out a red flag and give a chance to all the teams to change their tires for safety reasons.
There are many questions about Pirelli's quality of tires and this controversy has been made stronger these past two seasons. Last season there was much controversy caused by several punctures suffered by Sir Lewis Hamilton and Carlos Sainz at Silverstone. Tire failures are causing safety hazards for drivers, and Formula One is already a dangerous sport in itself, so it surely does not need another issue to threaten these drivers' lives.
2. Sebastian Vettel is Driver of the Day
No one expected that, but we can all say that we enjoyed it. The German is not new to the sport and is loved by many. So it has been devastating for fans to see such an icon of Formula One struggling at Ferrari last year, after being dropped without any notice beforehand, and then find many more issues in his new Aston Martin seat.
Despite having one driver retire from the race, Vettel made sure to come through for Aston Martin, and Hamilton's error gave him an even better boost. The 33-year old had an amazing race throughout the 51 laps, even leading the Grand Prix himself for quite a good amount of laps before having to pit.
He displayed great overtakes against his ex-teammate Charles Leclerc and fellow podium achiever Pierre Gasly. He was consistent throughout the race and made sure to leave little room for error.
It also showed that Aston Martin is in the game. It is well known that the side had struggled at the beginning of the season. Both drivers had very good races, even Stroll who unfortunately had to retire, so the side has the potential to present a threat in the midfield.
3. Another Poor Weekend for Mercedes
We are not used to seeing Mercedes suffer like this, but it looks to be a season where it's not all plain sailing for Hamilton and co. The seven-time World Champion was close to leading the title race once again for this season, but overpowering his brakes before the restart of the race resulted in failure, and saw himself out of the track at turn one.
Hamilton spent the last three laps of the race at the bottom of the grid behind Haas' Nikita Mazepin and could not seem to catch up with the rest of the crew, leaving the Mercedes team with no points for the weekend.
Valtteri Bottas was also unlucky this weekend. Things did not seem to work out in his favour and ended up finishing in 12th place from a 10th starting position. The Finn has been facing obstacles all weekend, starting with Thursday when he had issues with his flight and had to arrive in Azerbaijan late. He did not show any good results during practice either, finishing outside the top ten in all three sessions.
With Red Bull having a great season with two strong drivers, is it possible that this year Mercedes miss out on another title along with Sir Lewis Hamilton who is being hunted down for his title by Dutchman Max Verstappen? It's a possibility.
4. Ferrari Back in the Game
Last season we saw Ferrari struggling to keep up in Formula One, having a driver or both finishing outside the top ten in several races, multiple DNFs, and strategy issues.
This season, the side is determined to show that they are still one of the best teams in Formula One. They have improved from last season and the young driver line-up has surely given the side a boost.
Leclerc is always pushing the best out of that Ferrari. Unfortunately, he had to miss out on starting his home race, which he qualified pole for. But he made up for it this weekend and led the first lap of the race which is also the first lap that Ferrari led this season. Eventually, he got overtaken by Verstappen, Hamilton, and Perez, which shows that there is more work to be done on the race pace.
The car is still not strong enough to compete against some teams at times, in fact, Leclerc had a difficult time racing against Gasly and Vettel who overtook him too.
On the other hand, Sainz made an error at turn eight and went off the track. He recuperated his position throughout the race though and got himself some points for the team too in eighth place.
5. Pierre Gasly is Underrated
The Frenchman is making the unexpected happen in that Alpha Tauri. Every weekend he tries to bring out the best of his car and is making it good enough to compete against the big players in the sport.
He is hungry for podiums and wins and that is what is he is trying to get and is succeeding. The 25-year old had a great race in Baku and finished in third, behind Perez and Vettel.
On the other hand, his teammate Yuki Tsunoda has found it a bit more challenging this season so far. Considering that it is his first year in Formula One, it is understandable that we won't be seeing the Japanese achieving higher results, but at least he got a seventh-place finish.
One thing that surely caught the fans' attention was the radio between him and his engineer. Tsunoda was being told to push the car and not be afraid to bring out everything of those tires and Tsunoda yelled back telling him to shut up and that he is trying.
It is great to see that Alpha Tauri has two great drivers who are determined to give everything on the track, alongside the pit crew. Normally it's a side that prepares drivers to join bigger sides eventually, preferably Red Bull, but it has become more competitive than anyone would expect them to be.