2015 Moto GP Champion Jorge Lorenzo has looked strong throughout testing and continued to dominate in qualifying finishing with a time of 1:54.453.
Qualifying 1 started and the slowest ten riders from FP4 went out on track to compete for grid positions; the top two riders were able to continue in Q2 with the advantage of a well suited tyre. Bradley Smith seemed pressured at the start of the session. Eugene Laverty took the lead straight away with his best lap all weekend of 1:56.505 improving that by 0.25 seconds; he finished 14th overall. Cal Crutchlow soon took the lead on his LCR Honda with a time of 1:55.291. He was soon joined by Smith in second place on his Monster Tech 3 Yamaha who was 0.199 seconds slower. This meant that the two British riders were promoted to Q2.
Aleix Espargaro crashed at turn one after the front tyre was overloaded and the side wall started to hop which caused him to come off; a problem with the Michelin's that the riders have spoken off during testing. He ran all the way back to his pit to return to the track on his second bike. Aprilia rider Alvaro Bautista also crashed at turn 14 after his bike looked unsettled and he lost the front end; he finished in tenth in Q1 and last overall.
Qualifying 2 started not long after and most riders immediately took to the track. Lorenzo seemed to wait to go out on his Movistar Yamaha as if to avoid anyone following him on track.
Rossi unable to take pole after contract extension
Valentino Rossi was first to knock Lorenzo off pole but this was short lived as his rival took his place straight back seconds later. Marc Marquez knocked Rossi further down on his Repsol Honda with Hector Barbera in tow on the Avintia Ducati before Andrea Iannone made his presence felt in second. Dani Pedrosa made his way up to fourth and Maverick Vinales (Suzuki Ecstar), Andrea Dovisioso (Ducati) and Crutchlow managed to knock Rossi further down. (Marquez then reclaimed his second place; he managed to clock at time of 1:54.2 however it was too late to register as this lap started after the chequered flag.)
Most riders took a short break before returning to track, however Smith stayed out and managed to set the fastest time within the first sector over the whole weekend. Lorenzo had a wobble on the last corner on his last flying lap and so was not able to prove. Vinales, Rossi and Iannone all finished on flying lap. Rossi was following Vinales who has had a very strong start to the season; Iannone seemed to just miss out on the possibility of pole as he was obstructed towards the end. Vinales took third behind Lorenzo and Marquez, followed by Iannone and Rossi, Dovisioso finished in sixth ahead of Pedrosa.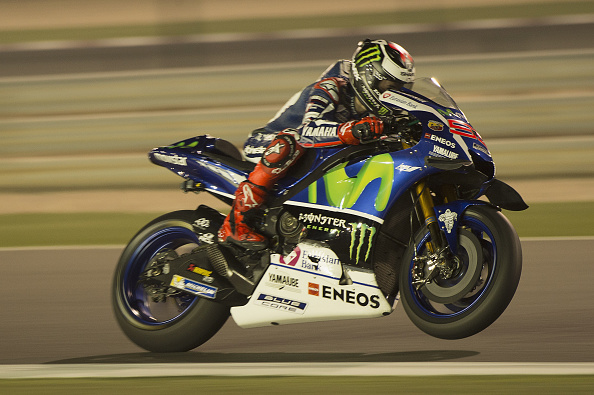 To add to the drama at the end of qualifying, Marquez practiced a standing start. His front wheel started to lift and the wind forced him of the track almost resulting in him crashing into the gravel trap. That will not be a good start to the season if Marquez repeats this when the lights go out to start the first race of the 2016 MotoGP season in Qatar.