The Monster Tech 3 Yamaha riders battled for eighth place after British rider Cal Crutchlow crashed out on his LCR Honda following issues with his ECU.
This meant that Pol Espargaro moved up the leaderboard closely followed by his teammate. They were at the front of the third group that had formed as the class raced around the circuit under the floodlights.
Espargaro finished seventh
Espargaro briefly lost his lead over his teammate after sweat from his forehead managed to drop down on to visor causing vision issues for the Spaniard; it is already difficult to race at this circuit as the floodlights create shadows that take some getting used to.
This distraction allowed Bradley Smith to catch his teammate and briefly overtake him before Espargaro attacked back. Espargaro finished in seventh just over eighteen seconds behind the race winner Jorge Lorenzo on his Movistar Yamaha; Smith finished 0.023 seconds behind.
Espargaro was "satisfied" with the result after having a poor finish to the 2015 MotoGP campaign.
"This year we have started differently and my feelings are better on this bike; plus I am convinced that I can do much more than before," Espargaro told reporters.
"Today the race was not easy because I made some mistakes; especially at the start which didn't go to plan."
Things could have gone better for Espargaro but the Spaniard got "stuck behind some riders at the beginning" which meant he lost Maverick Viñales and Dani Pedrosa who had a "similar rhythm" to Espargaro.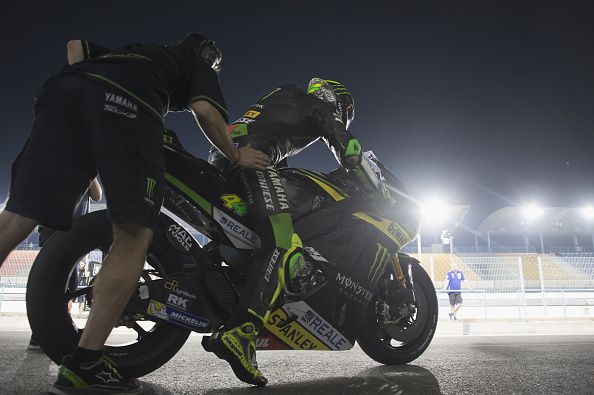 'Sweat from my forehead dripped onto my visor and dazzled me'
Seven laps from the end, Espargaro encountered an issue with sweat dripping from his forehead onto his visor, which "with the lights in Qatar dazzled me."
Argentina will be a "bigger challenge" in comparison to Qatar according to Espargaro, due to the fact teams "had a lot of testing time" prior to the Qatar MotoGP.
"In addition, I struggled at Rio Hondo last year so it will be tricky," added Espargaro. "Especially if the conditions are hot. Yet, we will give nothing but 100% just like we have done here."