The 2015 MotoGP Champion 'couldn't start in a better way' when referring to the 2016 season with a win at the Losail International Circuit in Qatar. The new season meant new rules to possibly even out the chances of success across the field; it also meant Michelin became the new tyre manufacturers for the season. Lorenzo spoke for 'everyone' when he claimed, "We solved everyone's doubts about the new electronics and the new tyres."
Despite completing the final official winter testing session in Qatar prior to the race, there were concerns about the performance of the new tyres and Lorenzo said, "We were a little bit worried about the performance during a long race with the Michelin, but we saw that we could be very constant and even faster at the end of the race."
Lorenzo was able to set his fastest lap under 1:55 minutes in the final laps of the race saying, "You need to be more precise and more careful especially for the tyres at the start of the race, but we know we can finish the race in a good physical condition".
Lorenzo does not have a good history at this track
Despite his confidence, Lorenzo has not got a good history at this track since it was added to the MotoGP calendar in 2014. Lorenzo claims, "The bike wasn't the best" in 2014 and that he personally, 'didn't arrive in my best physical condition', however he was happy with finishing in third taking this into consideration.
Lorenzo finished above teammate Valentino Rossi in 2014, who went on to win in 2015 at Argentina; he finished in fifth and ten seconds behind his winning teammate, yet did not mention the most recent results from 2015 in the press conference.
However, Lorenzo continued to remain positive and feels, "With the new electronics and tyres we can be much more competitive here and in Austin and try to improve the third from 2014".
Rumours and speculation surrounding the Spanish rider
There has been a lot of rumours and speculation surrounding the Spanish rider as everyone is wondering what his future holds; the rumours include the possibility that Lorenzo may make the move to the Ducati team. Italian legend Giacamo Agostini revealed that Lorenzo had received a 'super offer' from Audi, the Ducati Team owner; this is despite Lorenzo previously claiming only Yamaha had been the only offer so far.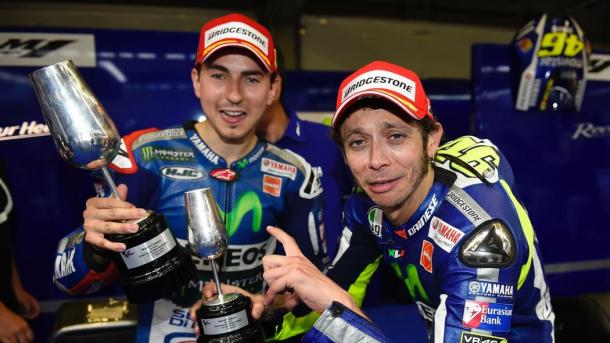 Agostini said, "I hope Lorenzo signs with Ducati! I say that as an Italian." He asked the question, "Does the money they are offering make up for giving up on the best equipment, which is what Yamaha undoubtedly has?"
Lorenzo seems to be focused however on the races rather than his future contract deals; compared to his current teammate Rossi who spoke of his relief of getting contract business out of the way as it allowed him to focus on the races instead. When asked about the situation, the Spaniard described it as 'more or less the same'.
Again expressing the importance of winning in Argentina and Austin, Lorenzo seemed to avoid the contract talks by claiming his focus was on claiming the win at these two locations which he has not done before.
Eventually he attempted to avoid any more questions on the topic and stated, "To be honest I don't want to tell much more I want to keep this with my people and decide in the next weeks. I don't want to tell much more."