Today Valentino Rossi appeared at the pre-race press conference on what is the twentieth anniversary since his debut at the Malaysian GP in 1996 in the 125cc world championship. This was the start of an amazing career which has seen the Italian become champion nine times; he recently signed with Movistar Yamaha to extend his contract after 2016 by two years. He has recently been nominated for the Jean Borotra World Fair Play Award which is hosted by the Comite International pour le Fair Play (CIFP).
Rossi has been quite controversial
Previously Rossi has been quite controversial in press conferences as he has seemed to carry a lot of anger towards Spanish rivals, teammate Jorge Lorenzo and Repsol Honda rider Marc Marquez. At the press conference he seemed more focus on the actual race. Rossi is hoping for 'good weather' and described the track as 'a funny layout', 'medium-fast' and 'quite technical'.
The Argentinian round was added to the MotoGP calendar in 2014 where Rossi finished fourth, but last year he won at the track; this start to the season meant that he looked set to win the MotoGP Championship but he ended up second overall. He said, "Last year was a great result but also the year before the race was not so bad, but you know it looks like this year we have a lot of bikes and riders who are fast so we need to find something more."
Analysing his performance in Qatar, Rossi said the race was "Not so bad!" The Italian stated, "From one side I was quite happy because I could stay in the first group and the race was quite fast." He was disappointed that he did not finish on the podium and said, "We need to make better to improve and become more competitive and stronger."
More competition from the independent teams and riders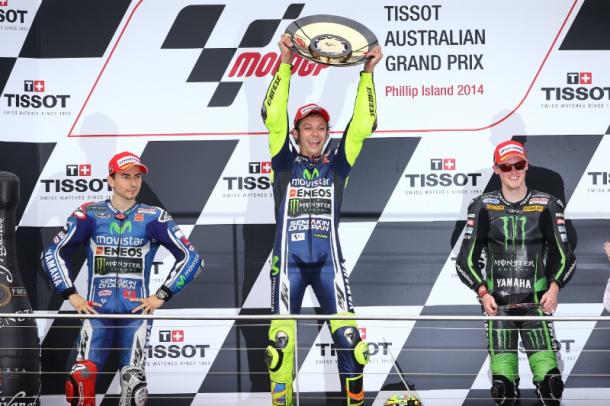 Michelin are the new tyre manufacturers for the 2016 season. Before Qatar, the riders had the opportunity to complete an official winter testing session, allowing them to thoroughly investigate which tyres would be best suited for the race at the Losail International Circuit; this is a luxury they will not have at Argentina. The rule changes have also meant that this year the race will see more competition from the independent teams and riders.
Rossi's focus for Argentina appears to be his tyre choices and when analysing Qatar he said, "The choice of tyres is now more open because in the first group there was a lot of different choice, so we need to concentrate and make the right choice for Sunday here."
There was no mention of the ongoing issues with his rivals Lorenzo and Marquez. Rossi now appears to be focused on the race. Rossi was positioned in the press conference beside Yonny Hernandez who is appearing in his 'home' GP, and Ducati rider Andrea Dovizioso was placed in between Rossi and the two Spaniards.