It was 2015 Moto2 Champion Johann Zarco who led the timesheets after the two Free Practice sessions were completed at the end of day one. The Ajo Motorsport rider managed to improve his time in FP1 by half a second meaning he set the fastest time of the day on his Kalex of 1:44.533.
IDEMITSU Honda Team Asia rider Takaaki Nakagami finished second fastest after FP2 just 0.190 seconds slower than Zarco. He finished just 0.045 seconds ahead of British Federal Oil Gresini Moto2 Kalex rider Sam Lowes, who almost looked reckless as he tore round the track sliding the rear tyre around and entering corners in such a style that would rival lines taken by Australian legend Gary McCoy (aka 'sideways.com').
Jonas Folger took an immediate lead from the rest of the pack in the season opener in Qatar but fell after just two laps. This is Folger's first season with the Dynavolt Intact GP team and the German rider finished fourth fastest aboard his Kalex.
Six riders break through time barrier
Spanish Estrella Galacia 0,0 Marc VDS rider Alex Marquez finished fifth ahead of Hafitzh Syahrin who rides for the Petronas Raceline Malaysia Team. These complete the short list of riders that were able to break through the 1:55 minute barrier in the 600cc class.
Marquez' teammate Franco Morbidelli finished in seventh ahead of the 2015 Moto3 Champion Danny Kent. The British rider was promoted to the Moto2 class along with his former rival in the Moto3 class Miguel Oliveira as the Leopard Racing Team decided to expand to the Moto2 class this season. Kent finished with a time of 1:45.010 which was just under half a second slower than leader Zarco; by the end of FP1 Kent was second fastest.
Thomas Luthi won the season opener in Qatar aboard his Garage Plus Interwetten Kalex; after all the chaos caused by jump starts at the start of the race resulted in confusion throughout but left Luthi in first position. Luthi was ninth fastest after FP2, his time of 1:45.885 was 0.848 seconds slower than the defending champion.
Speed Up Racing Team rider Simone Corsi was the top Speed Up bike in tenth behind Luthi; he also is new to his team this season. He is 0.592 seconds of the pace of the leader.
Simeon had a fall at
Thirteen riders finished within one second of Zarco after day one. Dominique Aegerter (CarXpert Interwetten), Xavier Simeon (QMMF Racing Team), Sandro Cortese (Dynavolt Intact GP), and Alex Rins (Paginas Amarillas HP 40) completed the list of riders able to do achieve this. Simeon had a fall at turn 13 but was unharmed following the incident.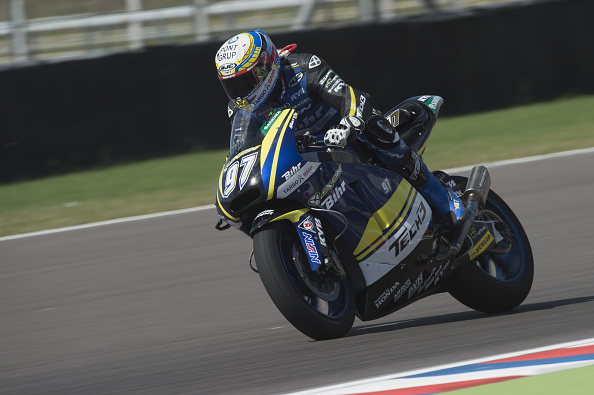 The top Tech 3 bike was that of Tech 3 Racing rider Xavi Vierge who finished 23rd with a time of 1:46.204, which was 1.671 seconds slower than the fastest Kalex. The only Suter in the field ridden by JP Moto Malaysia rider Efran Vazquez finished twenty-ninth out of thirty; his time of 1:47.004 was 2.471 seconds slower than the Kalex.
Penalties for overuse of track
Conditions are difficult in Argentina as the temperatures were very high during day one. However this did not stop the riders from pushing as hard as they can and already some have been penalised for 'overuse of the track' after being spotted in the run-off areas too much. The times from these laps were not to be considered; within the race this will lead to much more serious consequences.