Tyre dramas surrounded the Termas de Rio Hondo circuit in Argentina after Scott Redding's rear Michelin tyre de-laminated during FP4 on the Friday. The race was declared as a 'dry race' and all riders could run on all compounds available from Michelin, but they had to make a pit stop to swap bikes to continue the race on a new set of tyres, as Michelin and Race Direction were lacking confidence in the tyre being able to complete a full race duration.
Rossi claims second place
Movistar Yamaha rider Valentino Rossi finished second as his 'luck' changed throughout the race. He made a fantastic start in the first 'part' of the race where he found himself, "able to have a good battle with Marquez" as he felt he was "strong as we started to overtake." The pair battled right up until they entered the pit lane closely together on lap ten, Rossi had to step over the bike and put it into gear, where Marquez jumped and left gaining a few bike lengths straight away.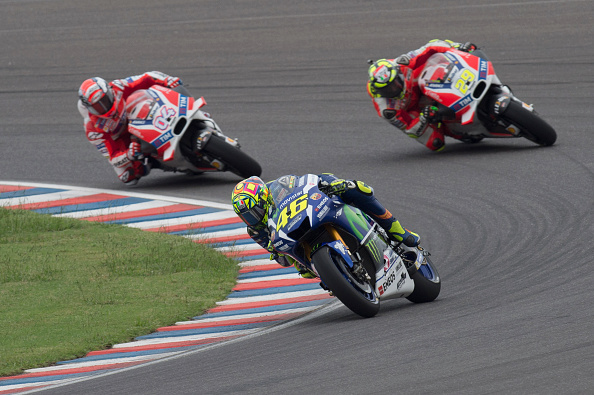 When they re-entered the track EG 0,0 Marc VDS rookie Tito Rabat was between the two; this was part of the reason Marquez was able to now extend his lead. Rossi said, "With the second bike I had big problems with the rear tyre. I didn't have any feeling and couldn't stop under braking."
Weather conditions a big factor throughout weekend
When riders practiced on Friday the sun was 'cracking the flags', it was a lot cooler on the Saturday and overnight before the race thunderstorms took place, Rossi said, "The conditions were difficult after the rain last night and we were back where we were on Friday when we were struggling quite a lot with our bike." He and his teammate Jorge Lorenzo had struggled with the setup of the bike all weekend; Lorenzo appeared more distressed with it.
When the bikes returned to the track after the pit it was not long before Rossi was caught despite the fact he was, "Pushing and very close to the limit." Team Suzuki Ecstar rider Maverick Vinales overtook first and then Rossi was caught up with in a serious battle with the two Ducati riders Andrea Dovizioso and Andrea 'The Maniac' Iannone.
Rossi described this situation saying, "Iannone overtook me a bit too aggressively and in that braking point his action was too strong and it was impossible to overtake so I went wide and he passed me. I said to myself, 'Now what happens?' I tried to counter-attack, but I didn't have enough grip or speed."
Rossi decided to sit back behind the two Ducati riders, which is probably the best decision he could have made as of what occurred next, "I saw that Iannone tried to improve his position and go under Dovizioso he unfortunately couldn't stop and took out also Dovi, so I was very luck to arrive in second place."
Important points for Rossi's Championship
Rossi was able to claim 20 points for his own and the manufacturers Championship, "These 20 points are very important and I'm very happy for me, Yamaha and all the team because it's the first podium of the season, it's a good result."
This was more than his teammate Lorenzo could achieve, who described the meeting at Argentina as "a weekend to forget!" Throughout Practice and Qualifying Lorenzo looked unhappy and reluctant to spend time on track ahead of the race, he said, "We had problems during the practice sessions and finally we got a first row in qualifying and a good start, but with these conditions and wet patches in some corners I wasn't comfortable."
Lorenzo takes the blame for his crash
The 2015 Champion said, "I think it was my fault!" Despite leading into the first corner he was in sixth position by the end of the third lap as he was mugged by his teammate, Marquez, Iannone, Dovizioso, and Vinales, he described the situation saying, "As a rider I didn't feel comfortable enough to stay in the first group and I saw them risking so much."
Upon entering the second lap of the race Lorenzo became another victim of the notorious turn one, he said, "I made a mistake in the first corner which was more complicated; it was the corner with more wet patches and I went in a little bit too wide on this particular lap and just lost the front and couldn't continue."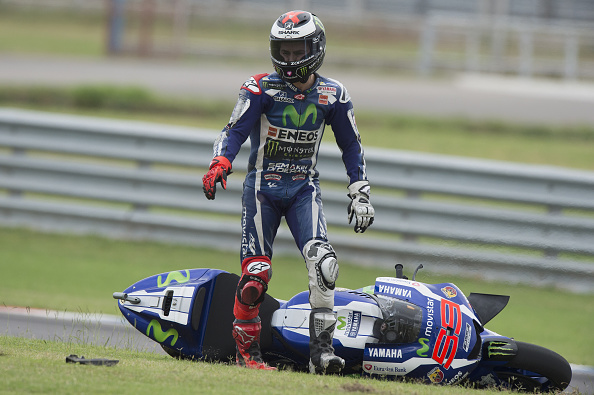 Lorenzo ended up in the gravel trap, with no chance of returning to the race. The wings he had had modified for the race, to help him gain confidence in the front end of the M1, had 'flew' off and sat in the gravel like a new garden feature.
Riders remain positive as ahead of America
Lorenzo is now fourth in the MotoGP Championship, his race win in Qatar secured him 25 points, he now sits 16 points behind the leader Marquez (41 points) and eight behind his teammate (33 points); Pedrosa is in third with 27 points. The Spaniard how to look past his disaster of a weekend in Argentina saying, "This is racing! Sometimes you win, sometimes you lose. You have to accept it and think positive, just forget this race and think about the future."