Movistar Yamaha rider Jorge Lorenzo was determined to break Marc Marquez' MotoGP record at the Circuit of the Americas as he bolted away from second position on the grid to enter turn one in the lead.
The 2015 Champion went wide though and that allowed Repsol Honda rider Marquez and Movistar Yamaha rider Valentino Rossi to break through forcing him backwards.
Marquez led, who wanted second?
It was hard to see who was going to take second, as the field took to the main straight there was a flock of riders behind Marquez thundering down the road. Rossi appeared to be swallowed up as they all shot past him. He ended up in sixth and then to make it worse for him Team Suzuki Ecstar rider Aleix Espargaro overtook him sending the Italian from second to seventh in one section.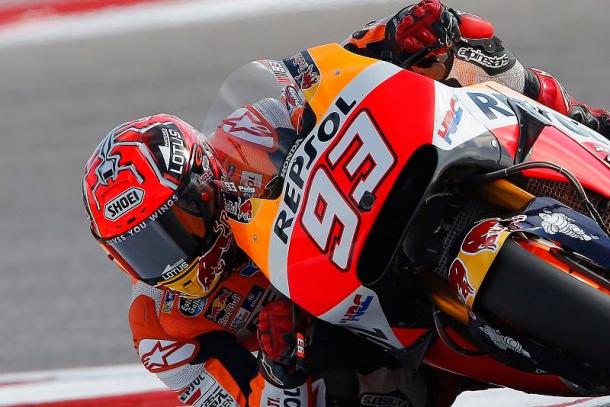 Turn one caught many riders out
Marquez remained in front of Ducati rider Andrea Dovizioso who claimed second ahead of Lorenzo, Ducati rider Andrea Iannone, Repsol Honda rider Dani Pedrosa and Aleix Espargaro who was now in front of Rossi. As they entered the second lap Dovizioso overtook Marquez into turn one but went wide and Marquez regained his place at the front. News then came through that Avintia Ducati rider Loriz Baz crashed out of turn one; he was unhurt and able to re-join the race.
Rossi crashed out at COTA
Rossi was not happy with his position and managed to overtake Pedrosa who did not accept this, who acted back straight away. Rossi's misfortune continued as the front of his M1 folded as he entered the fast turn two causing him to slide off into the gravel trap. Rossi looked perplexed as he sat on the tyre wall trying to figure out what had just happened to end his race so soon.
LCR Honda rider Cal Crutchlow was flying and able to overtake Monster Tech 3 Yamaha rider Bradley Smith with 18 laps remaining. Team Suzuki Ectsar rider Maverick Vinales was on form again and looked like he was soon going to take a position from Scott Redding on the Octo Pramac Yakhnich Ducati.
Lorenzo was keen to prevent Marquez to extend his lead any further and overtook Dovizioso to take second and began his pursuit of the Spaniard. Iannone was the next to take advance when he overtook Espargaro, however it was not all bad news for the Suzuki team as Vinales managed to finally get past Redding. There appeared to be no tyre concerns during this round after Michelin remade the riders' tyre allocations from scratch.
Dovizioso's bad luck continued
Fifteen laps remained and Dovizioso was ahead of Pedrosa as they approached turn one. For some reason, Pedrosa was unable to stop his Honda as he entered the turn and he lost control hitting Dovizioso in the process. Dovizioso had no clue of his fate as he chased Lorenzo before he was unexpectedly hit from the side by Pedrosa. This is the second time in two rounds that he has been taken out of contention by another rider.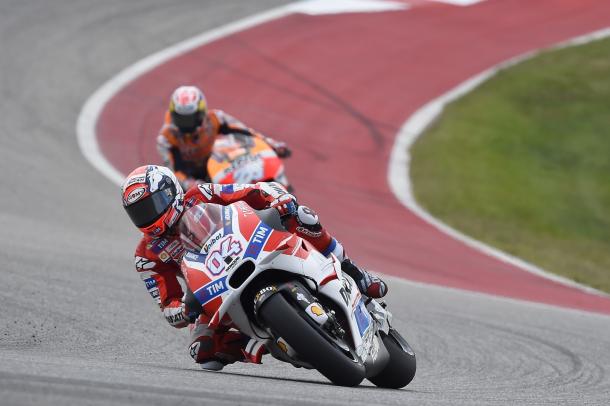 The two crashed out of the race, Dovizioso stayed on all fours at the side of the gravel trap and Pedrosa's first priority when he stopped was to check on Dovizioso and to apologise for what just occurred. Pedrosa was able to eventually re-join the race however Dovizioso had to be escorted to the safe area by Marshalls as his race was over.
Pedrosa is a true gentleman
Pedrosa had no choice but to eventually retire to the pits despite his efforts to continue. At the first opportunity he had he made his way to the pit garage of the Italian Ducati rider to apologise, shake his hands and to explain what had happened. A great show of good sportsmanship to another rider following an incident that was out of his hands.
The race settled down but positions still changed
Barbera claimed eleventh place from Aspar MotoGP Team rider Yonny Hernandez with fourtneen laps to go. This was the start of a downwards spiral for Hernandez who then continued to lose places to Aprilia rider Alvaro Bautista, his own teammate Eugene Laverty and Estrella Galicia 0,0 Marc VDS rider Tito Rabat.
Vinales continued the battle with his teammate Espargaro; the two changed places before Vinales finally got past, made it stick and managed to gain a small lead on his teammate with eleven laps to go. Barbera also lost a place to wildcard rider Michele Pirro who is currently replacing injured Danilo Petrucci aboard the Octo Pramac Yakhnich Ducati.
Two more crashes came this time from the Brits; Crutchlow and Smith slid out at turn eleven. Crutchlow led Smith and fell first and Smith fell in an almost identical incident which occurred straight after. The Yamaha of Smith shot past Crutchlow who had gotten back to his feet and he had no choice but to react by jumping out of the way of the missile. Both riders were able to return to the track, Smith blamed 'oil on the track' as a possible reason for the crashes.
Marquez wins the third round of the MotoGP
Marquez claimed his fourth consecutive win at the Circuit of the Americas in Texas since it was added to the calendar as he crossed the line ahead of Lorenzo. Iannone claimed the final podium place ahead of the two Suzuki team riders Vinales and Aleix Espargaro.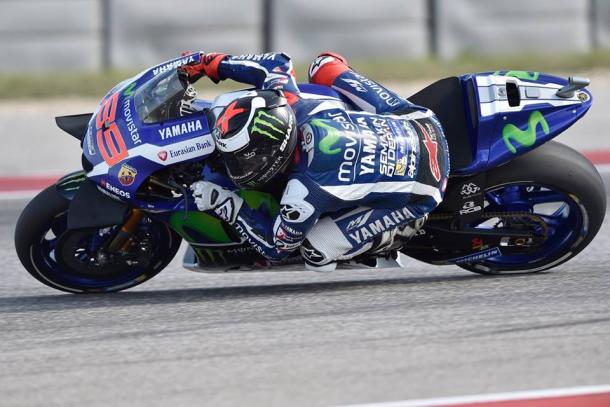 Redding finished in fifth as the top independent rider ahead of Pol Espargaro and wildcard pirro in eighth. Barbera finished in ninth ahead of the first Aprilia rider who finished an impressive tenth in their first season since Aprilia joined the MotoGP class. Bradl was followed by his teammate Bautista, Laverty, Rabat and Henandez who finished ahead of the three riders who crashed and managed to rejoin and complete the race, Baz, Crutchlow and Smith.
Marquez remains top of the championship
Marquez now leads the championship with sixty-six points ahead of the two Yamaha riders Lorenzo (45) and Rossi (33) who have now both missed collecting points from one round. Espargaro is in fourth with twenty-eight points and he is the top independent rider in the championship.