The race start had to be delayed to an oil spillage on the track that was left by the Moto America class the day before the race as officials had to ensure it was safe to race. It was a perfect start to the race as everyone got away cleanly.
Navarro took the lead at COTA
Jorge Navarro (Estrella Galicia 0,0) took the lead in the Moto3 race as four challenged for it upon entering turn one at the 3.4 miles long circuit. Philipp Oettl (Schedl GP Racing), who claimed his first ever pole position in qualifying, followed Navarro ahead of Romano Fenati (Sky Racing VR46). It was not long before Fenati began his race winning campaign as he overtook Oettl to claim second despite starting from fifth on the grid after reluctantly remaining on track during a wet qualifying.
First incident in the race
The run of bad luck continued for Adam Norrodin (Drive M7 SIC Racing) as Hiroki Ono (Honda Team Asia) crashed into him at the start of the second lap. Ono attempted to overtake on the inside of Norrodin and caught the front end of Norrodin's 250cc Honda. Race Direction decided to penalise Ono and he received a ride-through penalty for 'irresponsible riding'.
Three duos had formed behind the Navarro who managed to extend his lead to two seconds. Fenati and Oettl battled for second ahead of Fabio Quartararo (Leopard Racing) and Brad Binder (Red Bull KTM Ajo) who battled for fourth, and Jakub Kornfeil (Drive M7 SIC Racing Team) and Enea Bastianini (Gresini Racing Moto3) battled for sixth. The experienced Fenati managed to overtake Oettl and break away in pursuit of Navarro; however Navarro's team notified him on his pit board and Navarro responded with a fastest lap so far.
Another crash at COTA
Joan Mir (Leopard Racing) and Darryn Binder (Platinum Bay Real Estate) crashed as they contended with turn one on the fifth lap. Mir caused the incident crashing into Binder who was clearly unimpressed as he gestured to Mir. The riders were not far from the racing line. Binder was able to re-join the race straight away however Mir struggled to get going.
Fenati caught up to Navarro
Navarro made a mistake during lap five which meant Fenati gained 0.4 seconds of the leader. Fenati also set the fastest lap so far which helped his chase of the leader. Another mistake from Navarro meant Fenati was able to catch the leader when he went wide at turn one; Fenati did not look back and he remained consistent throughout the rest of the race.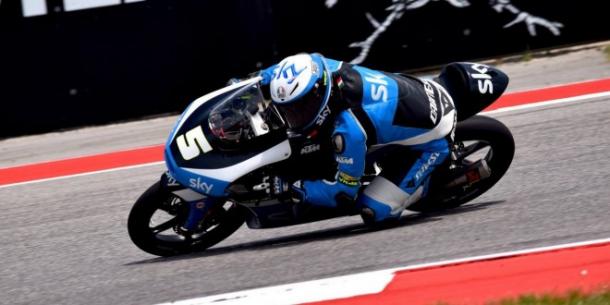 Antonelli made a huge amount of progress
It rained during the Moto3 qualifying session which meant that riders where prohibited from maintaining their pace sustained in Free Practice. Niccolo Antonelli (Ongetta Rivacold) is usually among the front runners however he only managed to qualify in 30th due to a crash during the session.
His experience paid off though and a great start allowed him to gain seven places on the first lap. During the second lap he gained four places, another four during the third lap and three more positions by lap eight. By lap nine he was in 11th and able to battle with a group of riders that included rookie Nicolo Bulega (Sky Racing Team VR46), Bastianini and Kornfeil.
Huge save from Bulega
Bulega experienced a 'wobble' when he ran wide into the red marked area of the track (used to determine over-use of the track by officials), he was in the process of adjusting himself on his 250cc KTM due to his great height but managed to straighten up and readjust himself so he was slip-streamed again.
Dangerous crash as oncomers narrowly avoid bike on the loose
Karel Hanika (Platinum Bay Real Estate) fell off on lap 11 at turn 16 of the circuit; he seemed unhurt. Antonelli unfortunately also crashed out of the race with just two laps remaining when the rear end of his Honda slid ejecting him from the bike. The track is mainly designed for cars and the direction the bike slid meant it went across the track narrowly missing Quartararo who followed Antonelli. There was nothing Antonelli could do as all his hopes of returning to the track were ruined as he remained on the opposite side of the road to his bike.
Binder looked strong at the end of the race as he was in pursuit of Oettl; Oettl appeared more settled on track. In true Moto3 fashion Binder used the slipstream of Oettl to overtake him on the back straight gaining enough distance to avoid being out-braked as they entered the turn.
Fenati claimed the win comfortably
Fenati won with a comfortable lead of over 6.5 seconds on Navarro. Binder finished in third ahead of Oettl. Locatelli lead the group in fifth ahead of Bastianini and Aron Canet (EG 0,0) who finished ahead of Livio Loi (RW Racing GP BV) and Jules Danilo (Ongetta-Rivacold). Rookie Bulega finished in tenth ahead of Kornfeil, Juanfran Guevara (RBA Racing Team), Quartararo and Francesco Bagnaia (Aspar Mahindra Team Moto3) who finished as the fastest Mahindra in fourteenth ahead fo Fenati's teammate Andrea Migno who claimed the last point.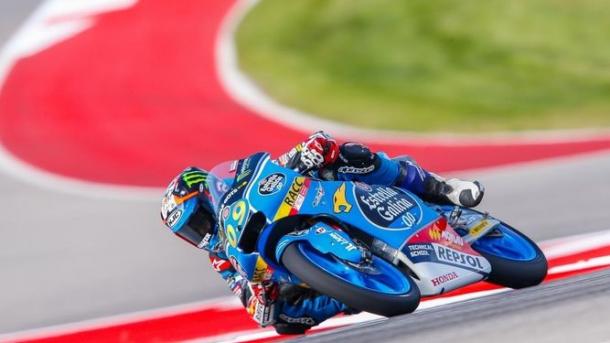 The fastest Peugeot was that of British rider John McPhee who finished in in twenty-first who finished behind Khairul Pawi (Honda Team Asia) who had a fantastic win in Argentina. The only female Maria Herrera (MH6 Laglisee) finished in twenty-third and Ono finished in twenty-fifth after his ride through penalty.
Binder leads the Championship
Binder remains the championship leader after three rounds with fifty-two points ahead of Navarro (49), Fenati (38), Antonelli (31) and Pawi in fifth (25).