During the second round of the MotoGP season in Argentina we witnessed the 2015 MotoGP Champion Jorge Lorenzo crash out on his Movistar Yamaha ended up chance of gaining any points in this year's championship. His teammate Valentino Rossi had a stroke of luck and managed to gain second after the Ducatis fell in front of him.
However, after the third round of the MotoGP calendar, the tables turned for the teammates as this time Rossi crashed out and Lorenzo went on to gain second.
Rossi crashed out early on in the race
Rossi's crash came on the second lap after he ended up going backwards down the leaderboard from a great start, however unknown to us he 'burnt the clutch'. Rossi was swallowed up down the main straight but, speaking to the media after, he said, "The clutch slipped a lot so I had to go slow and try to recover the clutch and I lost some positions".
Rossi was confident ahead of the race as he "felt good with the bike" and he "felt fast". Previous to his crash on he claimed that he "had the feeling the clutch was coming back". But upon entering the second turn of the track which is very fast, Rossi crashed, "I entered turn two, I didn't feel from the bike I was too fast but looking at the result maybe I was!"
Rossi sat in shock after a fast crash ended his podium hopes
The front end of Rossi's M1 tucked under and Rossi slid out, his bike bounced further into the gravel trap and he was unable to return to the race. Rossi sat on the tyre wall at the side of the track after the incident where he seemed perplexed, speaking afterwards he said, "It's a shame because we lost some points in the championship also because we could make a good race." Looking for the positives from COTA the Italian said, "We are strong and very fast so we will be ready for Jerez."
In sight of a difficult weekend so far Lorenzo knew, "It was really important to finish the race and get 20 points." His weekend at COTA was not all plain sailing as he crashed in the morning Warm Up on Race day. Lorenzo said, "It was really difficult mentally to focus" in the lead up to the third race of the season."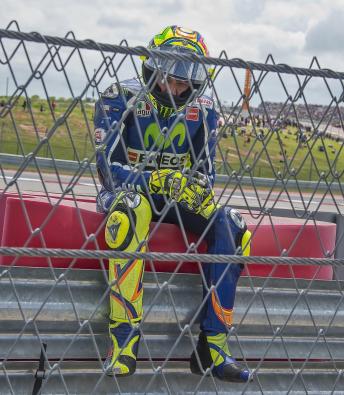 Different story for teammate Lorenzo
In what Lorenzo claimed was "a difficult beginning" he blamed the track saying it was "slippery" and also said "with the hard rear tyre and the full tank it was difficult to stop especially on braking".
He felt the mistakes he made at the start of the race which included going wide at turn one losing his initial lead in the race, and going wide at other corners meaning he was overtaken by a fierce field and had to work at regaining the places again; he felt these were unusual for him saying, "I made some mistakes I don't normally do in the first lap."
Rival Repsol Honda rider Marc Marquez looked very content in Austin as he dominated all weekend before going on to win, Lorenzo said, "I couldn't keep the pace of Marc, he was making the difference this weekend and in the race."
However, Lorenzo seemed happy with his result, "I was fast enough to stay in second enough and finish the race" and he remained conservative referring to his teammate's fate saying, "You could see it was difficult to stay on the bike with a lot of crashes."
Lorenzo failing to finish at Argentina has already jeopardised his chances of consecutive championship wins, he claimed twenty points towards his saying, "Today the important thing was to finish and I did it." ​