Poor Andrea Dovizioso. For the second round running he has suffered the consequences of other rider's faults and is now on only seventh in the championship with 23 points (40 behind Repsol Honda rider Marc Marquez), despite being set for a podium in Argentina.
There, Andrea Iannone wiped out his teammate at the second round of the MotoGP in Argentina in the final stages as he went for the inside line resulting in the two crashing out and binning the chances of a double podium for Ducati.
Pedrosa describes the incident
Dovizioso experienced this yet again however this time it came from an unsuspecting rider Dani Pedrosa (Repsol Honda). After just seven laps during the race at the Circuit of the Americas, Dovizioso entered turn one and went wide a little after braking slightly later than usual. Speaking to the media afterwards, Pedrosa said: "Unfortunately I made a small mistake losing the front end under braking when I was still turning into the corner."
When Dovizioso was focusing on his own recovery before the incident, Pedrosa who was in pursuit was unable to stop his Honda. He said: "I lost control and tried to save the crash but I ended up going down and taking Dovizioso with me."
Pedrosa the gentleman
Pedrosa's first instinct was to check on Dovizioso at the side of the track and to apologise for the incident. He went on to say, "It's a shame to have finished the race in that way and I feel especially bad for Andrea and want to apologise to him. I'm glad he's fine."
The Spaniard was able to return to the track briefly but was forced to retire to the pits. As soon as he could, Pedrosa made his way to the Ducati pit garage where Dovizioso was and in the biggest show of sportsmanship seen in the paddock in a while, again apologised to Dovizioso and tried to explain the situation. He then held out his hand and the Italian shown no hesitation in accepting the handshake.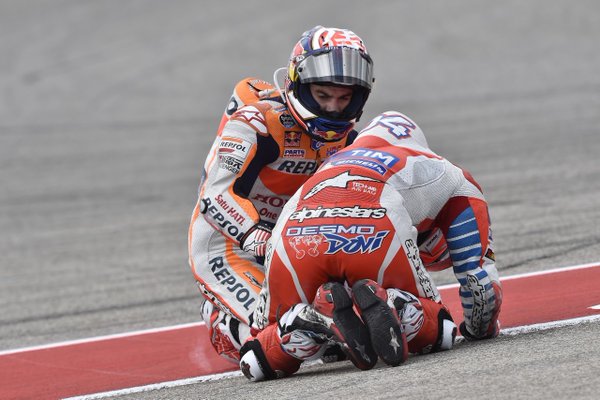 Dovizioso unable to repeat heroic efforts this time
This time Dovizioso was unable to make his heroic efforts to return to the track that he did in Argentina; the Italian picked up his Desmosedici GP bike and ran to cross the finish line in 13th and claiming three championship points.
Unfortunately Dovizioso was reluctant to get up off his knees at the side of the track, Dovizioso said, "I was a very hard hit. Wow! I was lucky because it can be worse." The Italian had to be escorted to the side of the track and luckily he declared, "I have some pain but nothing really bad."
Dovizioso was very understanding about the incident despite it being the second time in a row that it has occurred, "Dani is not a rider who takes many risks normally. Everybody is on the limit. Mistakes can happen, but Dani is not a kamikaze trying to overtake you every time on the brakes."
When comparing this to what happened with his own teammate in Argentina he said, "When somebody makes a mistake and it creates a problem for another rider, it's bad, but it's different compared to Argentina."
Dovizioso tries to remain positive despite bad luck
The whole incident came as a shock to Dovizioso. "It's very bad what happened because we can fight for the podium with Lorenzo. Looking at the positives, at three very difficult and different races we were always fighting for the podium. Even if we are not the fastest in practice we are there in the races."
The Italian continues to remain positive in spite of the amount of bad luck that has come his way lately. Speaking about his Ducati, he said: "still my feeling with the bike is not 100% to really fight for victory". Ducati appear to struggle in the practice stages of each round, however, he added: "Even if we are not the fastest in practice we are there in the races."
Dovizioso was careful when discussing his results so far and justified them by saying, "I'm so happy to have the possibility to fight for the podium every race. In all three races I think I did the perfect strategy. It's not my fault what happened!"
Speculation leads to careful answers from Ducati riders
There is a lot of speculation surrounding Ducati who are rumoured to be in the hunt to sign the 2015 Champion Jorge Lorenzo who currently rides for Movistar Yamaha.
If Lorenzo was to sign, the Spaniard is determined to confirm or deny anything at this moment in time, then he will have to replace either Dovizioso or his teammate Iannone, who was the cause of Ducati missing out on two podiums at Argentina. Both Ducati riders were remained vigilant when discussing anything concerning Ducati and their future race team.
Dovizioso said, "I don't think Ducati have to decide the future of the riders just about the points." By this he probably meant that if Rossi was to choose who to keep, he feels it should not be about who wins the most points this season. He felt that it would be 'intelligent' of Ducati if they "analyse every rider and try to understand what they need for the future, not just about speed and results."
A 'relaxed' Dovizioso continued to try and justify why he should stay with the Italian team saying, "In the first free races I would have been on the podium and have always been fast."
Iannone claime a podium after overcoming penalties from previous incident
Dovizioso's words came after his teammate was able to claim third at COTA following a faultless race (this time). Iannone felt, "It was really important for me to get on the podium today, but more than anything else we had to close the race with a good result." Following on from the incident caused by Iannone in Argentina, Iannone received one penalty point and also had to start the race further back on the grid than from where he qualified.
Iannone felt this affected his performance at COTA, saying: "I regretted having to lose a row on the grid and at the start I had a contact with Dani and Aleix so I lost some positions." He felt that he was "consistent" and "always ran with a good pace". He felt that if he had not received the grid penalty he would have been able to "fight for second position" that Lorenzo claimed.
With the speculation surrounding the Ducati team he went on to say, "Anyway I'm just glad how this Grand Prix went and I dedicate this podium to my Ducati and the team, because I made them suffer in the first two races."
In a way of trying to gain forgiveness from the team who may need to get rid of one rider to make way for Lorenzo, Iannone said, "I hope that this result will repay them for their commitment and the work they are doing to myself."