Federal Oil Gresini Racing Team rider Sam Lowes has finally claimed his first win of the 2016 Moto2 season and continues to lead the championship by just one point.
Clean start for the Moto2 class this round
It was a crash filled race with not much action on track despite the numerous incidents that took place throughout from start to finish. Every rider got away from the grid cleanly this time meaning no-one was under investigation by race control for a jump start unlike the previous rounds.
Jonas Folger (Dynavolt Intact GP) led into the first corner from second on the grid with Lowes following closely behind. However as the field of 30 riders made their way through the initial corners, Simone Corsi (Speed Up Racing) almost made contact with Lorenzo Baldassarri (Forward Team) forcing Baldassarri to have to sit up to remain in the race.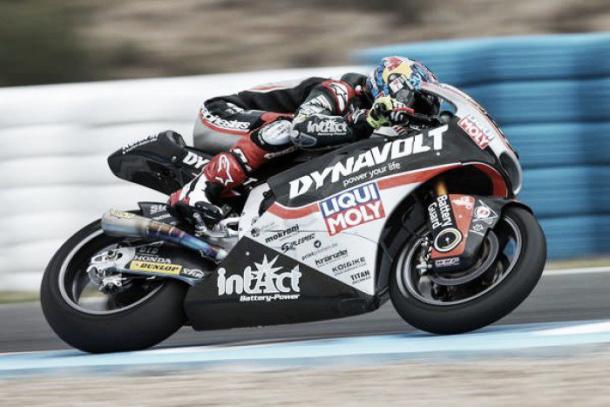 Thomas Luthi (Garage Plus Interwetten) almost experienced a highside on the inside line but made amazingly rescued it and continued to race despite losing several position, no other riders were involved.
Race filled with crashes
At turn five the first of many crashes occurred involving Ratthapark Wilairot (IDEMITSU Honda Team Asia) and Xavi Vierge (Tech 3 Racing). After the crash Vierge was trapped under his bike only able to move his head in the gravel trap, and Wilairot was motionless. They both had to be escorted to the safety area by the marshals.
Folger's race lead was short lived as he went wide on turn six of lap two, this meant that Lowes was able to take advantage and he got past cleanly allowing him to take the lead which continued for the rest of the race. Corsi crashed out on turn two of lap two ending his weekend early after the bike slid luckily he was not injured.
Alex Rins (Paginas Amarillas HP 40) overtook Franco Morbidelli (Estrella Galicia 0,0 Marc VDS) to claim third where he then remained for the remainder of the race. On his next lap Rins was able to claim the fastest lap of the race with 1:42.908 however this was not as fast as the record breaking time set by Nakagami in free practice of 1:42.408; Folger holds the circuit lap record from 2014 with a time of 1:42.876.
More crashes throughout the race
Morbidelli's teammate Alex Marquez slid out on the next lap at turn two; he was uninjured but forced to retire from the race. Lap four and two riders were involved in a crash at turn two; Sandro Cortese (Dynavolt Intact GP) and Luca Marini (CarXpert Interwetten) both slid out, Cortese had to retire but Marini was able to continue.
The 2015 Moto3 Championship winner Danny Kent crashed out from his Leopard Racing Team Kalex after the front end folded underneath him at turn six. The British rider previously crashed in the same location in the morning warm-up session; he was unable to continue.
Marcel Schrotter (AGR Team) was the next to crash out at turn thirteen again losing the front end of his Kalex. Fortunately he could restart his bike and was able to continue however he crashed again with 13 laps remaining this time at turn nine and he was forced to give up; luckily Schrotter appeared uninjured still.
Disappointing end to Oliveira's weekend
Miguel Oliveira (Leopard Racing) had a promising race and was able to make his way to sixth position from fourteenth on the grid, but his efforts were wasted as he crashed out at turn four. As the bike slid his leg was caught up in the bike and they entered the gravel trap however the Portugese rider was able to walk away from the incident.
The final crash came from Baldassarri on the last lap as the Italian who looked promising all weekend lost the front end at turn six, he was able to pick up his bike and cross finish the race but only in 17th and unable to claim any points.
Lowes takes his first win of the season
Lowes won his first race of the Moto2 season with a comfortable lead of 2.480 seconds ahead of Folger. Rins claimed the last podium spot in third ahead of Morbidelli, and he had to claim a tow back to the pits from 2015 Champion Johann Zarco who did well considering he appeared frustrated at Jerez all weekend.
Luthi finished in sixth head of record holder Nakagami. Dominque Aegerter (CarXpert Interwetten) was eighth ahead of Luis (Salom (SAG Team) and the fastest Speed Up rider Xavier Simeon (QMMF Racing). Hafitzh Syhrin (Petronas Raceline Malaysia) finished 11th ahead of Matti Pasini (Italtrans Racing Team), the fastest Tech 3 rider Isaac Vinales (Tech 3 Racing), Jesko Raffin (Sports-Millions-EMWE-SAG) in 14th and the last championship point was claimed by Robin Mulhauser (CarXpert Interwetten).
Federico Fuligni (Team Clatti) made a wildcard appearance in Jerez and managed to finish in 18th overall. Lowes leads the championship by ten points now ahead of Lex Rins (62), Zarco (56) and Folger (47).